Hans Graf / Houston Symphony Orchestra
January 13, 2007
615 Louisiana St
Houston, Texas 77002
Saturday brings crowds to the record stores, looking for the experience of being around music. Yet as relaxed fingernails trail down the spines of thousands of CDs in the Used rack, it might occur to us how transparent these ruses have been for the past four decades. Rock music succeeds where it panders to expectations without revealing the manipulation that so resembles parents and high school teachers. But to one iota of that is the comfortable anarchy zone of "if it feels good, do it" that makes rock millionaires.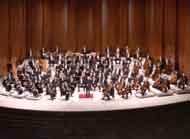 This image lingered in the mind for the long passage through the winding freeways of downtown Houston, through the parking lot where newsprint stained thumbs are licked to separate change for a twenty, and into the dark cavernous quiet of Jones Hall to hear Hans Graf conduct Anton Bruckner. Opening the piece with a chorus singing Bruckner's "Ave Maria" from the lobby, Graf paused briefly and then raised his wand, to which a synchronized rising of instruments announced the descent from our world of tangible objects into the abstraction of music had become. The concert began from a silence in which the echoes of human voices still faded.
Since we live in a time that has produced almost no classical music of note for several generations, we are burdened with interpretations, as if the truth passed us once and now we are bickering over the details. As if a mirror of our political and social systems, there are two extremes in the history of Bruckner performances, namely Eugene Jochum and Herbert von Karajan; others, like Carlo Maria Giulini take a more emotive and earthy approach. Jochum and von Karajan however are the yardsticks by which Bruckner performances are assessed, and if von Karajan is the stormy "Beethoven" approach, Jochum is the more "Brahms": an organic wave of emotion that approaches Bruckner less as a logician than a channeling of an inherent spirit, a will toward a spiritual view of existence.
Into this difficult environment Graf descends with little more than an exuberant love of Bruckner on his side, but it seems enough. Of all things that could be said about this performance, it is most important to state that Graf appreciated the juncture between personality and intellectual direction that defines Bruckner. We know him as a simpleton in political matters, but a humble genius who preferred simple pleasures and intangible spiritual ecstasy to the normalcy of function. Graf captures these traits in the gestalt of his conducting, yet also adapts his technique to be fertile to this unification of ten thousand nearly inobservable details. He is the interpretation of Jochum applied to the methods of von Karajan, with the kind of technical eye for modernism that an experienced interpreter of that era such as Esa-Pekka Salonen can provide.
Graf's interpretation of perhaps the most challenging Bruckner symphony not just to conduct but to introduce to a public, despite being very much organic, targets the logician in Bruckner as well. Graf has his orchestra play individual phrases and themes with a bouncy old-world air, as if Haydn-izing Bruckner for the sake of appealing to his ancient soul. He places these suddenly humanized phrases into the dynamic delivery of a von Karajan, but dynamism sensu Graf is more aware of how too many dissonant phrases rising into clarity before expanding into vast harmony of unison can tire an audience. He is selective and if von Karajan is a stormy genius and Jochum a religious contemplative, Graf remains a humble observer of nature. His Bruckner is looser, without the regularity of rhythm that makes it machinelike, and yet descends to earth for its spiritualism. Motives are presented less in an apocalyptic storm than a natural evolution from their simpler origins.
As noted in the program guide, Bruckner composes "prismatically," so that there is little linear or formulaic repetition, but so that each meme is repeated as a reintroduction of theme like familiar symbols in poems. This creates a labyrinthine navigation between known points and a form of internal discussion that relates them to both similar and dissimilar themes, meaning that musicians must both play the work accurately and never lose sight of its narrative. The Houston Symphony, known for quietly performing undernoticed masterpieces when it is not distracted with more populist classical fare, performed diligently in this intermissionless marathon. A few glitches in the brass section stood out momentarily, as did an unintended dissonance in the strings, but these were minutiae compared to the whole of a not only solid but energetic and powerful performance.
Graf never flagged, perched deftly on his stand and attacking the score with an inner vitality that showed not only dedication but interest. The intensity was compelling, as was the response of an orchestra that navigated a circuitous pattern of overlapping motives with alacrity and grace. For almost eighty minutes, the audience was bathed in a hush of concentration brought on by the abject sensation of beauty and inner mental silence this piece triggers in its listeners. Whether history will record this grand performance, or even last long enough to notice, becomes academic for those who were there to be thrust into the existential colonnade which in classic Brucknerian style unified the ambient and the linear to become immersive, revealing space within itself in the best definition "prismatic" can offer, and from that point of contemplation unleashing a profound stillness and re-introduction to life as majesty and divinity.
Those who were there were changed, unless numb as cut wood, and in this transformation glimpsed a chance for a life on earth that aspires to the organization and beauty of the celestial, much as humble heavens-gazer Bruckner must once have done in creating it. As the transcendental onslaught ceased, and those who listened were drawn back into the world of rustling concert programs and strange winter clothing exuding odors of the still air of closets, it was clear this was not the same audience who had entered the concert hall with their thoughts divided like panicked insects. These were people who had been brought to the point of realization by a musical experience, and the inherited wisdom showed on their faces of calm concentration.
Outside Jones Hall the streets pulsed with a cold wind from the north as people hurried home, or to the warmed bars for a drink before braving the solitude of sleep. A few miles away the record store slept in the abrasive hum of its security lights, the titles of several generations of rock aspirants slowly relinquishing their fascination with the here and now and sensual in steady decay, bombarded by space-traveling particles from before Bruckner was born. Industrial machinery rose over the landscape, awaiting the dawn light that would begin its own process of breakdown, and the ghettoes and suburbs alike rocked with discontent, hidden in one case behind doors and polite words. But to seize that moment when the culmination of intricate virii of phrase wrapped themselves into a final peace, a state of mind both stormy and compassionate for life itself, that was to leave all of this behind — and perhaps to determine in the inner world each person carries where an impetus to change might begin.
Composer:
Anton Bruckner
Performers:
Houston Symphony