In the an(n)als of metal history, the name Chris Reifert sticks out like a red flag to anyone tracking the progress of the development of the genre. After a partnership with Death, he formed Autopsy for the sake of recording "death metal" in the late 1980s, and has moved on from Autopsy to Abscess, a grind/punk/metal project, as well as several other bands in the quest for loud and grindingly horrific music. We were able to catch up with Chris through a system of coded messages sent via colonically-violated seagull.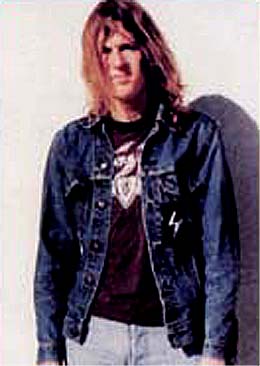 What motivated you to get into metal?
Just my infatuation with heavy music. It started when I got hooked on KISS in 1978 and has only progressed since then. Also being exposed to 'Rubber Soul' and 'Revolver' by the BEATLES as small child got an early intestest in psychedelia cooking. Nowadays we are really merging psychedelic influences with (emphasis on) extremely brutal metal with a healthy injection of 'FUCK YOU' punk. AAARRRGGGHHHH! (to quote Venom)
Have you ever gotten in trouble with the law for your metal affiliation?
No, just for alcohol affiliation.
What do you see as the primary difference in mentality between underground metal bands and the people you hear on the radio?
In general, everything. Otherwise, I guess it depends on who you are talking about. Besides that fuck the radio! Even at its best moments it sucks Carrot Top's unwashed red and brown ass! The radio for the most part is controlled by one piece of fecal matter sitting at the top caring for nothing artistic unless you count dollar bills as art pieces. DESTROY THE FACTORY!!! The sick thing is, alot of fucks in the underground just wish they were that piece of fecal matter but just haven't achieved it yet. It all comes down to this, is your music good or crap and to whom? hmmm….
in autopsy, what were your influences on drums and why did you pursue the musical style that you did?
I think I was my biggest influence in drumming at the time cause there was no one else to look up to in my mind. If you ask me about that now I would say Keith Moon and Dave Lombardo as a two headed four armed eight legged mutant with a up of insanity added.
In Abscess, you are trying something more punk or grind than metal, but with metal influences. Why the big change and what advantages has it brought you?
I really hate analyzing specific riffs or feels or whatnot. It's the spirit that matters. I suppose after Autopsy split all we really wanted to do was get drunk and go crazy. No we still do that but really hone in on maximum heaviness and mindfuckitude. 'Tormented' dove into that pod and our newest 'Through the Cracks of Death' is swimming to the bottom or maybe into the air above. It's all the same I guess. Quesion is: What would Lester Bangs say?
What are your favorite punk/hc bands?
Mostly older ones cause punk has suffered the same commercial assfucking that metal has as of late. Just a few: GG Allin, Ramones, Sham 69, Capitalist Casualites, Gaia, Poison Idea, Dwarves, Discharge, Stooges, MC5, Dead Boys, Pagans, bla bla bla…
If you could exist in any musical movement in history, what would it be?
I can't think that way. I'm always obsessed with laying down the next brutal eyeball gouging, runt raping, flesh flinging track.
How has Abscess been received by the metal and punk communities, and what have you learned from the differences in the two?
Everyone still hates us 8 years into it. Mostly I hear "When is Autopsy reforming?" How about "When are you gonna let me spurt jizz into your armpits?" Fuck it! I've always thought and still do metal and punk are two sides of the same coin. Its all about energy, aggression and getting your sick kicks in an eardrum pummeling way. Call me old fasioned. har har fucking har de har!
Why do you think underground metal began when it did, 1983-85, with bands worldwide suddenly converging on the same sound?
Fuck knows? Its the way it goes with any movement (bowel-haha!) I suppose. Who cares really? Theres good and crappy in any situation like that. Lizard poop for everyone, thats what I say!
Do you think anything in nature has a single cause?
I dunno. Maybe somehwere between Bukowski, Casteneda and Nietzsche lies the truth. But I doubt it. Most likely humans just wonder too much about some secret key or meaning to life. Maybe Nietzsche was right but 'Maldoror' is pretty fucking entertaining!
Do you hate the internet? If so, please tell us why, in detail (including the following topics if possible: AOL, porn, FBI)
I don't hate it, I'm just not interested in it. If I ever owned a computer (which I don't) I probably would never turn it on. I'd rather call someone and hear their voice with no screen to hide behind in my admittedly warped mind there's something deeply good way. I seem to be in the minority…
Please comment on any rumors linking yourself to VON here.
What rumors? Our bass player Joe used to be in Von. That's as far as it goes.
Where do you think metal will go next, what will become?
I think the big question is, where will the bat boy appear next? Fortunately the weekly world news will keep us in the know.
What do you think of nu-metal?
Where did they get the metal part from? Heavy guitar tones and seven string guitars do no add up to 'metal'. On top of that some worthless fizzlefuck slobbering about how his father came in his face too many times or some gopher entrails like that. TOTAL FUCKING GARBAGE FOR TOTAL FUCKING DUNCES!!
Enlightenment is man's release from his self-incurred tutelage. Tutelage is man's inability to make use of his understanding without direction from another. Self-incurred is this tutelage when its cause lies not in lack of reason but in lack of resolution and courage to use it without direction from another. Sapere aude! ("Dare to be wise," Ars Poetica, Horace) "Have courage to use your own reason!" — that is the motto of the enlightenment.

– Immanuel Kant, Foundations of the Metaphysics of Morals
Many thanks to Clint Carr for his help in obtaining this interview.
No Comments