Ironic, "unique" show celebrates metal as a genre for failures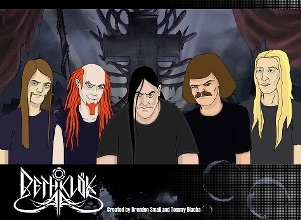 In the last decade metal music, once more or less exclusive to a community of dedicated Hessians and at worst a more removed group of transient but still fervent supporters, has fallen victim to a superficial co-opting by hipster culture. That is, they wear Slayer or Iron Maiden shirts not because they genuinely enjoy the music but because these bands are "kooky" or "crazy" and associating oneself with them is the defining statement of hip irony in the 21st century. Tolerating this trend is annoying enough, as it brings the dedication of Hessians into question: "So, do you really like Slayer, or are you just wearing that for fun?" but the problem has become epidemic as hipster-focused media is produced en masse for outlets like Cartoon Network's "Adult Swim". Even in this arena, metal no longer safe.
Twenty years ago, most people had a hyperbolic and absurd idea of heavy metal and the bands creating it, thanks to the oft-quoted (and increasingly tiresome) film "Spinal Tap". However, it was clear that the writer/actors of this movie actually had a degree of affection for the music they aped, and it was reflected in the way they managed to address many truisms of the continuous collisions between metal's fantastic elements and the inflexible realities of the layman's world in which the music must struggle to be understood. This degree of sympathy and insight is strictly absent from the new animated feature "Metalocalypse", which basically takes the "Beavis and Butthead" premise of Hessian daily life and elevates it to an insulting degree.
The show offers the premise of a fictional metal band called "Deathklok", and the creators reveal their weak grasp of the material by first portraying the band as literally one of the richest and most powerful entities on earth (a feat that not even Metallica has accomplished), and then making their music sound wholly ambiguous- we hear three-note trudges and growls ala Six Feet Under combined with keyboards and guitar wankery more befitting of Demons & Wizards. While some may be quick to point out that the show is a parody and as such is not obligated to follow "the rules", this reviewer believes that such decisions reflect broad generalizations about metal and its subgenres and bring the intent of the show into question.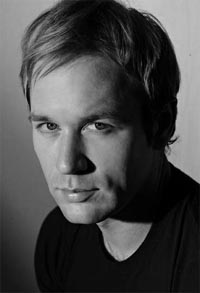 More damning, however, are the characterizations of the band members. The writers attempt to place a death metal vocalist, a speed metal guitarist, two "European" power metal guitarists, and a nu-metal drummer into the same band, presumably in the interest of painting the entire genre with the same brush. All the members are portrayed as rock-stupid, and the shrill and unintelligible voice acting is no help. A joke can only go so far if absolutely nothing said is understood. The band is portrayed as savants who can play music to millions of people at a time but cannot grasp the idea of purchasing food at a grocery store. It seems like a more consistent idea would be to portray a relatively unsuccessful band doing everything in life unsuccessfully, or a successful band doing things in the wild excess that their lifestyle affords them, but to cram two half-baked ideas together only goes further toward ensuring that the cartoon serves as a mocking affront rather than a sly parody. The only real thing that gives the show a chance at holding interest is the random and prolific violence, though it does contributes little more than an opportunity for a very cheap laugh.
The real problem is that "Metalocalypse" (this is the last time I'm typing that stupid fucking name) is not designed to entertain Hessians, but rather it is there to give hipsters a false insight into a world they cannot or do not wish to understand in genuine terms. The show is made by outsiders looking in, and it shows on every level. Never mind the fact that the dialogue, when intelligible, is stilted and inane, the comic timing is non-existent, the plots are ambiguous, and the animation is lazy and sub-par. Metal is one of the only art forms on earth that must tolerate this kind of insult, in part because it advocates goals and means that threaten the status quo, but it is nevertheless a valid endeavor that deserves respect and legitimacy. It goes without saying that any serious Hessian should ignore this cartoon, but it wouldn't hurt to encourage others to do the same. If someone at your school or place of business sees you wearing the shirt of your favorite band and starts talking about metal hipsterism with you, set them straight. Explain why they have got the wrong idea, and see if you can steer them in the right direction (i.e. "Have you ever listened to Show No Mercy"?). Maybe they won't become converts, but then again maybe they won't make their decisions about an entire genre of music and its culture based on a half-assed joke show either.
by David Anzalone
No Comments