D.I.M., Averse Sefira, Belphegor, Immolation and Rotting Christ
February 16, 2008
7th Street Entry
Minneapolis, Minnesota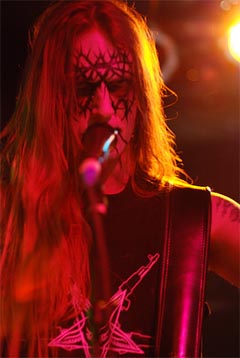 Few metal bands maintain their essential character for anything beyond the ephemeral. This tour package brought together four death/black metal bands who have been cultivating their respective crafts for at least a decade each: Averse Sefira almost exactly that, Rotting Christ and Immolation twice as long, and Belphegor somewhere in between, all with varying success in this regard. This longevity reflected well in the clarity of presentation, and also brought out many contrasts among these four acts.
With a nod to Rotting Christ, whose showmanship was attention-keeping despite the banal simplicity of most of their material; and Belphegor, who are effectively blunt but textureless, this was the tale of two bands: one gathering energy and pursuing immortality, the other guaranteed it and marching onward under its burden.
Averse Sefira
The first of these, Averse Sefira, were there to pick up the pieces after the tolerance-shattering performance of the local opening act. For this reviewer, who is intensely familiar with their live performances and the evolution thereof, the chance to see them yet again was still a most welcome one. Having known in advance that the show would feature material from the just-released Advent Parallax it seemed better to remain willfully ignorant of the album as a test of its standalone abilities in this setting. The first two tracks of the set were indeed taken from it. The fatigue of frontman Sanguine as reflected in his sickness-stricken voice was not enough to quell the energy put into these songs by the band. As the sound works itself out at the beginning of the night, and the audience is fresh, the foremost efforts of the band can sometimes fall short, particularly with unfamiliar material. This is the small disadvantage of needing to display new material within the limited confines of the opening slot.
It should be stressed that even when the mix is good, as it was for most of that night, and the material familiar, Averse Sefira manages to be cryptic enough to require a revelatory moment in the thick of some tracks in order for the listener to grasp their place within the song and be moved along with it. With unfamiliar works this is obviously more difficult still, but the audience was attentive and responded well nonetheless…a testament to Averse Sefira's commanding stage presence, something quickly becoming solidified in their legacy. The rest of their unfortunately short set was a smattering of older works that were played with conviction and precision the way a band coming into the fore would be expected to do. More importantly, they were played with confident posture of a band assuming their audience is privy to the work. It is promising for their future that they seem to be right, and that the audience seems increasingly eager and ever larger.
Immolation
As a band to whom Averse Sefira owes much of their character, and with whom they share much camaraderie, Immolation is possibly the most appropriate choice for a pairing with them anywhere on the bill. Bowing to their foreign comrades on this tour and taking the penultimate slot in the line-up, they maintained status as the most well-received act, with help from their unique on-stage performance.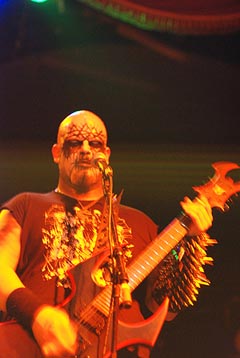 This mastery of the live setting brings up a crucial point about recent Immolation history. There is some sense of formula in their most recent recorded works, the seeking of trademark over creation. The falling back on "Immolation" themes seems in many cases, including in otherwise throughtful songs, a bane to their ability to match the beauty of their earliest material, something more akin to the needs of groups of captive observers than the lone listener, though they make it work very well as a result. Their manner is alternatively frenetic and menacing, and the visual accompaniment is enough to turn some otherwise absolutely flat passages into more sensible transitions when taken all together.
Particular highlights were the renditions of a few tracks long unplayed live from the first album, including "Those Left Behind." Mixed feelings accompany the recognition that these songs were much more interesting than the tracks from their more recent output – although not without a tinge of nostalgic longing. However, Immolation has carried their craft well beyond, and with more grace, than most of their early peers who fizzled long ago. To have actually enjoyed their set through most of the night states much for their importance and lasting abilities.
Conclusion
If one is to average one metal show per year, this is probably the best one could have hoped for without excess travel. Unprofessionalism, regret, disappointment, and abject boredom were all conspicuously absent from the experience, even with half of the bill being of the "high-quality" but low-interest brand. What was most fortunate to witness was the juxtaposition, alluded to earlier, of a band making their mark and another leaving theirs behind. Averse Sefira, continuing into their own, has much territory to conquer and the excitement of the path it may take; Immolation, driven professionals and legends, acting every bit their equal yet voraciously displaying their prowess. That said, it is likely Averse Sefira will be making their mark again in the future, though the fate of Immolation seems less certain than it even did five years earlier. Seeing the two cross paths was a fortunate moment in time to witness.
– Written by kontinual
Bands:
D.I.M.
Averse Sefira
Belphegor
Immolation
Rotting Christ
Promoters:
First Avenue/7th Street Entry
No Comments