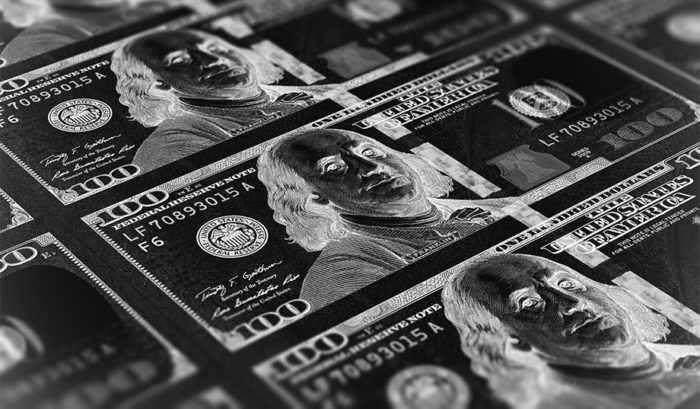 Recently many of the other "metal" websites, blogs, publications et cetera have been doing articles about the business side of music industry. Unsurprisingly none of these articles had the testicular fortitude to address the ugly reality of the underground metal economy as they are written by either slaves to the machine itself or losers who genuinely believe that they have "careers" in music which heavily depend on acceptance by the community. Since the Death Metal Underground staff bow to no masters social or corporate, we are in the rare position give you the truth in its rawest form. So with absolute disregard for the powers that be in metal, let's take an honest look inside this machine to see how it really works.
Truth: Favorable Coverage and Reviews are Bought
Ever wonder why your band didn't make the top 10 list in a major publication? While your album likely did suck, the real reason is that you (or your label) didn't have the capital to buy your way into favor. And without that sea of green you're not going to see any news, coverage, reviews, interviews, et cetera in most of the "major" "underground" "metal" publications.
For example, let's take a look at The Blastbeat Network, which is an advertising syndicate that owns Decibel, Metalsucks, Metal Injection, CVLT Nation, Heavy Blog is Heavy, Lambgoat and some other publications. If you give them money (or if your record label gives them money) these sites will advertise your releases, review your albums, and report mundane news about your band. The more money you give them, the more favorable and prioritized your coverage will be. Since most aren't aware that these sites are all owned by the same company it will appear to that a band is being reviewed favorably by several different publications and project a false image of communal popularity. And because many human beings are dumb and need to be told what to like, this is how they end up cultivating their taste in music.
Another gateway into this corporate wasteland is the path of going through a Public Relations company that's "in bed" (interpret that however you like) with these publications and advertisers. But PR costs money, and the better "connected" these entities are, the more money they will cost. And even still, they will have multiple "clients" and are likely to favor the more "high end" ones that are going to pay them more for their "services." Paying them for exposure is a lot like paying a call girl for the girlfriend experience.
If there's one takeaway here, it's that actual musical talent or innovation has absolutely nothing to do with coverage in these publications. It is all based on how much money is being funneled in through you or your label. The only exception to this rule is if you have a really outrageous gimmick like convincing social justice warriors you're Chinese and have them view your screamo favorable due to infantilization, fetishization and orientalism.
Truth: Popular U.S.B.M. Musicians Had Rich Parents
Because the "mysterious foreigner appeal" was a major selling point in the commercialization of black metal, there weren't any bigger labels making an investment in American black metal bands. Despite this, money was still behind the rise of many of the most well known U.S.B.M. artists such as Judas Iscariot and Liturgy. For these bands, however, that money was coming not from a label's bankroll but from mommy and daddy's pockets.
It is well known within the U.S.B.M. circles, and later confirmed by a public campaign finance scandal that Akenaten/Andrew Harris of Judas Iscariot was a trust fund millionaire. While these resources weren't spent on Judas Iscariot's production (likely given Akenetan's cargo cult worship of Darkthrone and Burzum), they were crucial to getting the band released on every popular underground black metal label at the time. Similarly, Hunter Hunt-Hendrix of Liturgy is the grandson of billionaire oil-tycoon H.L. Hunt, providing him unlimited resources to influence virtually any label, metal site, festival, or movie production company into giving priority to Liturgy above other artists.
Judas Iscariot and Liturgy were both the most popular American black metal band in different decades though applying the "black metal" term is somewhat dubious, so isn't it a ironic that they were both trust fund kids?
Truth: The Money Will Probably Never Return to the Underground
In the 1980s, the music business was full of wealth and influence. The powers that be could afford to bet on metal, and they did, and so we saw a number of bands playing massive stadium sized venues and riding around in big expensive buses full of vanity and material waste. In the 90's the industry peaked, and labels began betting on even more underground and obscure artists in the hope of finding the next Nirvana. But by the 2000s, the freedom of information offered by the internet effectively dismantled the music industry's grip on information flow. The market crashed, and remains in a free fall as top labels continue to crumble. This means that there's barely any money left in the industry which explains why MTV no longer plays anything music related. This also means that nobody will be betting on metal anytime soon, especially underground metal.
Because they do not understand this principle, many metal musicians and bands still believe that they can reach the heights and success of Slayer, Morbid Angel, or Emperor. This can't and won't ever happen for an underground metal band in the foreseeable future because this capital investment simply isn't there. This is why the headlining slots of every single metal festival are always filled by bands from the 80s and 90s: the industry invested more in these bands because, at that time, they were playing with house money.
Truth: Metal Musicians and Fans Must Reject the Corporate Conglomerate Commoditization
Metal musicians can break free of their suited oppressors by abandoning the materialistic greed that has long defined them. To find true success and happiness as an metal musician is to abandon the rock star fantasy and forgo the idea of a career musician. One must look inward to find self worth, and one must look away from music to satisfy life's necessities. Therefore by not seeking the material desires of money, meaningless sex with groupies, and popularity through music one's music will become art in its purest form. The quality of art is increased and the individual becomes of greater value to their society by pursing a career in the workforce and devoting themselves to their families by not being on tour 24/7. This will lead these lost and depressed victims of exploitation to happier lives away from unfulfilling vanities.
Meanwhile, if we as consumers can collectively reject the influence of main music industry pyramid schemes on underground metal bands and musicians then we strip suits of their influence over our purchases by rejected all the nutrient-free corporate corn flakes gavaged down our throats. This can be achieved by removing the value of coverage in these corporate backed publications and by not buying older material rehashed and simplified into rock music for shaved apes. Art is crucial to society but can exist without commercialization and the vain extremes of corporate capitalism's endless pursuit of shareholder profit by dumbing everything down in order to reach every Chang, Ahmed, Ivan, LaTrell, Lauren, Taylor, and Roger in the world. Therefore save your dollars for the releases that aren't corporate hack jobs and discard the merit of any Blast Beat Network Publication in favor of those who are truly honest.
Tags: blast beat network, crustfundies, cvltnation, decibel, dumbing-down, economics, economics of metal, funderground, ghost bath, judas iscariot, liturgy, mainstream metal, metal economics, metal industry, metal injection, MetalSucks, music industry, vice magazine