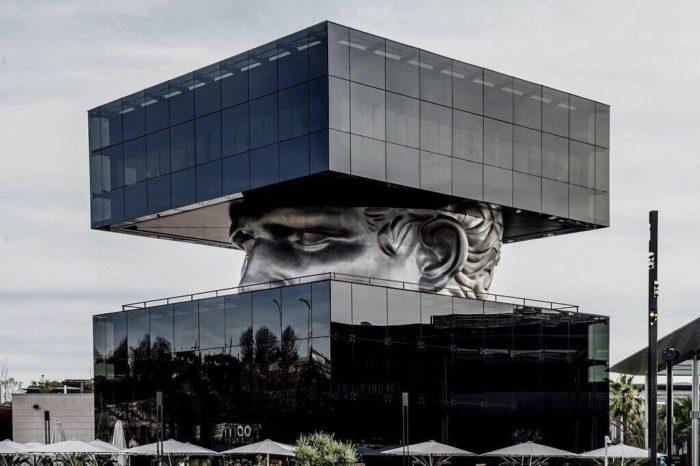 Sodomize
The Weak

Since "sodomize the weak" has become the unofficial motto of this site, and we rarely make such things official because formalization leads to accelerated decrepitude, it makes sense to explain why these three words encompass the single bit of philosophy that every sane person needs.
We can first attend to the origins of the term, which is found in the song of the same title by the German grindcore band Blood, taken from its album O Agios Pethane. The lyrics may be revelatory:
Far away from the city
Far away from civilization
A secret farm full of obscure persons
And full of weak cattle exists
Every morning the farmfather
Satisfied himself with the cattle
SODOMIZE THE WEAK creatures
Fatigo – it's an everflowing plague
No escape from the penis of dead
No hope for all the dead chicks
Crucio – the same procedure everyday
The same thing the whole night
Sometimes, when travellers enter the farm
They won't return from those pervert people
Get strangulated by the evil farmers
Get buried somewhere in the desert around
Sort of a mishmash of themes from horror movie and literature, these lyrics express a classic trope, which is the stationary predator who lies in wait for the clueless, foolish and oblivious. Much as in Texas Chainsaw Massacre, these predators allow the stupid to stumble along and, because they are lost in a world of themselves, fail to notice the signs of a vicious victimizer waiting to pounce.
Since the song itself has little to do with the phrase that has become our motto, we must instead dissect — not deconstruct — the term. "Sodomize" is a verb that in the heterosexual West implies subjugation and dominance, where "the weak" is part of a binary opposite, which means that the stronger are subjugating the weaker. In other words, a Darwinistic view: the more apt must dominate the less apt.
This amounts to a general defense and praise of elitism, since the implication of "weak" is that something stronger will take its place. For the most basic definition we can turn to a dictionary which gives us:
1: leadership or rule by an elite

2: the selectivity of the elite [for example] elitism in choosing new members
At this point, we have an organic version of the bubble sort: that which is better rises, and that which is less-better falls. This gradually sets up a hierarchy by comparing all to all, such that actual order is achieved with the best on top and the others arrayed appropriately below them, as one would find in a well-functioning military, business or academic unit.
How do we define the best? If we are intelligent, we do not, but instead recognize that it has two general attributes: competence and the related ability to discern what is not just utilitarian-adequate but also "good," in the sense of improving life as far as can be. We want not just those who are effective, but those who improve the qualitative nature of the situation around them as well.
In other words, if you set up a computer with a billion virtual objects in it of unequal positions or characteristics and give them each the instruction to sodomize the weak, you will shortly end up with a highly organized arrangement where the most powerful objects are on top. If those are also wise, the order will be beautiful, elegant, awe-inspiring and so on.
This is how nature works. Your planet gets hit by an asteroid or virus and the dinosaurs fade away, but they are replaced by new creatures with the ability to survive such things. These creatures start as dumb rodents, but after millions of years of sodomizing the weak, you end up with majestic horses, humans who make death metal, whales (the ocean not SJW kind) and panthers.
Through this view, we can see how in life, all questions are of quality beyond the initial start point where one comes up with a new idea like mammals or human civilization. The basics become apparent immediately, but then there are details — …an endless sea of details… — which, depending on their degree of coordination, determine the quality of the result.
Some see history as linear, but for those who see it as cyclic, the story of humanity is much like the story of the Garden of Eden: a working way of life is found, then human arrogance abolishes it, kicking off a story as humans attempt to return to the state of mind that enabled the golden age.
The same can be said for The Odyssey: a clever man launches himself on a journey, sabotages himself with arrogance or "hubris" as the Greeks might have said, and then must come to a state of mind where he has reverence for the simple life he once led and the purpose he has there. Then, he can return home, which is not so much a place as a point in his consciousness.
Ironically, what returns Odysseus to a state of mind is recognizing his place both above and below different parts of his world. He retreats from his position of being willing to anger the gods, and escapes the mentality of letting his cleverness take over from his sense of orientation toward wisdom, but also becomes willing to let other foolish people pursue their own doom through arrogance.
This shows us the complete cycle: a balanced and harmonious existence, interrupted first by war and then by human pretense, is beaten out of the protagonist through a series of adventures in which he sees many awe-inspiring lands but realize they make him long for his home more than anything else. The return home is a return to sanity, health, love and family.
He comes to this point in part through a "sodomize the weak" perspective. His fellow sailors are not the men he is, and so they manage to screw up, flake out and otherwise bungle their way through the adventure, which results in all of them being destroyed. In addition, Odysseus spares none who stand in his path, ending the story with a massive bloodbath of ingrates.
Sodomize the weak is alive in The Odyssey and in fact could be said to be one of its central themes. The higher must rise, with gods above men and cannier men above the oblivious stumbling oafs below them. And then, in the service of this order, no amount of bloodshed is seen as a bad thing as Odysseus subjugates the stupid, merely clever and parasitic around him.
We know the basic approach of life that makes a healthy society — leadership, hierarchy, order and purpose — and this has never changed since the dawn of humankind, nor would it change for a new species of intelligent animals or even robots. These are mathematical patterns that will emerge in any group that rises above the mediocre norm.
People are in general delusional and self-destructive because they tend toward personal wants and get tunnel vision regarding those, missing the big picture including the need for order and their place within it. Being thinking creatures makes us tend toward solipsism because our brains perceive themselves more strongly than signals from the world around us, and language and symbol have the same effect.
Throughout history, good times are destroyed by this tendency of humans to want to "make their mark" or seize power, and they offer "alternatives" which are in fact deviations from what produces the good times. For their individualism the rest of society pays, often times with its life as an independent entity.
We can see this same pattern in metal. Fools decide that instead of demanding high quality metal, they will support "innovation" that consists of mixing existing hipster genres into metal, and declaring that this may not be better, but it is "new" and "different" so it is more important. These of course are always lies.
In addition, there are many who will demand the surface traits of what came before with none of the spirit, and in doing so they place method above goal, and miss out on the fact that purpose and content are what make music great, not style. They murder whatever they admire by turning it into low-quality versions of itself.
For years this site and its predecessor warned against the risk that metal would be assimilated, or infiltrated with the technique of and therefore absorbed by, rock and punk music. These more accessible forms are naturally bigger sellers and easier to understand, so making "metal-flavored" versions of them is more popular and profitable than making metal, for labels and artists.
It seems blasphemous to say this, but humans are delusional because of their big brains. Their tendency is to be self-destructive. In groups, they make terrible decisions because they react to problems as social questions, not consequential or results-based choices. Results-based choice requires a purpose and an assessment of what has actually been achieved in physical reality, not just human perceptions.
Elitism addresses this problem by recognizing the low quality of most human decisions. It suggests that instead of accepting low quality, we promote higher quality above the lower and as such, create an economic incentive toward quality. In this way, instead of rewarding people for trivial participation, we only reward high-quality participation, guaranteeing that we get more of it.
Here we encounter another taboo idea: competence by those in power benefits us all, so the solution to power is not to try to abolish it, but to make sure the right people get into power, i.e. the competent and wise, which includes moral and aesthetic wisdom. Even the most incompetent person does better by having someone more competent than him above him.
From this we reach another idea: our problem in life, like all human questions in life, are fundamentally qualitative. We benefit when people take ordinary life and improve it in quality, not change it in form, and only the competent can do that. This is why the competent must be promoted above the rest: they will improve the quality of ordinary life.
This points to the mystical second half of the notion of realism which is understood by few. The first half of realism is that we measure our actions by results in reality, not by human perceptions; the second half is that while we know how to measure, we need to know what to aim for, and so we need some kind of goal so abstract and yet applicable that it fits in every situation.
With that idea, we enter the quasi-mystic side of realism, which is transcendentalism. In this philosophy, we look at nature and the order of the cosmos to discover an underlying logic to life itself. Then we re-apply this to ourselves, bringing our intuition in line with the order of the universe, finding both a superior reasoning and a greater sense of purpose.
In this mindset, we are not just aiming for utilitarian realism, but a sense of "the best" and "the most true and good" that we can find in life itself. This is qualitative thinking taken to its ultimate extreme: if we can measure by quality, we know that "better" is an ongoing goal never achieved, but also the only sensible goal if we always want quality to improve.
This in turn points to something every metalhead will understand. Life should be pleasurable. This does not mean hedonism, but the sense of well-being one achieves when our time on Earth is exchange for things we find meaningful. Sure, there may be some beers and barbecue in there too, but our fundamental goal is a sense of existential pleasure at the process of being alive and our place in it.
Only elitism can achieve this. Only by pushing down the less-good so that the more-good can rise can we achieve a state of existential well-being. We have a binary choice: either we make the best rise, or by default, we allow the less-good to rise, and then they push down the more-good and subjugate them, essentially "sodomizing the strong."
The world in which the weak rule the strong is one that is ugly, crass, idiotic and pretentious, much like our current time. Those who have less intelligence and wisdom tend to be highly social creatures, always focused on the external self composed of universal things like bodily urges and social impulses.
On the other hand, if you sodomize the weak and promote the strong, the ensuing world is less ugly, more elegant, more intelligent and more realistic; the strong still have a long ways to go, but not as far as the weak must go. The strong are reflective, or focused on unity of self and world.
This is why the fundamental philosophy of nature, metal and any other rare sane person is "sodomize the weak." We either evolve by pushing down the bad and pushing up the good, or we degenerate by allowing the bad, which is more numerous than the good because it is easier to produce, to rise above the good. There are only two choices.
Tags: darwinism, sodomize the weak, sodomy, transcendentalism