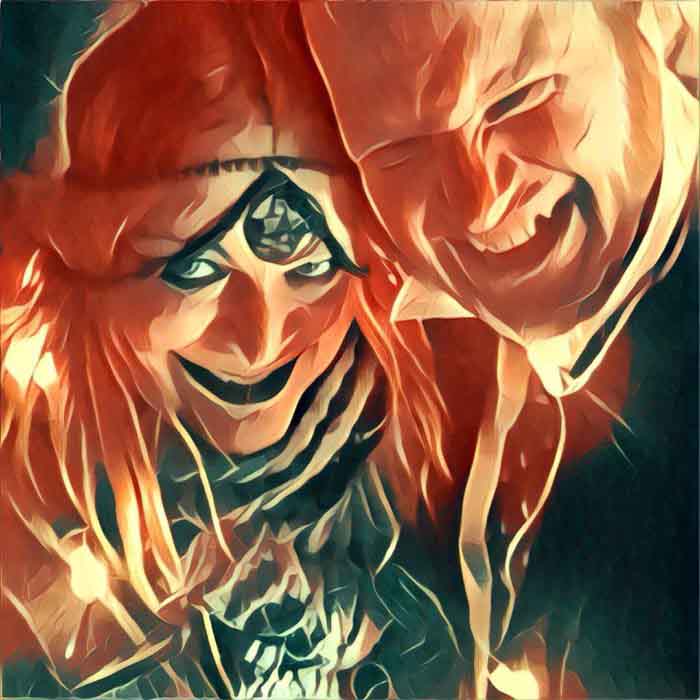 We all know the score in entertainment: 90% of the people are full-tilt Left-leaning, and the remaining 10% have to hide their views until they are too big and too old to fear repercussions. A Swedish folk-rock duo named Lilou & John have launched a website, Belzebubbles, to feature Right-leaning bands who have been censored or ignored by the entertainment establishment.
Their aim is to put together all of the bands of a certain range of political persuasions in one place, instead of separating them by genre, so that you might have metal, folk-rock, industrial and nationalist reggae together in the same place. They took a few minutes out of their busy day of dissident activity to talk to us.
You have some heavy metal listening in your past. Which bands did you like, and how did they shape your thinking or work?
John: Hard to explain in a short text but I'll try. Motörhead wrote the best rock lyrics ever. They made me realize that lyrics do not need to be "nice" or "cool," lyrics can be like death and war, relentless. When I wrote "When Murder Victims Die" I actually had "Lost in the Ozone" and "Back at the Funny Farm" in my head, and there are Motörhead-references in more than one song. Ozzy Osbourne and Black Sabbath showed me how to use theatrical settings and not to be scared of the dark, embrace it! Saxon gave me "Crusader" which told me how to build up a story about something bigger than yourself and evoke that "we're all united" feeling. "The Trooper" inspired me to write "Solferino." I also thought Quorthon, Lemmy and Cronos had the best vocals until I met Lilou. She comes up with all our melodies by the way.
Lilou: My relation to heavy metal have been shaped by people around me. They have through the years given me bands like Iron Maiden, AC/DC and Metallica. Nowadays I mainly use them for vocal preferences, since I find their way of singing inspiring.
What kind of metal band do you see as fitting on the site? Is there a large scene in Sweden for such bands?
Heavy metal is big in Sweden, or used to be until the great influx of migrants made hip hop bigger. We still have Sweden Rock Festival, though, which attracts huge numbers of people and people listen to metal, but they do it more or less "underground," since the political establishment doesn't like the music as it is "too white." We would like to see all kinds of metal bands on Belzebubbles, black metal, death metal, power metal, you name it, we want it.
What do bands get in exchange for working with you? What sort of content do you anticipate having on the site in the future?
They get a positive review — we only cover good bands — and, if they want, an interview. We link to the articles on Twitter and Gab and encourage people to buy their music. We welcome all genres and in the future we hope to attract more and more bands from all over the world who are sick and tired of left wing ga-ga. Furthermore, they can use quotes from our review for their own promotion and they get a chance to give their fans a deeper insight into who they are as a band. Our own network is growing by the day and we mention Belzebubbles to basically everybody which means the bands get more attention. As far as we know, Belzebubbles is also the first music blog of its kind ever, and the bands we cover are the first ones out. One of our goals is to collaborate with other blogs, festivals and music supervisors etc in the future.
Can you describe your personal political outlook, how it was shaped and what you overcame to get there?
John: I like to describe myself as a "Jacobin Conservative" politically, part Identitarian Conservative, part Alt-Right Nationalist and part Classical Liberal. I started out as Communist for the same reason as everyone else: I wanted to be popular and being a Communist is the easiest way of building a career in Sweden, sadly. Lilou made me see the light just by asking me to explain what I meant when I talked about "white privilege" and "male superiority." I have lost a number of friends and colleagues in the process but I won myself.
Lilou: I've never been interested in politics, I'm more into people and logic (meaning the machinery behind the politics). John, however, says I'm the biggest fascist he's ever met, ha ha. I just don't accept that any power beyond me decides what I should think or feel.
Are you ever going to record a metal album, or that Slayer cover that may once have been suggested to you by some annoying guy?
Our next album will be some kind of Venomish alternative heavy rock project (as far as we have planned anyway), we are in the process of choosing songs actually. Dissidentica was supposed to be a metal album, but we changed our minds after the scumbags at Swedish national radio treated us like Zulus in 1970s Pretoria. We decided that the need for a dissident pop album was greater than the need for great metal.
Can you explain your concept of "R3C" music and how it is different than what has existed before?
"R3C" is short for Right Wing Music / Conservative Counter Culture. We used to call it "RiWi/CCC" when we started but that acronym was too long and clumsy. R3C is basically music that is outside of the box of political correctness. National Socialists have promoted their bands for years while International Socialists run the rest of the show. There are a few exceptions, like Scottish covert-Nationalist band Runrig, metal bands like Amon Amarth and some country artists, but on the whole there is little room in MSM for anti-Establishment bands today. What we believe is the new thing about R3C is that the productions are often slightly rough, maintaining the originality of what makes the artist unique. The voices express emotions and sincerity instead of superfluous drama. Back to the origins of music if you may. We want everybody to start using the term R3C for this kind of music, let The New York Times know the times they are a-changing.
Do you draw lines on the Right, for example, would Libertarian and National Socialist bands both be accepted?
As long as the bands match our criteria: they are not welcome anywhere else and they do their own thing instead of copy-catting Rihanna, we will take them under consideration. We will also write about bands that already have a following, but are too far-right for MSM and make good music that touches your heart or brain. If we come across a fabulous song written by a Classical Liberal or National Socialist, we're gonna write about it. If you deny facts such as the Holocaust or The Islamization of Europe, however, we might think you're a bit too weird and refuse your submission for that reason. We welcome all kinds of people, however, we will not cover music with racist lyrics, national socialists making a song about general immigration issues would be fine, but no lyrics about inferior races etc.
If you are familiar with Swedish metal bands, which do you think were right-wing or right-leaning, and how did they communicate these values?
Sabathon is by far the Swedish band that has been accused of being "Nazis" the most number of times. We believe that if the Left wing got its way they would ban all heavy metal for being right wing extremists. Metalheads are often looked upon as some kind of leftover from the Third Reich. I guess Bathory was kind of Right wing, like Amon Amarth even if they for obvious reasons wouldn't say it out loud if they were, Satyricon is Norwegian I think but they seem to be right wing leaning. Most metal bands try to keep a safe distance to politics, but I think heavy metal is one of the best examples of meta-politics during the 20th century and today. I think most metal bands would be right wing if they were to engage in politics. But you know what happens to those who admit it. Most metal bands are probably covert-Alt-Right, Identitarian or Classical Liberal. It would surprise us otherwise, since their imagery, lyrics and music are always masculine and strong, and one thing you know about the left wing is that masculinity and strength are no-go areas if you excuse the pun.
If people are interested in what you are doing, how do they participate in Belzebubbles and follow your work in Lilou & John?
They support the musicians or submit their music on http://www.belzebubbles.com/ and they check us out on http://www.liloujohn.com/. We can also be found on Facebook, Twitter, Instagram, YouTube and Gab. Please contact us or spread the word. Furthermore, everybody should skip the "oh this world is going to hell" and instead start thinking "we will transform this rotten borough into something new and better, and we're on the winning side." People should start promoting good bands, authors, artists coming from the right wing. Tell your friends about R3C and if you're into this new kind of cultural movement, be proud of it.
Tags: belzebubbles, folk, lilou & john, r3c, right-wing music