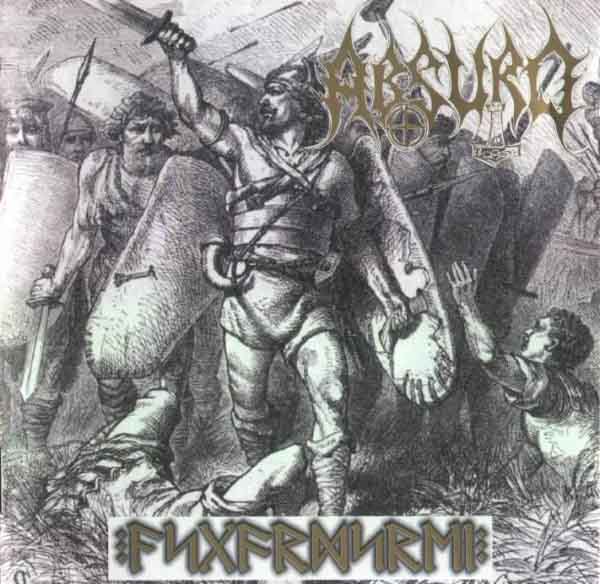 In 1998, a few black metal musicians — many of whom faced legal troubles in their home countries — came together to make a recording. The result, Asgardsrei, captured black metal in transition: its epic past, its roots in punk merged with Oi, and its tackling of unpopular subject matter, in this case out-of-the-closet NSBM.
This form of music differed NSBMTM that was to follow which meant exclusively Drudkh-style droning sugar-substitute melodies and battle-related titles with neo-Romantic lyrics:

Alone I wander
Wastelands of the soul
Among the corpses and ash
A single flower rises
Kill the Jews with fire

Absurd back in the day combined a poetic style that might be called "immaturism," a wide-ranging complaint with the modern world, and yes, some rather violent ideas. It defied categorization. Their debut album, Facta Loquuntur, sounded at times like ultra-simplistic punk with lyrics from a child's point of view, pointing out not policy failures or physical breakdown in Western society, but its completely backward spirit and denial of all existential importance. Always on the edge of black metal, Absurd both increased the discernible Oi/RAC influence and put together more black metal style riffing, creating a hybrid that kept both voices without allowing the extremes of either to take over.
Fast-forward to 2012. Absurd — now with none of the 1999 members — re-issues Asgardsrei in a new form. As it is arguably the most musically interesting album from Absurd, combining the raw forest metal (this is the band that wrote "Green Heart" after all) with greater proficiency and alertness, it could be a big seller for this band. Unfortunately, they decided to under guise of a re-master actually alter this album. First they turned up the guitars and turned down keyboards, background sounds, etc. They replaced the subtle intro with patriotic bluster and industrial percussion. Then they either modified or added drums to give the album a constant kick-happy Oi beat. Finally, they modified vocals to sound more like the recent Oi/metal hybrid the band has been putting out. The result crushed all subtlety and made this album very much the exact thing this band in its original form would have recoiled at.
Thuringian plain, deep dark forest
Evil dwells on there in the woods
Snowcovered hills, cold winds blowing
Romantic place, is it understood ?!

Evil in the forest in Germany's Green Heart !

Hateful savages, strong black minds
Out of the forest, kill the human kind
Burn the settlements and grow the woods
Until this romantic place is understood !
http://www.youtube.com/watch?v=1yZuRPWBbe0
Tags: absurd, Black Metal, nsbm, rac/oi