1. Introduction
2. Sepultura – Arise
3. Metallica – Master of Puppets
4. Coroner – Mental Vortex
5. Morbid Angel – Covenant
Written by Pearson, Devamitra and ObscuraHessian
Introduction
All historical events at some stage pertain to a barrier, or a Rubicon that when crossed marks a watershed in the life cycle of an organism in which an achievement cannot be matched in terms of it's overall qualities. In particular instances, these successes are such that what succeeds can only be a steady decline, or an outcome that pales in comparison to the glory that prevailed at a particular stage of time. This feature aims to give insight into some known examples of the 'Pyrrhic Victory' in the metal genre and give light to releases that represent strengths of once great acts, and at the same time foreshadowed artistic saturation.
A common thread that seems to run through these turning points in the careers of metal bands is the apparent contradiction between a musician's personal evolution and the progress of the musical style into more authentic and expressive forms in service of the concept. We all understand that a maturing musician is not going to be satisfied with the same apparently simple techniques he mastered upon his first year of guitar practice for ages. He probably has musical heroes he is looking up to and he always wanted to learn that Eddie Van Halen or Ritchie Blackmore solo.
Vital musical forms rely on creativity, spontaneity and message over matter. It is the curse of the artist that often the best of their work is at the behest of youthful lunacy and drunken madness, the early recordings where they grasp at the straws of vision without quite having formulated the techniques for achieving them – so they improvise and as Nietzsche would say, "give birth to a dancing star". 'Human', 'Tales from the Thousand Lakes' and 'Heartwork' are all perfect examples of a band with the full arsenal of accumulated weapons, evolved to near its maximum potential in knowing exactly how to compose all the contemporary forms of metal, from death metal and grindcore to pop progressive, even soft rock.
But here comes the paradox. Instead of sounding updated, the recording sounds more dated every passing year, because what has happened is that the band has incorporated a plethora of archaisms to a sound that used to be cutting edge. The bludgeoning dark tremolos of 'Leprosy' that used to climax in nearly atonal solos become melodious post-modernist "cut up" riff salads; the doomy Wagnerian grandeur and slow movements reminiscent of historical battles in 'The Karelian Isthmus' is stealthily exchanged with stoner rock and circular meditations that happen after a couple too many smoked joints; the to-the-point socio-anatomical parody of the hilariously grotesque and twisted 'Symphonies of Sickness' gets discursive and bloated with instrumental worship, as if the band suddenly turned from anarchists into voters. The core question would be: did the band think these are more sensible ways of composition and a better illustration of the topic at hand – or did they forget the composition and the topic altogether in the name of randomly generating "music" with cold technique?
Sepultura – Arise
Coming off the back of the raging, deathly, speed metal of 'Beneath The Remains', Sepultura stay true to the compact musical execution that began making itself clear on the 'Schizophrenia' album onwards. There is more variation in pace, with the lower tempo compositions often resemblant of the riotous and anthemic cycles of of 'Beneath The Remains' played out in suspended animation. The introduction of the now 'tribal' meme that first makes itself present in Sepultura's music introduces itself through in various songs, and whilst here it is applied in a more than tasteful enough manner it sometimes gives the idea that whilst this indicates an 'open-mindedness' to the average listener, on deeper insight it gives light to the possibility that the band by this time may have been starting to run short of creative ideas. Whilst this is a very good record by Sepultura, prevailing characteristics get the upper hand, and in a year where speed metal had long had it's glory days, and death metal attaining new peaks of aggression in a period of artistic blossom, it's no surprise looking back that the dumbed down and singularly 'angry' mosh-fodder that was 'Chaos A.D.' would suceed this work. –Pearson
Metallica – Master Of Puppets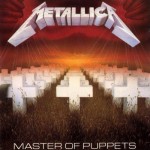 A controversial pick, Metallica's excellent third album fulfills the incorporation of progressive themes but seems to crystallize them to such an extent that no more creative spark would emanate from their later works. Cliff Burton's presence in the unit, and his bridging of neo-classicist influences into their progressive speed metal was a defining feature of what many hessians and metallers saw to be the main component of their excellence. Having let this seep in on 'Kill Em All' and fully realise itself on 'Ride The Lightning', 'Master Of Puppets' steps further towards punchier and anthemic songs, with a steeping emphasis on percussive, palm-muted rhythm riffs which are the dominant motif in the album's musical execution. This is structurally still in the exact same mould as 'Ride The Lightining', in that despite a different order of where songs are, we get aggression in 'Damage Inc.' and 'Battery' where there was once 'Fight Fire With Fire' and 'Trapped Under Ice'. Songs such as 'Sanitarium' continue a rock music inclined sense of songwriting that continues what started with 'Fade To Black' and inevitably foreshadows the growing commercialism of Metallica on later releases. The excellence of 'Orion' also signals a continuity shift that began with 'Anesthesia (Pulling Teeth)' and fulfilled itself with the 'Call Of Ktulu' instrumental. This is a great album that solidifies the importance of Metallica in the genre's history, though the death of Cliff Burton and the lack of creative steam that ensued signalled the artistic decline that came in 1988 with 'And Justice For All…'. –Pearson
Coroner – Mental Vortex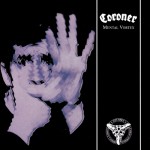 While the speed and thrash metal boom was crumbling all around in the wake of Seattle and LA-based clothing styles storming the nation, a few European stalwarts lingered on the fringes and while some of them didn't dare to take up the arms for intricate, narrative death metal, they were influenced by its vicious aggression and psychedelic subject matter. Coroner from Zürich, around Tom G. Warrior's circle of the tyrants, never became a vastly recognized or influential name in extreme metal but superceded most of its peers in technicality and consistency, releasing a discography of five albums ranging from the raging "R.I.P." to the eclectic "Grin", where the fourth one "Mental Vortex" is where the playing abilities peak but the ultimate purpose of the band is starting to wane. When the idealism of youth fades and with it the spontaneous power of iconographic assault, the only avenue left for speed metal to challenge the moral preconceptions of hypocritical generations was to turn to psychology and explore lies and paranoia in the internal spheres, cutting up joy and sadness into fusion-esque rhythm riff salads (with the timing of an atomic clock) cut up from brilliant small pieces akin to Burroughs' or Gysin's style of literature. Such a hectic style provides an engaging rhythmic tension for this album, arguably one of the last triumphs of the entire genre, but it's also cold and calculated like a scientific experiment. The vastly more popular but not much better Carcass realized essentially the same things many years later on their hit album "Heartwork" and ended up on the pages of guitar magazines, while Coroner was already entombed to the mausoleums of Noise Records' speed metal roster. –Devamitra
Morbid Angel – Covenant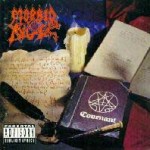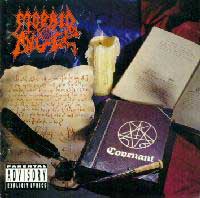 Among the most ancient, recognisable and influential cults in Death Metal's history, Morbid Angel's tale of decline is a prolonged one, and raised continuous questions about the band's creative state, as though their instruments were being channelled purely at the whim of the Outer Gods. The Floridan giants finally resisted the unearthly impulses that once guided them to create powerful statements of occult awareness bound up with a Nietzschean sense of overcoming and will-to-power, such that with the releases of 'Gateways of Annihilation' and 'Heretic', the band fell victim to triviality. Incremental lapses in quality can be traced back to much earlier albums however, with the departure of guitarist Richard Brunelle being the first to impact the legendary line-up responsible for two of the finest Metal albums ever recorded, meaning that 'Covenant' would initiate the band's slow decay. In addition, Morbid Angel's growing populist tendencies were perhaps never more commercially viable than at this time, with the production left in the hands of Fleming Rasmussen, and not one but two music videos filmed to promote the album. Brunelle's exit would mean that Trey Azagthoth would be fully responsible for filling the suffocating mix with his trademarked guitarwork, to the surprising detriment of 'Covenant's sound wherever the album's conceptual direction becomes overwhelmed by a one-dimensional bluntness. Characterised by unfocused and uniform phrasing and only held in place by Pete Sandoval's tightly militaristic drumming, the latter half of the album demonstrates little of the dynamism that could be heard on every one of their preceeding songs. The spiritual inversion of Morbid Angel, a transvaluation of religious language to re-vitalise and Paganise the path of transcendence and condemn the submissive and world-denying, corrupt parasites turns into an unaltering, blind rage that's summarised by the lyric of 'God of Emptiness', "So, what makes you supreme?", setting a blueprint for the band to follow on 'Domination' and the hordes of imitators that were given an undeserved license to record by virtue of Death Metal's growing popularity. 'Covenant' in this sense is not dissimilar to Deicide's Pyrrhic fall from the adept demonology of 'Legion' to the dumbed-down 'Once Upon the Cross', though Azagthoth's wizardry would earn Morbid Angel some redemption with the primordial dance of cosmic energies to be heard on 'Formulas Fatal to the Flesh' before finally digging their own grave without cursing their own reputation quite as badly as the truly shattered idols from the golden age of Death Metal. –ObscuraHessian
Tags: arise, carcass, coroner, Covenant, Heartwork, master of puppets, mental vortex, metallica, morbid angel, selling out, sepultura, zine-zines