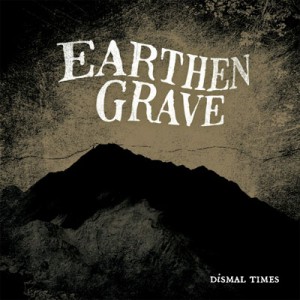 Earthen Grave casts doom metal with a twist: this traditional doom metal in a form very much like Black Sabbath, Pentagram (US) or Witchfinder General adds a virtuoso violin player and occasional touches of high-speed riffing in the style of death metal bands.
Dismal Times (if they named a newspaper after this album, I'd subscribe) powers itself with good ol' 1970s metal riffs, appropriated detuned and given the mid-paced treatment that made early Cathedral so successful. They rock along, create a groove, and then into it drop dissonant sounds and a slow-down, imitating what it feels like to run into bad news.
The bad news theme continues throughout this album. "Relentless" rips along in the style of Slayer's South of Heaven, but then stalls into a dark collision of melody, sounding like a day of ambition that ran full-tilt into a morass of oblivion. The violin of Rachel Barton Pine, renowned classical player and life-long metalhead, dips in and out of the music to accent a riff or zip in a quick fill, contrasting the slow churning riffs.
Vocals are of the higher register type that listeners may be familiar with from Pentagram or Witchfinder General. These work to great effect because the guitars are downtuned and slow, allowing the more able vocals and violin to dart around them and flesh out the layers of sound.
Dismal Times will satisfy metalheads because it is something old and something new; it is classic metal riffs, put together in songs with a mid-paced slightly upbeat feel, but it doesn't lose what makes it doom metal. Instead, it amplifies it, and shows us that the bad news can be fun reading indeed.
Tags: Doom Metal, earthen grave