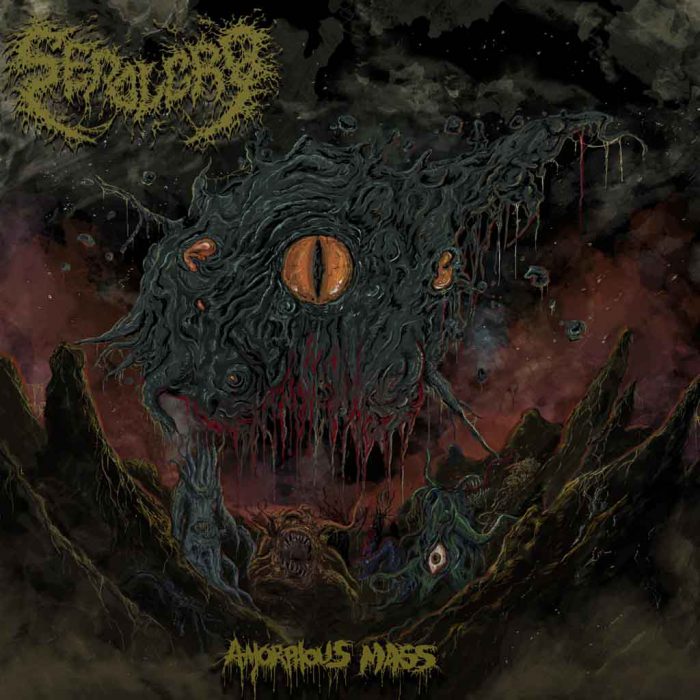 As an alternative to "groove," death metal has its own native form of smooth moving rhythms, which we might call the "cruise," in which drums and guitars interlock to provide a sense of fluid continuity which forms contrast for more percussive or oddly-shaped riffs to come.
Sepolcro attack with a blast of old school death metal, complete with pounding drums on two-chord low-end riffs, but know when to vary this with textural contrast that emphasizes the very natural and serpentine nature of many of these riffs.
Songs focus on a deepening pattern, built around an introduction and a verse chorus loop in which layers of vocals, drums, and guitar technique add or subtract influence to advance contrast, and break with variants of those riffs or counterpoint riffs to produce a sense of rising out of the amorphous mass of the title.
Vocals mostly follow the throat-swallowing bass dirge style but often become emphatic in the method of later death metal like Deeds of Flesh. Basic, thick riffing might be at home on a Cenotaph or Blaspherian album, and aims for a sense of resounding impact more than intricacy.
These five tracks show an introduction to the world that Sepolcro hopes to create, and while many rhythms converge on the same basic idea of recursion, the riffs used to contrast them show a great imagination and create an almost visual sensation of motion.
Messy, inscrutable, and thunderous in the caverns of obscure imagery like the best of death metal, Amorphous Mass shows a great deal of promise and possibly, a chance for death metal to regain the unconfined spirit it restored at the start of this decade.
Tags: death metal, sepolcro