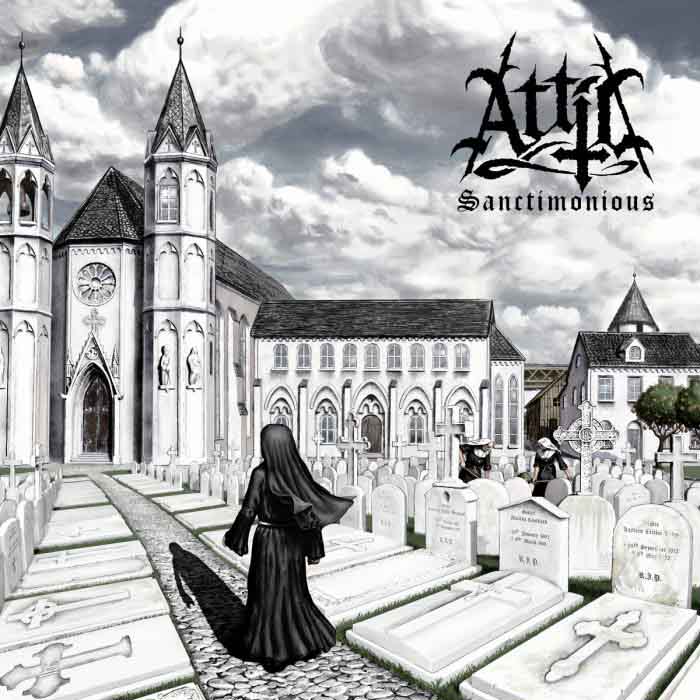 Attic hail from Germany are a German band that have recently started to tour with a few bigger bands recently. Their gimmick is King Diamond/Mercyful Fate for those oblivious to their existence. Within this gimmick there are a few bizarre surprises though.
Aesthetically this band is completely obsessed with mid 80s King Diamond while bringing in some slight Mercyful Fate influences and a large dose of Dissection. The vocals imitate King's voice in both technique and inflection. Despite being eerily similar, they lack personality and opt for an equally dramatic performance but without the histrionics and intense belief that coloured the great frontman's vocal melodies. The guitars use the Andy Laroque style of moving fourth chords in conjunction with short bursts of notes. This base is then supplemented by borderline Storm of the Light's Bane plagiarism in the leads, overall note selection and the circular melodies that play on top of the riffs.
The arrangements work around the extended rock format with a long break working back to the chorus. The issue is that none of the choruses here are particular memorable except for "Hound of Heaven" and opener "Sanctimonious" which bizarrely don't take advantage of their strong choruses. The Mercyful Fate riff mazes only appear during some of the extended introductions but songs quickly return to the aforementioned arrangements. There is a concept to this album that is the typical "nuns have no fun and a nun goes crazy" archetype that has been done to death by King Diamond but it lacks any of the narrative twists or the suspense created by Andy Laroque's solos, feeling like badly done fan fiction rather than an actual story with intrigue.
The riffs in isolation show a lot of merit but fall too much into tired cliches instead of branching out to the extreme metal that is ever so slightly flirted with. Dissection was a smart choice to incorporate considering their digestibility and the parallels with King Diamond's later works. "There Is No God" manages to show the potential that this combination has for the first minute and a half of its run time. A fairly bland listen for those who are well acquainted with the source material, though there are a few highlights here and there especially "The Hound of Heaven" which is the only song fit for multiple listens, there is no reason to visit this unless for some reason you need a modernized take on King Diamond from another band.
Tags: andy laroque, attic, dissection, Heavy Metal, king diamond, sanctimonious, storm of the light's bane