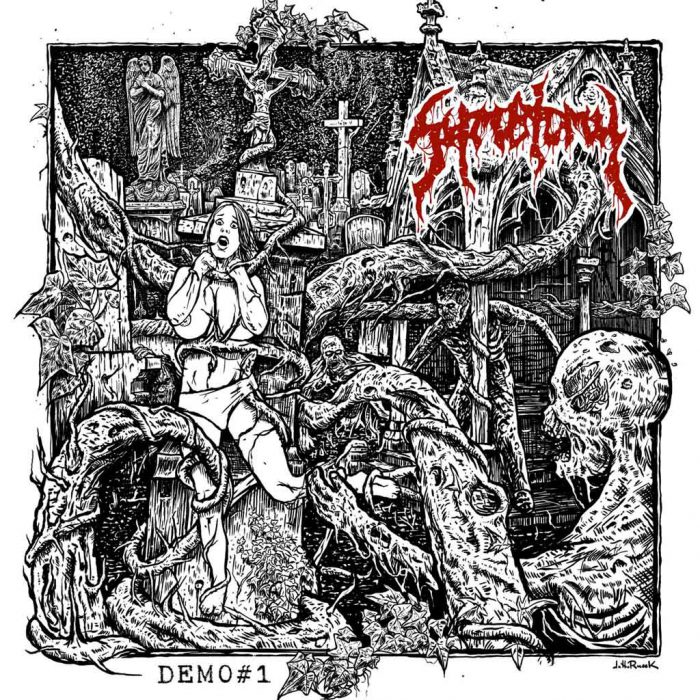 Attempting to use Carnage/Nihilist style d-beat old school death metal as a sponge in which to absorb melodic metal influences, Symbtomy achieve the first stages of the holy grail of death metal, namely songs where all the parts relate to each other and a general theme emerges.
For now, with a limited sample, we can perhaps say little more, but keep in mind that this achievement places them in the top percent of all metal recordings. Songs consist of the interplay between a melodic theme, sort of like a horror movie soundtrack motif, and a bounding, blasting, and bombastic riff which uses the HM-2 sound the band advertises.
Along the way, Slayer-style derivations crop up, battle it out, and spur the song structure and tempo to change in response, producing both dynamic contrast and narrative change. This provides a make-or-break area for this band: they either make songs that express something both emotional and realistic, or end up being songs about wanting to be Swedish death metal.
For now, "Demo #1" shows a great deal of promise, since these are actual songs and the band applies the techniques of death metal within the context of death metal, instead of as a way of dressing up some warmed-over rock or punk tropes as a "new" idea. Let us hope for more from them in the future.
Tags: death metal, symbtomy