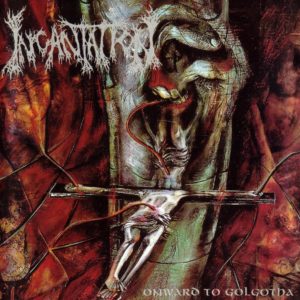 The first riff off "Golgotha" is a fitting introduction to the madness of the early composition of Incantation. It is abrasively confrontational yet more detailed than what its immediacy initially hints at- although the listener is confronted with the familiarity of power chord accents and tremolo picked notes, the arrangement presents an inversion of death metal tropes that echoes the blasphemous lyrical content of the band. Incantation establishes a duality of brutish rhythmic pulses and melodic tension, beginning with four staccato accents and allowing four beats of music to follow without percussion. Anticipating the second pause expected in the persussion, blastbeating drums hammer at a slower beat per minute than what was previously established, bewildering the listener by seemingly displacing the starting point for the riff in two ways of aural interpretation.

The riff then continues as if part B(the initial tremolo-picked melody) were the starting point. The power-chorded notes are now played as tremolo-picked single notes, so that the melody takes on a greater driving force that flows much more succinctly than what the initial, dual technique of the intro had presented. After the listener has processed the melody as having a different starting point than initially established, the theme repeats for almost four full measures before truncating its final beat before moving to the next riff. This last doubles down on the immediacy of the band as if they were getting ahead of themselves in order to fully express their insistent motives.
Incantation's "Golgotha" intro has provided a template for how to establish melodic and rhythmic themes while fully expressing a unique artistic voice in the process. Lastly, it displays many characteristic traits of the style that would become trademarked by the band but, more importantly, it fully depicts the essence of what made their initial output resonate with unfiltered immediacy.
Tags: analysis, golgotha, incantation, onward to golgotha