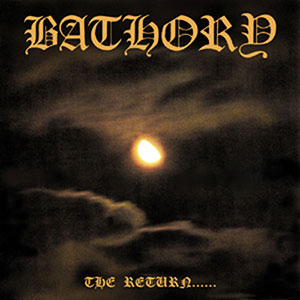 Bathory's relation to the band's fanbase is an infected story of contradictory interests concerning very human desires for truth and meaning. Oftentimes fans and creator pulled in opposite directions, fighting over whether to leave the Bathory mask on or reveal Bathory's inner workings.
Debuting in 1984, Bathory's cult status was rapidly acknowledged in the musical underground. But during a long time a certain air of mystery surrounded the band. It seemed beyond time, beyond space, and even out of national context (to a Swedish person this Stockholm wonder didn't seem as typically Swedish as many of the later Death Metal bands). In general, main man Quorthon kept to himself, few pictures of the band existed, and there were hardly any live gigs at all, in particular once the music got closer to Wagner than to Motörhead. Bathory took one heavy metal tradition to extremes: it created a mythos out of nothing more than a few cover images and an interview or two. This obscure and ambiguous myth bound people together. They wanted to live out this vision as they found it more appealing than their world. When the fanbase went looking for answers, and found little else but songs of evil, darkness, destruction and conspiracies with Satan, imaginations ran wild and filled in the gaps with what they wanted to see, not what they saw.
People have a desire for continuity in an individual's past. In this case, that desire was expressed among metal fans by trying to explain Bathory's music through references to a heavy influence from a band which prior to Bathory was seen as the most extreme: Venom. In several interviews Quorthon himself has denied any Venom influence, but in many biographies the memory of early Bathory as a Venom clone is nevertheless quite persistent. (According to Quorthon, his main influences were Black Sabbath, Motörhead, The Exploited, and GBH, and later on Wagner, Beethoven, and Haydn among others.)
The will to interpret Bathory's music as a logical continuation of Venom, and accordingly seek out a sense of "eternity" in the genre which these two bands (among others) officially created in the earliest of times, is hardly surprising. A consistent pattern which suggests some sort of intention is simply more attractive than a chaotic mess of a genesis produced by two groups entirely unknown to each other.
It is, however, easy to recognize among the authors of reviews of early Bathory albums an aspiration towards and an acknowledgement of a distinct identity of the band and its founder. Regarding Bathory's self-titled debut album and its follow-up, a mantra is repeated: these records are the starting point for a whole genre and Quorthon is its first hero. This is, so to speak, the creation myth associated with Bathory.
Repetition of this myth is presumably what makes it go beyond historicity and is what makes it timeless. It's a way for a metal fan to not only "create" Bathory, but also be a part of the phenomenon. Even repeated listens to Blood Fire Death is a repetition of a mythical Now, which gives us a sort of "vertical anchoring." If myth is a celebration of life, a summary of the Past in the Now, then this is certainly what Bathory is to the band's followers.
Quorthon himself seems to have had an enormous respect for the mythical power of Bathory. Referring to his fanbase as "The Bathory Hordes", he tried to reach out to it in order to receive answers on how to deal with this beast:
[…] send me a letter of what you think, what you would want us to do in the future […] Remember, it is you the fans out there on whom we depend on. […] Stay united and may the northstar shine on you all, keep metal at heart!!
This kind of democratization most likely rendered him unable to control the myth of the band. As Quorthon "grew out" of Satanism, and myths surrounding his persona still insisted on his being a demonic devil worshipper, he wanted to set the record straight. And this is where things get interesting.
In 1996, Bathory released Blood On Ice, a retro album with liner notes containing a lengthy exposition on the band's early history. Presumably, Quorthon had wished to update his biography and rid it of the misconceptions that according to him were abundant in the metal world, but it was probably also a way to pay tribute to the legend by contributing to it with a few "behind the scenes" stories.
This, however, proved to be a serious miscalculation of what the fans wanted. The unmasking threatened the consistent cultural memory of Bathory. And reactions weren't long in coming: fans spoke of sacrilege and treachery in the many letters that were sent to Quorthon as a direct reaction to the liner notes. The memory of Bathory was now to a great extent a social concern and no longer only the creation of one man. Quorthon writes:
I realized then more than ever before that BATHORY was surrounded by the same sort of stuff only legends are made from. The element of mystery and suspense was still very important to a lot of die-hard BATHORY fans. [The truth] didn't suit the image that a lot people had of BATHORY or myself.
Quorthon died in June 2004, but shortly before his death he founded an official Bathory website in which he denies the old image of himself as someone who eats children, drinks blood, and lives in a cage, an image that apparently still needed to be denied. Quorthon tells of an interview many years after he abandoned his satanic image: despite the time that had passed, he was still expected to pose for a photo session with pentagrams, skulls and cobweb.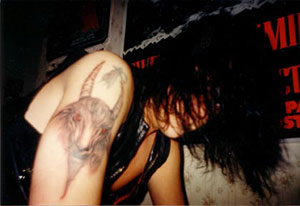 Ironically, many fans have as of recently noted that Quorthon himself tampered with the truth quite deliberately. The iconic Bathory goat – which has become a sort of identity marker among fans – is, according to Quorthon, a collage created out of bits and pieces "from several horror comic magazines". In fact, the goat is taken from a finished illustration in a book on witches from 1981. It wasn't until 2007 that the originator, Joseph A. Smith, got to know that his drawings had been used as subject matter for tattoos and the like all around the world for decades. It also turns out that the lyrics and title to Bathory's "For All Those Who Died" is more or less stolen from a feminist poem by Erica Jong.
The legacy of Bathory will nevertheless die hard. Quorthon created a legend so powerful neither he nor its fans could control it, an art that hovers above independently of its creator and its receivers. Yet we shouldn't forget the core quality of its longevity: Quorthon's compositions. These are what will always create very much alive "elements of mystery and suspense" in the mind of the listener. That's where the magic happens. Hence the art of Bathory is stronger than both the fans' myth-making and Quorthon's myth-busting.
Going through Bathory's albums again, experiencing the passionate evil melody of "The Return of the Darkness and Evil" or the haunting existential angst of "Twilight of the Gods," they contain the same everlasting power they ever did and is what makes Bathory eternal. The mask is put back on. Continuity reappears and everything returns.
Tags: Bathory, Black Metal, Heavy Metal, History, Mythology, Religion