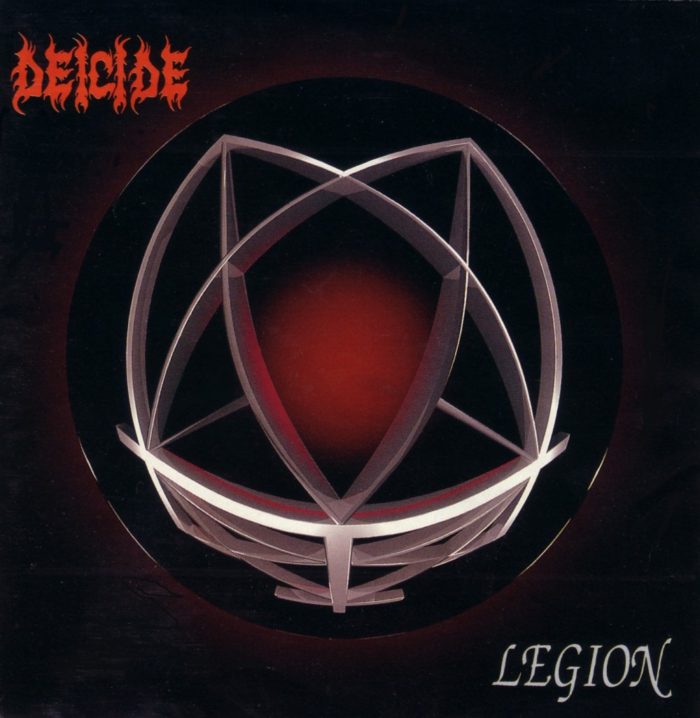 Article contributed to Death Metal Underground by Alan Nestorius.
Legion, Deicide's second and best album, turned twenty-five this year. Legion is the among the most aggressive metal albums of all time. Deicide went directly from the horse power of Deicide to jet engines on Legion. This served to emphasize their style of twin tripleted and tremolo picked chromatic riffs linearly progressed forward to machine gun percussion.
Legion's hyper-speed belligerence, like the best work of Sepultura, is almost unmatched, projecting images upon minds not of human carnage but of humanity's own mechanical creations: A squad of uncountable bombers on a precarious mission to obliterate medieval cities to the rhythm of anti-aircraft fire for their mere existence is but a hindrance to bloodshed. The commanders in the rear knew that such a mission was practically suicidal but tenuously grounding the chaos was a looming entity of destruction, staunch and inexhaustible, incomprehensible but for the fact of its singular universal ambition fueling and aiming the chaos.
The squadron was perpetually at the brink of collapse, total cessation of one the only imparted certainty, inevitably concluding the undergone efforts of which's abruption is at no point alluded to. Atonal leads and solos in the style of Hanneman and King are incendiary bombs cutting through the air, diving down to burn past civilizations to ashes. An unremitting barrage of, both determinedly mindless and furiously homing, fragments of a reality shattering unto itself alongside the disintegration of a force rooting itself into its substrate purposed to destroy.
Burned into the earth below were plateaus of intensity continuously overtaking one another till a point of severity precluding any extractable meanings; as in black holes all laws and rationales are broken down and everything is reduced to a nothingness soon to be characterizing all. The constructions of civilizations past were but fuel to destroy the present as perceivable existence collapsed inward upon itself as the breath of life was sucked upward into an aerial firestorm raised from the Earth to act as their vampiric pychopomp. Legion was Deicide casting their entire Promethean fire down from the heavens upon humanity as everlasting hellfire.
Tags: anniversary, article, death metal, Deicide, Legion, world war ii