People frequently ask "So what is an 'ambient metal' band? Have you actually seen one? Are there any metal bands out there who, if asked, would identify themselves as 'ambient metal'?" To understand why the term is used, it is important to examine first why bands do anything that they do and second, what the term "ambient" means in the context of history.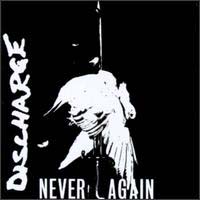 Bands are assembled of individuals who together, in some form, decide what their output will be and create it. While much of this is a spontaneous project, there is behind-the-scenes transfer of information through shared musical influences or ideas and concepts the band members collectively find useful. It is unlikely that four guys with guitars sat down one day and said, "We should be the next cutting-edge thing. I know – let's do ambient music, but on guitars." A more realistic version is that a band formed and started playing with some ideas they found intellectually or musically stimulating.
The earliest human music was strictly rhythmic; the next generation of change brought linear melodic music; the generation after that used harmony and syncopation to integrate the two, and this slowly gave way to the furthest evolution of form, in which melody as the primary content expression was given context by the most complex understanding of musical devices yet known. Despite its seemingly technical origins, this music achieved an acme of expressiveness in artistic outlook. Human culture is still waiting for another artistic movement with the patient spirit and yet unbridled passion of Beethoven, Bach, Strauss or Wagner.
In the media age of the 1950s-1960s, the previous popular forms of Christian hymns, blues, country and polka were whipped into a single entity and called "rock music." It has the populist features that classical music lacks: repetitive beat, droning pentatonic harmony, and constant dynamic intensity. It is cyclic music of an unchanging character. This linear constancy reflected the literature and ideals of the early industrial age, or modernism, although presented in a postmodern ("non-hierarchical") aesthetic concept, until punk music distilled rock music to a few chords and shattered the illusion of uniqueness to any given rock band.
We might call rock "discrete music" because it aimed at a simple, 1:1 ratio between simple and gesture in the music. While earlier music had used pentatonic scales, including accidental or "blue" notes, blues and rock standardized on the pentatonic scale plus a single blue note; most rock is major, harmonic minor, or blues scale composition because these allow a flexible harmony in which no notes are specific to major or minor keys, meaning they can be used over different tonal centers without any notes that sound bad against a chord. Rock standardized the song format on a simplified version of English sea ballads; rock standardized constant syncopated percussion; it also standardized topics and a role (sexual initiation of teenagers). It broke away from the classical idea of phrases which periodically harmonized to exclusively use chords — descending from the guitar's role as a rhythm instrument in ensembles, minus the ensemble — which caused rhythmic strumming within a narrow tonal range to replace the many notes and changing time signatures of what came to be called "lead rhythm" phrases. Borrowing from Anglo-Celtic, Scandinavian and German folk music, and adding a simplified version of the instrumentation used in German beerhouse bands, it took the lowest common denominator and made a fixed form of it. In short it was the perfect product, but in order to do that, it had to simplify itself into interchangeable parts which each had contextless and thus universal emotional symbolism.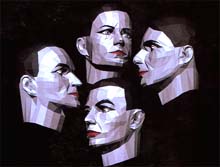 In the 1970s, a countermovement arose in which musicians began looking to new forms for inspiration, and found them in the neoclassical: a merging of classicalist ideas of melody and layered structure with the newfound populist beat patterns of reduced structural changes to prevent intrusion upon the actual song pattern established by melodic architecture. Kraftwerk, Tangerine Dream, and arguably the first ambient guitarist, Robert Fripp, embraced principles of this ethos contra the simplistic lifestyle support of mainstream rock. In this atmosphere underground metal was born with 1983 luminaries Slayer, Sodom and Bathory. Each put out an album colored by the dark careless phrasing of Venom and wrought in the tremolo strum and ambient offtime rhythmic structures of extreme hardcore. This heritage forms the basis of all underground metal.
The opposite of discrete music, but not yet approaching the complexity of classical, ambient music creates a harmonic texture and relegates percussion to a background role, letting the phrase lead the change of song structure, key and tempo. An ideal ambient composition takes unchanging rhythm and over it layers phrases, creating harmony from their conjoined effect in the way classical music does, making moods "ad hoc" relative to its starting point. Where discrete music focuses on each piece of a song being a thing unto itself, using a universal set of symbols, ambient music invents symbols specific to each song and as a result gives pieces of a song meaning only when existing in the context of others. In this, selected metal and synthesizer music (synthpop, electronica, ambient) are closer to their classical heritage than the distillation of popular memes that is rock. Not all metal and ambient music fits this description; many artists, figuring that their listening audience would rather have something immediately recognizable and familiar in a "new" form, use rock-styled composition with different instrumentation.
Good examples of ambient metal are found in At the Gates The Red in the Sky is Ours and Darkthrone Transilvanian Hunger most prominently, but these are the end product of an evolution that began when Black Sabbath began imitating the phrases of horror movie soundtracks in streams of power chords. The first three Morbid Angel albums, anything from Burzum, the first two Sepultura EPs, and Sarcófago I.N.R.I. all exhibit ambient tendencies, among many other albums. Not surprisingly, these bands tend to write about topics that are not "universal" in the sense of common to all human beings in the way morality is surmised to be absolute, but write from a perspective outside that of the human, as if showing us interactions of people and nature in a dispassionate, nihilistic universe which delights in conflict and interconnection more than symbols held up above nature itself.
As any change in musical style points to a change in thinking patterns, the rise of ambience in metal signifies a falling away from mainstream views — which tend to be discrete, moralistic, utilitarian, and universalist — toward a naturalistic and scientific view of reality. The linear is broken; the complex and multithreaded view of causality that ancient civilizations had, in which no single event led to change, but a collaboration of events, has been restored in the music itself, as has a belief in varied dynamics, implying a greater narrative range. In this light, it is impossible to see this music as anything but an ongoing revolution, even if the names used here are still foreign to most of the bands producing it.
Ambient music and its relation to metal
The genres grew up simultaneously and converge in the current generation
by Alex Birch
After Burzum started producing pure electronic soundtracks to Pagan mythology, Fenriz from Darkthrone decided to go avant-garde and composing electronic space explorations, Ildjarn left his Discharge-empowered poetry and began producing synth-layered soundscapes, and Beherit, in an attempt to revive the band from the dusty archives, set out to create simple but haunting digitalized neoclassical harmony, many metal fans previously only accustomed to the sound of raw guitars, slamming drums, dark basses, and tearing screams from the abyss, now began taking great interest in what the electronic genre had to offer. To the surprise of many, electronic music was close to the compositional and aesthetic roots of metal, acknowledging new bands using ambient and metal to fuse a blend between two modern instrumentations.
am-bi-ent (am'be-ənt)adj. Surrounding; encircling: ambient sound; ambient air.[Latin ambiens, ambient-, present participle of ambire, to surround : amb-, ambi-, around; see ambi- + ire, to go; see ei- in Indo-European roots.]

– The American Heritage Dictionary of the English Language, Fourth Edition
As shown by the etymological explanation above, ambient music is an artistic medium trying to achieve an atmosphere or a particular surrounding, based most commonly on electronic sounds that are looped until the listener feels a certain mood and place arise within the mind. Usually the artist takes use of a basic synth-layer, using that as a base for a melodic or harmonic development. The synth-layer can collaborate through assonance or dissonance with another layer, in order to create balance and expand the instrumental possibilities. Tribal beats or other forms of percussion may be used to set a rhythm along with the flowing electronic waves, but most commonly these are left out completely. On top of the basic flow of key tones, the ambient artist experiments with melody and harmony, which we as listeners recognize as thematic communication. The melodies are often looped for a certain period of time, in order to achieve a form of transcendental, hypnotizing effect. Only by listening to the music continuously without interruption, perhaps over a time span of 30 minutes or longer, can the intensity and the thematic realization reach a high-end point.
Due to its very nature as music, ambient is ideal for meditation, as it means long listening hours, often with a calming and soothing effect for the mind, body, and soul. Its instrumental simplicity adds up to this, but the compositional method is often very complex. The artists can integrate different kinds of sound effects to create additional musical experiences: rivers flowing, people screaming, distorted political speeches, and even computerized sounds from a car or a machine, to further enhance and set the mood to its relative course. The leading melodies often intertwine with the basic synth-layer, ending in collaboration between rhythm ("pace") and harmony. Some artists are able compose entire songs only by manipulating a few synth-tones, co-ordinating them into different patterns or cyclic key melodies, and as a result achieve an echoing effect in harmony. Percussion-only, like one tribal beat played against another, may also create an ambient-effect of great use — the possibilities lie within the ideas of the composer. Not surprisingly the ambient genre is a very experimental one, fusing metal, folk, jazz, and even classical music, into an organic symbiosis.
Ambient music can be seen as a structuralistic form of music, meaning the listener must recreate the compositional structure within the mind, in order to understand the ideas communicated through the musical medium. While popular music and most of the metal created today, are built around the concept of musical progression through key choruses that function as leading melodies, ambient music often lacks melodic development and instead tries to achieve an atmosphere by slowly building up harmonic tension over a large time span. The listener is forced to maintain a close relationship to the variation in tonal, melodic, and harmonic presence, and forge all partial developments of the music into a central motif. While this may sound academic, it is often very simple: by paying attention to the music you're listening to, following the progression of the composition itself instead of the melody, you will automatically gain an understanding of the underlying structure within the music.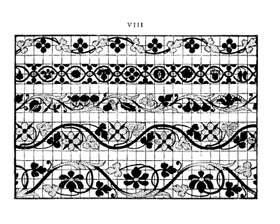 This does not mean that the structure in ambient music "exists" in the objective sense of the word, but that it functions as an assessment of the how the music is structured and what it tries to tell us through ideas. This, along with the fact that ambient music is created to achieve an atmosphere, makes it a very esoteric listening experience, almost like a religious ritual or an intense philosophizing thinking process. There are many kinds of ambient music and, like in metal music, certainly not all subgenres are relevant in the categorizing of the main genre. What they all share in common is a free compositional method of creating music, breaking the boundaries of verse-chorus-bridge-thinking and using the rhythm as a pacesetter and not as determiner of melodic or harmonic progression. This leaves the field open for the artists to create different patterns of ideas without being restricted to a linear beat, like in rock or popular music.
The relationship between ambient and other forms of music may seem far-fetched, but is in fact something that has helped it gain a larger listening audience outside underground circles. Metal music, like ambient, is built around the compositional idea that originates from classical music: long and intense pieces communicating an active life experience, through the inherent variation in musical structure. The free boundaries of harmony in classical music, are in ambient used to let go of all sense of percussion and instead form a continuous rhythm by regularly looping melody and sound effects, until a consecutive working arises and determines the overall thematic and musical base, on which to build upon through progression or deconstruction. Like with classical and metal music, ambient is through its free composition able to take use of partial experiences, and merging these together to form a central motif. While most rock and popular music is built around one key melody without significance to experience, classical, metal, and ambient music can only be understood when interpreting the melodic/harmonic and structural changes in the pieces, and construct these together inside the mind of listener, into a solid whole representing and describing an overall ideal, sensation, feeling, or experience.
The links between metal and ambient music are therefore multiple, and when leading bands within black metal realized the decay of the genre as a whole, they quickly turned to what must have been seen as an obvious next stage within creating neoclassical music: pure electronic textures, free from drums and conventionalities, trying to revive classical music through modern instrumentation. The ambient veteran Klaus Schulze proved that this was fully possible by releasing his album entitled "X". In it he composes pieces functioning as musical biographies of famous German artists like Georg Trakl and Friedrich Nietzsche. While the first pieces are entirely created using the infamous synthesizer (an electronic instrument creating musical output by mathematically or by hand, manipulating keys and sounds by different musical techniques), Schulze gradually integrates classical instruments like violins. In the final piece he takes use of a full symphony orchestra and manages to create music where the classical meets the modern ambient sound techniques. The result is beyond what any artist within the ambient field so far has achieved.
Other ambient projects like the old-school synthesizer masters Tangerine Dream, began experimenting with the possibility in letting concurrent synth melodies function much like a symphony orchestra works with counterpoint, leaving out most percussive determiners and thereby form a music driven by a free melodic progression in sound. Post-techno projects like Polygon Window instead went the other way and tried to create harmony by working with tribal beats and looping them concurrently, so that a meta-harmony was taking shape as both rhythm and key melody. Early artists like Screaming Corpse would even strip the music of all melody, instead collaborating with sound effects in order to fuse different collage into central motifs. Buzzing sounds and distorted screams passing a digitalized filter, would function as instruments themselves, experimenting with echo-effects and extreme reverbing techniques.
This method of composing music was later developed into what we today refer to as "industrial ambient", meaning a form of music that by working with machine-driven beats and sound effects replicating mechanistic and robotic parts of modern society, achieves a post-industrial form of electronic music. Similarly many projects take use of sound effects from nature, which nowadays is called "nature ambient"; samples of thunder, running water, moving glaciers etc. together with electronic instrumentation, in an attempt to describe an experience related to nature and its process as organic system. Amir Baghiri demonstrates this when forming melodic motifs by using water drums to evoke the soul of nature with its own organic material. Neoclassical ambient artist Biosphere can also be added to this list, manipulating sound effects from nature with cold and bleak soundscapes, forging a timeless atmosphere set out in the freezing northern Europe.
However, the most common form of ambient is that of long and simplistic synth tones, balancing between different tonal heights and variation in intensity, slowly building up a meditative state of mind within the listener. Lustmord and Lull are two classic examples of this compositional method: no percussion, no beat, no central melodic or harmonic motif, only hour-long sonic textures forged by the most simple of tonal variation. The theme is only understood by listening to the whole piece from start to finish, paying close attention to the underlying structures in the music and placing them in context with the central compositional idea. Metal works the same way: the understanding of the music is only apparent to the listener who follows the structural progression and not simply trying to find any "truths" within the aesthetic alone. Classical music is even more free from boundaries than metal, and requires a high attention span in order for the listener to follow each small harmonic change, and realizing its relevance from a larger contextual "truth", which is assessed only within the mind of he or she who listens, but nonetheless is a result of an assessment of what the medium is trying to communicate.
Sometimes the entire musical picture is disintegrated into monotone sound waves, like a radio transmission being converted into pure synth layers, moving back and forth between two levels of intensity, much like the waves of the sea meets the shore. Post-Beherit project Suuri Shamaani composed music this way, following a logical progression of its previous attempts in creating solid and flowing music without as little rhythmic restrictions as possible. Inspired by synthpop masters Kraftwerk and the previously mentioned Tangerine Dream, Suuri Shamaani gained a new presence within ambient music with its desperately bleak, dissonant, organic, over-simplistic instrumentation. Fenriz' side-project Neptune Towers was following the same lead when breaking apart the sparse beats found within the music of Tangerine Dream, and instead using the synthesizer to both shape rhythm and harmony around improvised melodies, thriving on free contextual motifs connected to the organic space of universe.
Similarly have some ambient artists been trying to use instrumentation from more traditional elements like heavy metal, to explore the possibilities in letting metal, ambient, and classical music collaborate on a common idealistic basis. Canadian ambient project Ashtorath and the more well-known artist Robert Fripp, found new life in the electronic genre when integrating classical harmony and metal instrumentation, like piano and guitar solos, even taking use of violins to achieve a neoclassical atmosphere.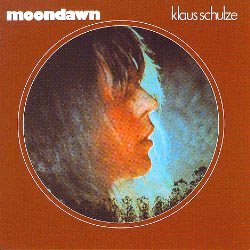 While the composition behind ambient music has been complex as in the case of Klaus Schulze or Tangerine Dream, the simplicity of the instrumentation has remained as a hallmark for most of the material created within the ambient field. The veteran and official founder of the concept of ambient music, Brian Eno, stated in the liner notes to the album Music for Airports, that it had to be "[…] able to accommodate many levels of listening attention without enforcing one in particular; it must be as ignorable as it is interesting." His music was built around this idea: simple key notes balancing on equally simple central motifs, both working as background meditation, but also providing the listener with a deeper contextual depth that only could be found by paying close attention to the structural core of each piece. In this sense, ambient music is both passive and active, as the mind of the listener concurrently experiences a background and a leading theme. This was nothing new to the metal fans that started to listen to Klaus Schulze and Neptune Towers after the outbreak of populism within the genre after 1996.
Metal music follows the same compositional method as described above: what to most people sound like "noise", is to the regular metal listener a clear and distinctive form of music close to the classical ideals. This is understood only by seeing through the "noise" generated by the guitar riffs and the slamming drums, and instead paying attention to the underlying melody, structure, and thematic presentation. Still the metal artist is able to take use of the "noise effect" by manipulating it and turning it into an aesthetic pleasure – an important part of the musical experience as a whole. Classical music almost completely breaches the boundaries of passive/active switching by its continuous flow of partial melodic development, but similarly has the ability of being understood as both an overall tonal advancement towards a certain key motif, and as partial context in melodic detail: the focus on the partial and the whole becomes a clash that can equally by seen as the switch between the passive and active listening experience. As listeners of classical, metal, and ambient music, we both interpret the active experience and the "passive" one automatically generated, by letting the mind making a continuous re-assessment of the overall advancement of the music. This is how we are able to remember certain key parts in a musical piece, from over an hour of perhaps 40-50 different melodies; we've registered the overall tonal variation and from there on, remembered the partial textures built around the central motif of each piece. This can be compared to the sense of hierarchical memory by which our brain often functions: you read the word "Burzum" and think of keywords linked to that phenomenon: "ambient", "Odin", "Discharge".
Is should be somewhat apparent after this reading, that ambient and metal music have a lot in common, and that the narrative basis in metal music made a logical progression away from blues/rock standards, instead trying to conquer new grounds by leaving the standardized format and migrating to an open and free composition closer to that of classical music. With that migration, the blockheads that still today are producing four-chord-cycled riffs, were left behind and still to this day do not understand nor comprehend the genius in Neptune Towers or later Burzum and Beherit. The metal artists proved once again that their ideal was an elitist and romanticist one, creating art after experience and ideal, and not after commerce and popularity. Ambient was the choice for many serious black and death metal bands when the genre became crowded with too many populists, and since the ambient field was both close to classical/romanticist ideals, and offered a modern way of reviving ancient wisdom from centuries far left behind, it was seen as the only step towards a more unrestricted musical area, filled with the passion and atmosphere that defined the best of black and death metal. Today most serious metal fans also listen to classical and ambient music, knowing these three genres contain a lasting artistic expression towards natural and traditional ideals, free from conventions found within blues, rock, and popular music, breaking new boundaries as further possibilities are explored, along the way on the journey to the stars.