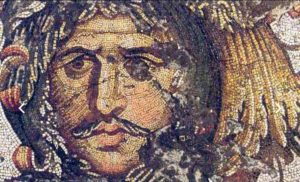 Active Imagination is one of the pillars of Jungian therapy[1] , and simply consists in engaging with the symbols of the mind in a way that allows us to contemplate them or even engage with them. Outside the stale therapeutic environment of clinical psychologists, we can discover emotions, situations and characters inside of our minds (and presumably in the collective mind) by using the same technique in a slightly more unhinged and less sanitizing direction. We can use the musical, lyrical and visual contents of metal albums which are more often than not intended to be mythical, and are thus a great source for archetypal projections.

Several distinct approaches can be taken when we attempt to engage metal albums in an exercise of Active Imagination. We may either focus on the music, the cover art or the words written for each song. Or we may decide to involve any combination of these at the same time or in sequence. In any of the modalities, we recommend reducing all unnecessary sensory input. If we wished to concentrate solely on the music (having seen the artwork before but not concentrating on it), we could use headphones with some manner of isolation, and cover our eyes to prevent light stimuli from distracting us.
A simple process for Active Imagination to explore metal albums could go like this:
Sit/lie in a comfortable position and relax by focusing on your breath while observing the album artwork. Keep your mind focused on breathing deeply and your eyes on the image, exploring its details, letting impressions and emotions surge without following any of them. Your mind does not follow anything but the inhaling and exhaling of air from your lungs. Do this for as long as it feels right, or until you cannot wait to listen to the music.
Put your (noise-cancellation) headphones on, press play, and cover your eyes with a piece of cloth or eye mask. The music will begin and you must remember to take a back seat to your impressions, emotions and mental images that arise, letting them coalesce on their own. A note to those more technically inclined: there is no excuse for not being able to do this with some practice, you can overcome your impulse to analysis by learning restraint through calm.
After you have finished listening to the whole album and you have allowed yourself a moment, uncover your eyes and bring out the lyrics for the album, if any. As you slowly read each line, wait for the effect of each verse wash over you like a rolling wave. Move on towards the end and listen to the music again now, with or without headphones, with or without covering your eyes.
Write an account of the world visited, characters seen and events witnessed, & send it in any form (raw, embellished, sanitized, sadistically enhanced, etc.) you see fit to editor@deathmetal.org.
Notes
[1] http://www.jungiantherapist.net/jungian-therapy-101-active-imagination/
Tags: active imagination, carl jung