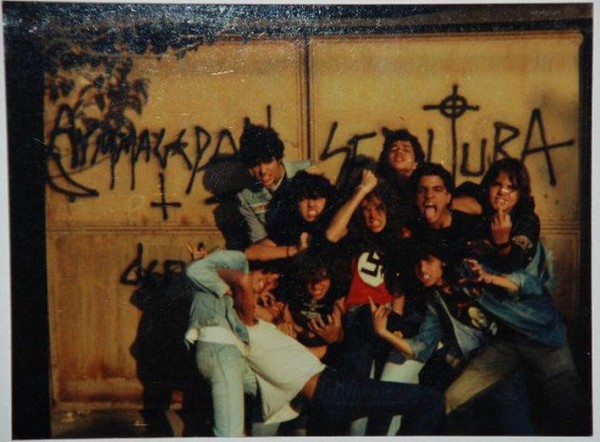 Hippies can't play metal. Black Sabbath kicked off the metal movement because they wanted to make dark rock in contrast to the "peace, love and happiness" movement that had swept rock music into conformity. In this they joined other acts, like The Doors and Jethro Tull, who warned that good intentions would not save the world.
Since the 1990s, hippies are no longer the opposition to our evil conservative overlords… hippies are the Establishment, and they have become just as conservative and evil as anything before, except that now that have a mantle of moral superiority to use as a weapon like grandmothers use guilt. Not only have the hippies aged into their 60s, but they have adopted the view that they are right and anyone who deviates must be quashed. So much for the summer of love.
For that reason it's natural that much as metal fought the suburban mom censors and Christian fundamentalists back in the 1980s, from the 1990s onward it has been fighting hippie fundamentalists who believe that peace, love, inclusiveness, happiness and political correctness are the only topics one can sing about, and if not, one is the enemy. This follows the path other ideological fanatics took, as in the Soviet Union, where their revolution for equality ended in mass executions.
This is a turf war. Hippies have wanted to take over metal since we challenged them (and their insipid rock) in the 1960s. They took over hardcore in the 1980s and songs went from rants about the imminent decline of our society to cute ditties about how the singer is outraged that people are not more accepting of everyone and everything. They transferred all that boring late hardcore into metal and threw some metal and jazz riffs on the top and called it a new genre, "modern metal." The problem with it is that it is boring. Every single band of this type is random because the message it endorses is the anti-message: stand for nothing except going along with the hippies. This means writing transparent songs about SJW-topics that never really go anywhere since they all have the same meaning, "join the revolution!"
If you listen to enough modern metal, you will notice a pattern emerges. On the surface, this music is diverse and exciting. Jazz riffs, metal riffs, punk riffs and indie rock tropes compete for surface space. But then if you look at the heart of it, these songs really do not have much going for them. There is no melody or theme uniting them, just a loop of verse-chorus to which the band tacks on the randomness. This is because these are not songs about anything but are new and not very exciting ways of saying the exact same thing over and over again. Like a loudspeaker blaring in Moscow square, SJW-metal repeats the same propaganda in lockstep in hopes of reducing your brain to sludge so you go along with it. There is a reason it is all boring, and it relates to the purpose behind the music. Just like pop is annoying because its only purpose is to be catchy and vapid, SJW-metal is boring because its only purpose is to bleat propaganda while trying to be "unique" by making new surface variations of the same tired 1960s-1980s rock.
When hippies invaded rock, they destroyed it. When they invaded punk, they neutered it. If they successfully invade heavy metal, they will turn the last comfort of the rebellious soul into the dogma of the boring 1960s revolutionary left. SJWs are zombies who preach the same stuff that baby boomers were wailing on about in the 1960s, forgetting that all that stuff got debunked when the USSR fell in ruins and we got to see the SJW paradise: everyone was equal, and anyone who disagreed got shot, so no one did much of anything and it all fell apart. Hippies would bring us to the same end. They are essentially apologists for the decay of our society. Where metalheads want to look at reality and come up with solutions, hippies want us to space out with happy feelings and ignore the fact that we are in free fall as a society and soon to bottom out. This is why industry and government eventually embraced hippies: they do not threaten the power structure. Metal does, and that is why today's hippies are trying to invade it, and why we must refute, resist and reject them.