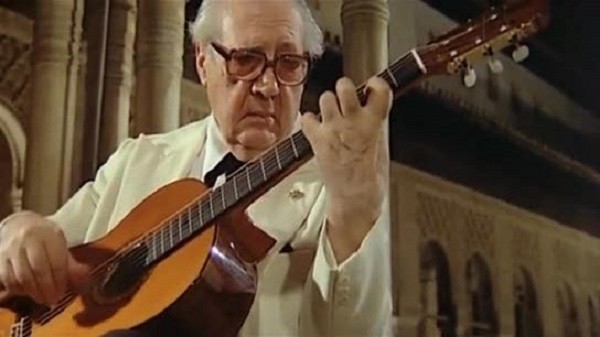 In a saner world, all children approaching the age of purchasing their own music would be given the 2-disc set of Andres Segovia entitled The Art of Segovia and made to listen and understand it before moving on. This collection of songs reveals not just how good music can be, but how to think about music both as technical musicianship and as art.
A collection of songs arranged and performed by Andres Segovia, this set shows instrumental prowess at its best where it seems more controlled. Most of these pieces came from composers who originally wrote either for guitar or small ensembles, and Segovia laid them out so he could play multiple melody lines on guitar over the length of each song. As a result, these songs are dense in a way that most popular music is not, in that each part relates to the previous material in the piece but seeks to not just complement but expand upon what is there. Melodies grow from a few notes to a full-fledged expression and then modify themselves with material from contrasting voices in each song, creating an effect like reading a great book where every character changes over the course of their adventures while simultaneously influencing the course of that journey. What at first sound like fills and turn-arounds are not spurious material but continuation of the song, with every note played serving some purpose and nothing extraneous or for the sake of showing off. This alone puts the lie to technical music of the current time, where a simplistic song if dressed up in recognized "hard" techniques becomes "technical," even if those adornments contribute nothing to the song itself. The technical art here is in the writing and arrangement of the music in addition to the performance.
In addition, The Art of Segovia forces us to look at what makes a song — one medium among several for the mental process we call "art" — strike us as great instead of simply adequate plus novel. Each of these songs evokes a feeling that is both unique to the song and can be found in life itself, not a subjective sense but more a subjective perception of the objective translated into a form that any logical mind can process. This transcends the limitations of not only the medium but the human mind itself, creating a commonality based on an accurate view of reality that is nonetheless interpretive, instead of pandering to the lowest common denominator that a crowd would find pleasing. All of the tools of art — rhythm, melody, harmony and phrase — apply themselves to revealing the inner essence of a complex experience, not so much distilling it to a simple statement as walking us through its evolution and reaching a moment of clarity, then allowing it to fade away as we absorb what we have sensed.
Very few people who listen to rock, metal, jazz or blues have sat down to listen to a great work, understand it, and understand outside of its medium what makes it great. As with a great book, a great piece of music reveals something in life that we have not discovered or denied. It shows us the truth within, not creating another surface category, and in doing so makes us consider how this experience is universal to those who invest the time in understanding it. Truth meets us halfway between our perspective and the world. Great art lifts us out of the subjective, transforms the objective through not just the power of personality but the insight of talent, and delivers it to us in a form that re-discovers life with freshness through a vividly accurate portrayal that shows the hidden possibility lurking even within the mundane. When we have that level of expectation for art, the trivial novelty and diehard pandering to comfortingly familiar sounds fades away and instead we seek something of greater clarity, power and ultimately meaning. Naturally this is not popular with record labels, for whom discovering a Segovia each month is impossible, but for those who value their time and want to listen to music that shows the best of what humanity can do, The Art of Segovia gives us a yardstick against which all great albums must compare.
Not all of these will be as technical as Segovia's playing or the writing of the composers he arranges. They do not need to be. If they uphold the same spirit of discovery and revelation that makes this art so profound, they can do so with fewer musical techniques. But if they do not live up to that understanding of what art and by extension music can be, they sound hollow in comparison to Segovia and stand no chance of comparison. The best of metal lives up to this standard and it refuses to be controlled by those who wish to dumb it down so they can sell more of it or use it to push a message. As we go into a new year, and the second half of a dubious decade, demanding metal that live up to this standard ensures that we will have less to listen to, but enjoy it more.
Tags: andres segovia, art, Heavy Metal