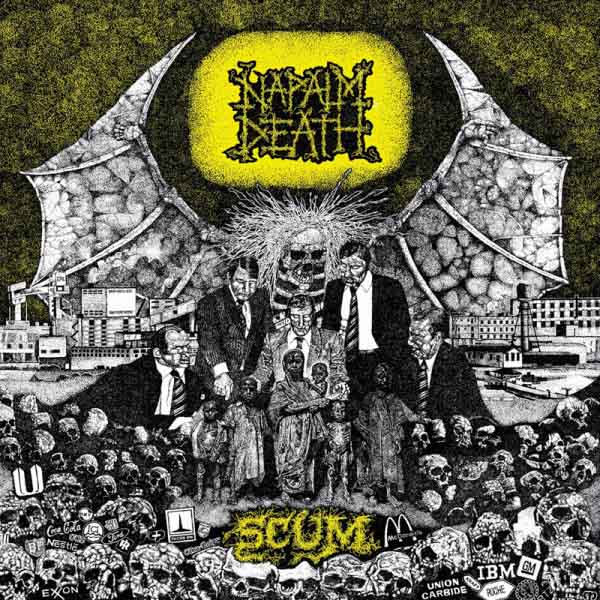 Growing up, I always detested "political" albums because people were ranting to me about partisanship from an adult world that I knew had already failed. It really was shuffling deck chairs on the Titanic to demand one failed version of the current order over another. It also violated what I felt was sacred about art: its abstraction, metaphor, and connection to the naturalistic experience.
Great art does not tell you want to think. It opens doors, conjures visions, reveals adventure just beneath the surface of every day reality, and most of all, forces you to confront the question of meaning and its relation to the practical. It can even do this on the edge of the political, like Carbonized For the Security, the early works of William Faulkner, or William Gibson writing Neuromancer. But it is fundamentally asking philosophical questions through the experience of the maturation of the individual as that person tackles reality and accepts the limitations of human intention. Art does not tell us what to think, it shows us how to think, mainly by breaking us out of the present moment and showing us a story over time, where each action has a consequentialist result, like a hidden world of cause/effect relationships beneath the veneer of human activity and fears that normally fills our heads.
Some albums might be on the line. You have to be somewhat emotionally dead to fail to find Operation Mindcrime inspiring, although it is vague in its politics — a general distrust of authority, a belief in human moral or spiritual corruption — that you could come away with either an Antifa or Tea Party reading of it without really being wrong. The same holds true with some of the great paranoid albums like Discharge Hear Nothing, See Nothing, Say Nothing which are more about how civilization inevitably and consistently becomes a death-trap. But the greatest of albums, like the Romantic writings of H.P. Lovecraft and J.R.R. Tolkien, or even C.S. Lewis and Aldous Huxley, show us a murky world of esoteric symbolism which deconstructs our motivations and then connects us to the logicality of elemental forces in our universe. Religion, philosophy, realism, pragmatism, and existential questing for significance to our lives are parallels united in such a form.
During the 1980s, the political album became bread and butter for the record industry. Almost everyone in entertainment and media was united against the President, or at least against the Cold War, and these albums found a ready audience that did not mind that such albums are much easier to create than mythologies of supernatural metaphor that probe what we really are doing here as sentient monkeys, sort of like the early Slayer work, in which similes of vampires, disease, occult evil, and human weakness get under the issues of the day and force us to debunk ourselves, see what actually motivates us, and prompt us to think about all the much more interesting things we could experience if we got outside of that tidy little moral kiosk.
That wave may be wearing thin. We are not in the 1980s or 1960s any longer, when people trusted in "people power" against oppressive institutions. We have realized, through some kind of sea change in a cultural force, that these institutions are made of people and the assumptions that we make about what motivates people allows us to admit the most corrupt motivations as "good" and then become baffled when the good ends up bad, every time. We are leaving that Age of Ideology where these simplistic categories could guide us, and entering new waters where we are looking into our souls to see if there is any actual good there.
Even more, music has become junk. Ease of production, decentralization of sales, and many more people involved with music has reduced it to the lowest common denominator. The punks thought they were a revolution, but really, they managed to open the door for music to be as hollow as the products on our shelves with catchy jingles on the radio. Music got dumbed down. It is easy to point the finger at hip-hop/rap, but that forgets that rock became formula, jazz became elevator music, metal became nu-metal, and across the board, every genre appears to be racing to the bottom to reduce music to a melodic hook and a driving rhythm. For some time, hip-hop was even our last mythological genre, translating political and cultural agendas into vivid stories of life as a gangsta, in an exciting world of high-value drug trafficking and instant death.
But now, even hip-hop has succumbed to the political album, and in hip-hop the political album has failed, causing a ripple effect as the emptiness of this form reveals itself across the board:
Despite the pre-release buzz, however, Revival isn't the commentary-driven release many may have expected. The album's political focus is mostly on the first half, with Em pondering everything from white privilege to Trump support in ways that feel sincere, but not quite revelatory.
Note also another bad sign: the self-referential title. When artists refer to their career with the album title, it usually means that horrors of tedium await as they pander to new audiences while half-heartedly trying to uphold their aging base.
Em calls out Trump most directly on the Just Blaze-produced "Like Home." Rapping for "Someone get this Aryan a sheet," Em delivers a quasi-sequel to his 2004 anti-Bush track "Mosh," with Alicia Keys joining in for the hook. "Untouchable" sees Em rapping from the perspective of both a racist white cop and a black man—and it's one of the few moments on the album that sounds inspired. But again, these socially aware moments are few and far between.

Em is mostly still navel-gazing. And it's not all that interesting here.
The album sounds like a bore anyway, but the fact comes to light that after the great SJW battles of 2013-2017, politics no longer inspires people to buy something. It used to be a trigger, like in the 1960s, when you thought a political album was the way to be part of something bigger and learn something new; then, in the 1980s, it was more of a class aspiration signal, showing that you were with the hip, young, and entertainment-based instead of the old, kludgy and "do the right thing" generation. Now it is just another commercial message.
As political albums die out, new space opens for artistry. We no longer need to play binary sides, joining either the counter-culture (C2) or the counter-counter-culture (C3). We can instead write about what it is to be human and, through that, discover what is real around us and therefore conveys meaning to our struggles, because life is suffering but not all suffering is equal.
Similar to other deaths in the music industry, the death of the political album is the clearing aside of something that never was all that relevant, but dominated us because it was a trend. These old fads are passing on, leaving empty and ambiguous spaces like the eternal sensation of night, in which we can explore because infinity lurks in the darkness.
Tags: Carbonized, discharge, eminem, hip-hop, political album, queensrÿche, ronald reagan, sodomy