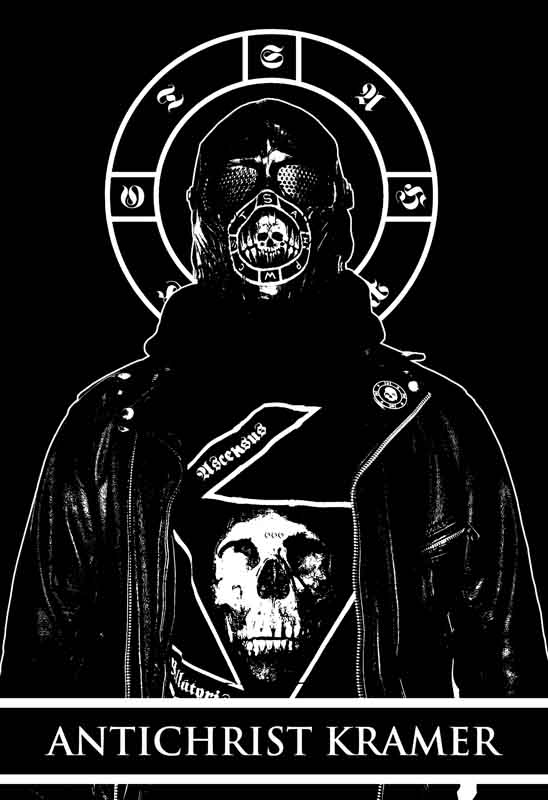 Article by Lance Viggiano
Intolitarian is the work of a singular person who polemically positions himself as an artistic paragon standing on the opposite end of a polarity between retro-rehash, imported heaps of plastic and bad Xeroxes. Amidst such a landscape and armed with powerful rhetorical golden guns, he is able to churn out effort after effort which communicates nothing and everyone knows it. Like war metal, which similarly has nothing to say, criticism is parried through a simple maneuver: those who call this spade a spade simply cannot handle how extreme it is for it is certain that this work stands on the precipice of a new aesthetic era that will make death and black metal look like nursery rhymes. This defensive posture is of course a variation of the oft repeated, "You don't understand" that is used by insular communities and critics to accomplish little more than convince the user of their own superiority where every induced eye-roll reduces to signals of ones own status as a martyr for good taste.
Speaking of which, Deathangle Absolution is broken apart by insufferable self-aggrandizing spoken word ramblings recorded by an acid-casualty multi-tracking his indignant dulcet voice produced to resemble a pirate radio broadcast. The effect is nothing of the sort as one can practically hear a Cheeto sediment river of Pepsi sloshing into the microphone with every righteous, "You" uttered. Whatever immersion into this world might have been otherwise achieved is completely destroyed as the introduction to every proper track rapidly descends into self-parody.
On the note of unintentional comedy, the positions taken on record are merely the leanings of its opposite dispensation – meaning it presupposes the same things about the world as that which it claims to reject – with its judgments of value reversed. As if to own the caricature of itself it has been given by those who despise it by taking that ghoulish nasty beast to the next level where it no longer resembles that which any human being actually thinks or does. It so happens that the opposite of a brittle and over-socialized modern defecating into the ears of the metal community with self-loathing tirades is just as awful as a nut job faux-bohemian pseudo-occultist modern who can't compose enduring music.
The somewhat esoteric, mysterious, and nuanced copper scraping across concrete free-jazz motorik brigade debut Berserker Savagery was an accident. Here, hardcore inflected non-speak is used alongside structured drumming to ensure impotent grindcore played by a recognizable instrument – this time- is impressed upon the listener as a means of recollected torture. Resting on the aesthetic laurels of Beherit demos and Blasphemy's studio blunders is not a sufficient proof of superiority; especially when what results is far worse upon comparison. In terms of what can be said about the texture-as-vessel approach, it is executed without purpose to an effect on par with Katharsis playing lesser Darkthrone for masses seeking comfort in familiarity. What structure is given to this album arises after the fact through the addition of drums and vocals. The same can be said about every other toddler playing on pots and pans to the shouting of a drunken step father over television static release in the war metal.
I do sincerely hope that the lonewolf berserker involved in Intolitarian are having a good laugh which brings them nearly to an orgasm that might liberate their existence from this matrix prison illusion because this is clearly a prank of metal. Hail the $3.69 bargain bin!
Tags: antichrist kramer, hipster bullshit, intolitarian, noise, stinking shit, War Metal