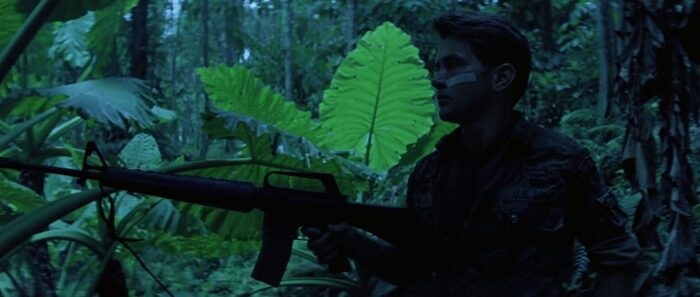 Back in the 1980s, praising Satan or even talking about Him in any context other than condemnation put you in the middle of the culture wars. Unable to talk about demographics, conservatives backed themselves into the corner of fundamentalist religion and saw Satan everywhere.
For this reason, bands both flirted with Satanism as a marketing technique and saw a fertile ground for writing lyrics. If you reject modernity, that means you reject Christianity along with all the other stuff you cannot talk about without really getting in trouble.
Those coming from a Nietzschean background quickly saw a parallel: like Dionysus or Thor, Slayer represented the pagan way of viewing the world where there were no categories of "good" and "evil," only being measured by the effects of your deeds and strength of your spirit.
To the pagans, there was no comical Heaven or Hell surrounding Earth for moral judgment of people. Some were born bad, and they lived bad lives, and some were born good and got to live the good life by being smarter. Natural selection was always present, and the gods walked the Earth.
In addition to being less ridiculous than the overly-symbolic (and thus categorical thinking obsessed) Abrahamic religions, this view was monist, or integrating physical and metaphysical dimensions of life into the same set of rules of common sense.
As such, it was less prone to the horror of metaphysical dualism, where people live for the "next life" in Heaven by using this world as symbolism to reach the next, effectively trashing Earth and their own lives for a promise of Heaven.
Where Judeo-Christianity represented a personal god and a humanist morality, paganism and the occult offered a naturalistic morality, Darwinism, and the ability to enjoy being alive again. Using Satanism and occult symbolism was not just a rejection of Christ, but of humanism and modernity as well.
Turning that cross upside-down said that you thought humans were just another animal, and that we all played by animal rules, and any afterlife would be like this one with its struggles and strivings. It was a form of hard realism in religious form to assert paganism, occultism, Satanism, or Luciferianism.
Consequently, lots of metal bands used Satanic imagery, although some used it to warn of the horrors of stepping outside the Christian moral kiosk. Some used it for fun or for shock. Still others pointed out that modernity was based on human egotism and was leading to an apocalypse.
From Spin Magazine back in 1989, when the magainze had televangelist Bob Larson interview Slayer:
Kerry claims he's never read the Bible, though he says if he did he'd probably write some Iron Maiden-type lyrics from Revelation. He looked once at The Satanic Bible, but found it boring and trashed it. He seemed to know little about Christianity, but his eyes flashed indignantly at the mention of Jim and Tammy. The PTL scandal inspired the tune "Read Between the Lies" ("Evangelist, you claim God speaks through you/Your restless mouth full of lies gains popularity/You care not for the old that suffer/ When empty pockets cry from hunger"). Televangelism scandals aside, Kerry says horror movies are his main source of song inspiration.

Jeff seemed the most uncomfortable with the big "S" question. He ascribes to a kind of benign agnosticism. He bristled at the mere mention of any assumed involvement with the Prince of Darkness. Jeff isn't even sure what a Satanist does or believes. To him, the whole thing is ridiculous. He says all religion is "stupid." And what of his lyrics like, "Lucifer takes my dark soul/Down to the fiery pits of hell," from "Necrophiliac"? Watching him onstage gives me a clue. He looks evil. His eyes flash with an aggressive, almost demonic intensity. He's the headbanger cheerleader, exhorting the crowd to ever more expressive states of frenzy. He admits that something, somewhere in his childhood, angered him. "The stage is my opportunity to release that unresolved aggression," he freely acknowledges.
Generation X has a unique rage at Christianity. Their parents either hid behind it or used it as a false target, blaming Christianity when they meant White people or conservatives. It was required to be a politician or public leader. People saw it as culture.
But even more, it was the old human game of symbolism taking the place of realism. When people fear reality, they turn into contrarians who reject reality, and so they embrace human socializing and its method by which people seduce and manipulate each other with symbols of absolute good and bad.
We all use good and bad for shorthand. When your mother gets run over by a carpet cleaning truck, that is usually bad (but good if she was bad). When you fail a test at school, that is bad. If you find a forgotten twelve-pack in the basement, that is good. The new Slayer album is good. And so on.
This usage however draws a distinction between "good for me" and "good for the world as universal maxim," to borrow a term from Kant. It is good for me to pass a test, but bad for society, nature, and the order of the universe if I am faking it and others must endure my incompetence.
As the official forces of evil themselves recognize, occult means naturalistic morality instead of humanistic morality:
The term "occult" refers to what is hidden, and like "esoteric" implies that which rests in plain sight awaiting our ability to understand it. Nothing hid gravity, electricity, magnetism, and nuclear fusion from us, but it took us centuries to understand what we saw.

In the same way, spiritual truths remain hidden. To those who understand the nature of Godhead, the unity of Satan and God makes perfect sense, and the moralistic personal deity of the Abrahamic religions falls like members of Hamas gunned down on the border.

Darwinism similarly hides in plain sight. To those who can think it through, it represents a perfected system that improves quality and reduces costs much like capitalism. It involves predation and culling of the weak, so the herd fears it.

In permanent agricultural civilization, understanding of reality — as a nihilist I reject universal "truth" — remains sequestered as the ultimate taboo. Civilizations do not want reality; they want compromise, pacifism, and pluralism so everyone "gets along together."

To peer under the mile-wide inch-deep surface of human existence is to encounter occult notions.
What makes civilization so rotten? Is the The Jews,™ hiding in poisoned wells? The evil rich people, or even the kings? Maybe there is a vast Satanic conspiracy? Or Occam's Razor: humans in groups tend to become delusional because they reinforce each others' illusions.
In other words, if given a chance, people reject universal maxim and replace it with universal humanism, or the idea that we do not adapt to reality and instead reality should ("morally") adapt to our individual desires:
Traditionalists believe that there is an order to the universe which has a cause before and beyond the physical, but manifests as the physical, which makes the physical and the divine simultaneously important because they reflect the same process happening.

In their view, which comes from Plato, all that we know of the world — the Veil of Maya — is in fact a shadow of the event that set it in motion, which has its origins in something larger than the physical world, a vast space of cause which we know only through the surface in terms of its physical effects.

This view might compare reality to a wave, where we see the crest and feel the crash, but the real generation of the wave was not only miles away but fathoms deep, and so what we know as a "wave" is merely the aftereffect of that creation. Reality is real because it reflects this larger world of causes, but we know it secondhand at best.
Metal, like paganism, does not believe in using symbols to make universal abstractions. What is good for one will be bad for another; as Plato said, the supreme morality — paralleling Kant — is "good to the good, bad to the bad." Universal maxim rewards good this way.
In this sense, metal is very far from being Satanic or Luciferian, since it rejects the universal symbols and metaphysical dualism required. On the other hand, by doing so, it embraces the core of what makes Satanism, the occult, and paganism so frightening to Abrahamic and humanist believers.
Tags: bad, bob larson, evil, good, humanism, luciferianism, Satan, Satanism, slayer, spin