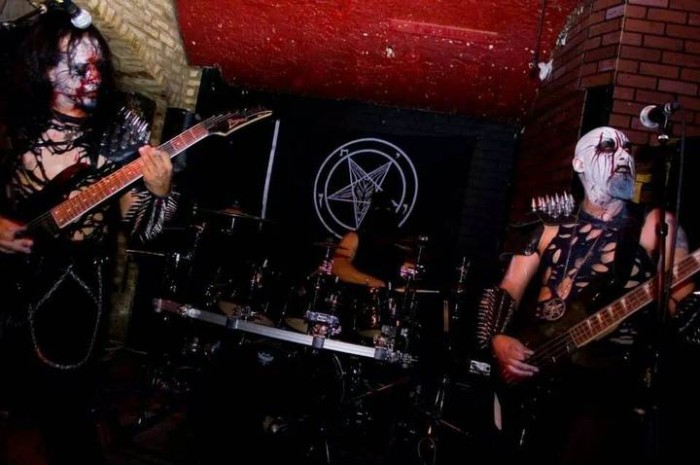 In the middle of #metalgate, we are familiar with regular outrages as SJWs attempt to silence anyone who does not agree with their narrow-minded, politically-motivated viewpoint which they use as a means to achieve personal power by delighting in the destruction of others. Before this creepy behavior moved into the spotlight, its roots could be seen in an early incident involving the black metal band Nyogthaeblisz:
In the build-up to the fest, the usual rush for the aspiring pretentious festival goer to research all of the bands playing so they wouldn't get caught looking ignorant was on. Chaos In Tejas attracted a variety of types to the festival. One of the more unfortunate types are the "I still think punk is a platform to fight the good fight politically" PC punk type.

The 2012 edition featured anarchopunk legends The Mob & Antisect, so the festival promised to have more PC crust punks than usual in attendance. As kids started to research the lineup, they found "irregularities" in Nyogthaeblisz's background. First, they were on the label Satanic Skinhead Propaganda. The label, run by the oft maligned Antichrist Kramer, had a reputation for releasing questionable / sketchy music. Second, Nyogthaeblisz's lyrics made crushing commentary about the Jewish faith, though not specifically limited to it. The criticism / outcry from many parties quickly became deafening.

The height of this outcry was when The Mob / Antisect both threatened to walk out of the festival and drop if Nyogthaeblisz was not dropped. Eventually, the festival's promoters made a tactical decision and relented. They dropped Nyogthaeblisz. For the PC types, this was seen as a victory. Defeating the evil that is intolerance and racism wherever they may find it.
Nowhere else has the problem been more clearly documented: invaders from the long-dead punk scene, where people buy bands for "the message" despite low musical quality for the past twenty-five years, muscled into a metal festival and used their media power to force removal of an act singing about a fairly middle-of-the-road black metal message, which is a critique of Abrahamic religions (Nyogthaeblisz targets Christianity, Judaism and Islam as being the same philosophy).
While many of us are sensitive about people who dislike Jews, remembering the horrors of Kristallnacht and The Holocaust, this does not insulate any religion from criticism no matter how minority its status. The whole point of religious toleration is to allow ideas to be compared, and this includes defense of those who are critical of religion or specific religions. "No gods, no masters" is OK in the PC world, but saying "not this god" is not.
Their use of the term irregularities brings to mind a group who, in the name of a Good ideology, killed over 100 million people, many of them in death camps. Their favorite tactic was to kill off the intellectuals and leaders in any field and then replace them with politically-obedient substitutes. This group was the Communists, whose idea of universal equality and ownership by the people of the means of wealth sounds good on paper, at least. You can just see a Commissar, in uniform with pistol at his side, saying "Comrade Nyogthaeblisz, vee haf found some… irregularities… in your papers. Please come with us now," before the train to Siberia or the guillotine departs.
This mentality was described extremely well centuries ago by Fred "God is Dead" Nietzsche:
There it comes willingly: welcome, tarantula! Your triangle and symbol sits black on your back; and I also know what sits in your soul. Revenge sits in your soul: wherever you bite, black scabs grow; your poison makes the soul whirl with revenge.

Thus I speak to you in a parable—you who make souls whirl, you preachers of equality. To me you are tarantulas, and secretly vengeful. But I shall bring your secrets to light; therefore I laugh in your faces with my laughter of the heights. Therefore I tear at your webs, that your rage may lure you out of your lie-holes and your revenge may leap out from behind your word justice. For that man be delivered from revenge, that is for me the bridge to the highest hope, and a rainbow after long storms.

The tarantulas, of course, would have it otherwise. "What justice means to us is precisely that the world be filled with the storms of our revenge"—thus they speak to each other. "We shall wreak vengeance and abuse on all whose equals we are not"—thus do the tarantula-hearts vow. "And 'will to equality' shall henceforth be the name for virtue; and against all that has power we want to raise our clamor!"

You preachers of equality, the tyrannomania of impotence clamors thus out of you for equality: your most secret ambitions to be tyrants thus shroud themselves in words of virtue. Aggrieved conceit, repressed envy—perhaps the conceit and envy of your fathers—erupt from you as a flame and as the frenzy of revenge.

What was silent in the father speaks in the son; and often I found the son the unveiled secret of the father.

They are like enthusiasts, yet it is not the heart that fires them—but revenge. And when they become elegant and cold, it is not the spirit but envy that makes them elegant and cold. Their jealousy leads them even on the paths of thinkers; and this is the sign of their jealousy: they always go too far, till their weariness must in the end lie down to sleep in the snow. Out of every one of their complaints sounds revenge; in their praise there is always a sting, and to be a judge seems bliss to them.

But thus I counsel you, my friends: Mistrust all in whom the impulse to punish is powerful. They are people of a low sort and stock; the hangman and the bloodhound look out of their faces. Mistrust all who talk much of their justice! Verily, their souls lack more than honey. And when they call themselves the good and the just, do not forget that they would be pharisees, if only they had—power.
The article adds a nice analysis of the situation from a neutral viewpoint:
What happened to Nyogthaeblisz was a textbook case of what people who are intolerant of intolerance do. You've heard stories about Antifa protests at shows over the years. Antifa members calling the police (the ultimate cardinal sin in the subculture) on shows they protest, intimidating attendees of shows they protest, and threatening promoters for their bookings of questionable acts. None of this is okay. This kind of Kristallnacht, lynch mob, seeing red mentality at the mere possibility of questionable content is not okay. Nyogthaeblisz was judged and attacked without even getting to issue a statement in their defense. The biggest tragedy of the anti-racist position is the claim of a higher understanding / intelligence that their racist opposition lacks. If this higher understanding / intelligence truly existed, the research on Nyogthaeblisz would not have stopped at Anti-Jewish, but arrived at Anti-Abrahamic. What happened to Nyogthaeblisz wasn't the triumph of good over evil. It was one side becoming what they hated to root out an entity that they did not understand.
This is the face of the SJW: someone who has failed at life or at least is less important than they think they are, demanding to be made important through ideology and their ability to summon a hate-mob to destroy others who have achieved what the SJWs have not. Nyogthaeblisz's real sin was not having the wrong views, but succeeding without having an SJW ideology and lifestyle. That is the face of the group that wants to take over metal, replace its leaders with SJWs, and forever turn it into a mediocrity like hardcore has been since SJWs took over there.
Tags: Black Metal, gamergate, metalgate, nyogthaeblisz