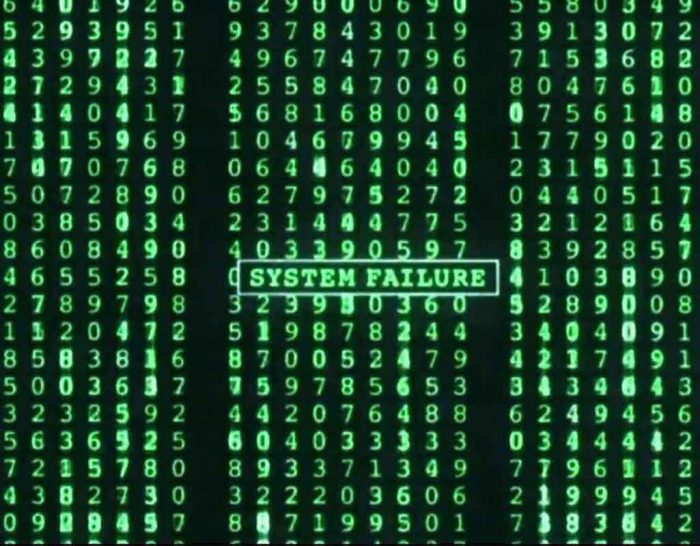 American music as an industry peaked in 1995, when thanks to the new hip-hop boom, CDs fully taking off, and a record number of Generation X consumers buying music, record sales went through the roof. However, right after that point, something went wrong.
Within the year, harried executives were devoting time to figuring out how they killed it:
Growth in the $12 billion record industry, which for more than a decade has ranged from 12 to 20 percent annually, has slowed to nearly a standstill, and people in the business can't agree on why. All that is certain is that a malaise is sweeping every facet of music — its production, distribution and consumption.

Record labels still expect to take in at least $11 billion this year, but too many businesses are competing for a piece of a market that not only is barely growing but is also failing to create stars with durable careers, people in the industry say. Executives say they expect the problems to last 12 to 18 months longer as the industry levels out after a period of overexpansion and misplaced optimism.

In the first half of the decade, record labels were confident as sales of alternative rock and country music boomed. But the presidents of several record labels said they felt they had since lost touch with their audience. They blamed themselves for this, saying that by chasing hit singles instead of building long-term success for bands, they had turned off many consumers.

"We do a lot of audience mood-checking," said Judy McGrath, president of MTV, "and the 17- to 24-year-olds we've been talking to are not that dissimilar from people in other age groups. They're re-electing the same president and not feeling that enraged. A huge percentage of them live at home and are happy to. They don't say, 'My parents aren't cool and I don't want to live with them and I hate their music.' The us-versus-them thing seems to be disappearing. People are more complacent."
Perhaps people lost interest in the 1960s protest rock that was being rehashed as grunge, which mixed a little punk and metal into music from the Boomer generation and repackaged it, and in the rising hip-hop trend, which ensured that popular music would basically be propaganda set to a beat.
As it turns out, this trend of losing faith in the music industry continues today, where we see the classic bands outselling the recent:
Last year, three of the UK's top 10 best-selling albums were Greatest Hits collections from artists whose career peak came in the 1970s – Queen, Elton John and Fleetwood Mac.

At the same time, only one British debut album – KSI's Dissimulation – sold the 60,000 copies required to be awarded a silver disc.

Leathem said increased competition for fans' attention on streaming platforms like YouTube, Spotify and Apple Music meant that "everyone is fighting" for a share of a "smaller pie".
This touches on two issues: first, quality of music, and second, the effect of having a centralized source of music, since a few monopolies control basically all streaming (Apple, Spotify, Bandcamp, SoundCloud, Amazon).
Just like apps took us from the glory days of late 1980s computing when we finally got functional operating systems and interoperable formats that could take control of our data away from specialized programs, streaming services have taken us back into the 1950s: they are analogous to radio.
When radio ruled the airwaves, a few big commercial providers determined what the audience knew was out there. These "top 40" days meant that some won big, and everyone else got shuffled off to jukeboxes and hipster record stores.
As it turns out, streaming services have the same desires that radio did, which is to produce big hits which mean quick cash instead of building long-standing relationships with niche artists. Underground metal rebelled against this by creating a parallel industry based entirely on artist longevity.
Metal could do this because it is artist- and album-focused, instead of single-focused. People do not want to follow that one great song, but to buy the album… and if that lasts, buy the rest of the discography of the artist.
The radio model, on the other hand, emphasizes novelty, which in turn induces record labels to focus on a steady stream of highly similar music to suppress competition, in which they can use advertising to hype low-cost production into a stream of hits.
Since the goal is to have fat margins — low cost, high price — this leads to an industry which exploits artists by paying them tenths of cents on each dollar of revenue:
Gary Numan recently said that he made £37 from a million streams of one of his songs. Again, he wasn't griping about the money due to him, but painting a picture of what it's like for a new artist who couldn't hope to get a fraction of those plays. Let's say 25,000 people streamed that artist's latest track. As popular as that might make them seem, it wouldn't buy them a coffee in the shop where they had to work a second job because their income from music was so meagre.

The thing is, streaming has taught us that people are willing to pay for music. Spotify had total revenues of $7.4bn in 2019. A lot of that money goes to major labels rather than directly to artists, so they're part of the equation too.
As if rebelling against this, music fans are increasingly turning away from streaming services, where they can lose access to music that they have bought if they are deplatformed or the company ends its licensing deal with the copyright holders, and turning to physical music, especially analog physical music which, once sold, cannot be controlled by any centralized party:
U.S. vinyl album sales hit another historic high, as 1.842 million LPs were sold in the week ending Dec. 24, according to Nielsen Music/MRC Data. That's the largest week for the format since Nielsen Music/MRC Data began electronically tracking music sales in 1991. The previous high was set only a week earlier, when 1.445 million were sold in the frame ending Dec. 17.

Furthermore, vinyl album sales outpaced CD sales for the week: 1.841 million vs. 1.671 million. It's the fourth time that's happened since 1991, and all four instances occurred in 2020.
Funnily enough, record labels knew of this back in 1995 (from The New York Times article, repeated from above):
But the presidents of several record labels said they felt they had since lost touch with their audience. They blamed themselves for this, saying that by chasing hit singles instead of building long-term success for bands, they had turned off many consumers.
They are seeing a fundamental flaw in marketing theory here. You can boost short-term profits by selling to the widest audience, but in the end, your bread and butter are the fans, or those who enjoy music and consistently buy it, not the Top 40 audience.
Metal remains uniquely poised to take advantage of this since the entire genre that is not the aboveground commercialized and neutered (Boris, Sunn, Mastodon, Pantera, Linkin Park, Gojira, Deafhaven, Liturgy, Winger) material is oriented toward albums that endure, not temporary distractions.
Tags: record labels, recording industry, vinyl