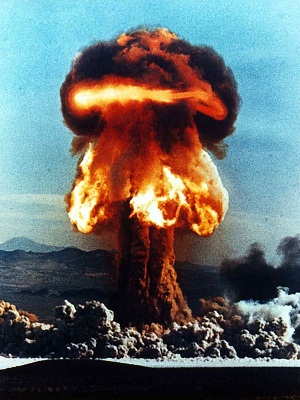 The world has never forgiven metal for being an outsider. Since the dawn of its creation, metal has not gone along with the love songs, hippie values and cheerful oblivion of the rock/pop crowd.
When other bands were singing about flowers in their hair and how peace would save the world, Black Sabbath — inspired by horror films, which have similar themes and sound — took a view that could only be described as "heavy" and thus as unpopular, inevitably outsider.
Much like Galileo centuries before, Black Sabbath upended the human cosmos. Most people saw themselves as the center of the universe, and their individual desires and concerns as important.
Heavy metal smashed all that down by viewing humanity like microbes on a microscope slide. We are tiny, insignificant, and battered by the winds of history, in its view. The highest goal is not some callow happiness, but to fight with honor for glory!
This sentiment shows up throughout metal in many genres. This is music for war, death and evil. It is music that recognizes hatred and cruelty as a necessary part of the dark half of the human soul. It is natural music, as natural as a predator crushing its adorable prey.
Naturally, this is very offensive to some people.
In the 1980s and 1990s, their response was to try to ban metal, first for sex, drugs and Satan, and next for politically unacceptable speech. Starting in the 2000s they found a better way to smash it: assimilate it.
Their method is simple. They make bands that sound like metal, but are compositionally closer to mainstream rock music. That way people stop seeing a difference between the two, and metal vanishes, replaced by rock music.
This brings us to "indie rock." In the early 1980s, people used the term to refer to any DIY rock bands, most of which emerged from the DIY punk movement of the previous decade. Because of the punk influence and outlook, most of these bands sounded similar.
Indie bands use punk riffs and power chords, tend toward minor key droning, have a little bit more country and folk music in them, and are less consumer-oriented. Where the big bands sing about politics and getting laid, indie rock sings about being alone and confused.
If big rock 'n' roll makes perfect consumers, indie rock does even better. It makes people who pity themselves and need a lifestyle with lots of products to buy in order to fit in. Do all indie people collect records, buy nostalgia toys, and have ironic tattoos? Maybe not all, but most.
In fact, indie rock and mainstream rock are two sides of the same coin. They are both based on the desires of the individual and a need for some kind of consumption to have identity. One appeals to the thoughtless, the other to the neurotic.
On the radio there are songs about disposable relationships, getting laid, feeling good and buying new things. In the dark hipster corners of the internet, indie rock bands pour out songs about having a cup of coffee, feeling empty and giving up on love.
When nu-black metal superground "Twilight" (composed of Nachtmystium's Blake Judd, Atlas Moth's Stavros Giannopoulos, Sanford Parker, Leviathan's Jef Whitehead, and Krieg's Neil Jameson) announced that Sonic Youth guitarist Thurston Moore would be joining the band, it was a formal certification that black metal was being replaced by metal-flavored rock.
This sleight-of-hand is a play on outsiderness. Paradoxically, outsiderness is the easiest way to sell a product. It says "You're different, you're not like everyone else." Much as birds in the jungle like to have bright plumage to stand out from the others, men and women in modern society like to be different.
However, truly being different is a big deal. It means nothing is convenient, and that you have to live a lifestyle that takes you away from the herd, and reduces your access to easy friendship, mates, business, etc. You have to be a real wildman, underground man or drop-out. Most people don't want to do this.
As a result, there is a huge profit to be found in manufacturing outsiderness, or taking the same old stuff and re-surfacing it with something tinged with outsiderness. Hence metal-flavored rock: look outsider like a metalhead, but be normal and social like a rocker.
The world experts on having an outsider surface to cover their inner mundanity are the hipsters. They like indie rock because it, too, is a re-surfacing: it's essentially the same stuff that's on pop radio, but with DIY aesthetics and lyrics about being an outsider.
Hipsterism has taken over mass culture because, as AdBusters puts it, hipsters are what happens when your culture has died and there is nothing left but interpersonal drama. The hipsterification of metal picked up steam in the late 1990s.
Indie-metal superstars Mastodon are working on a new single collaboration with indie drama queen Feist. Some new horror called "vest metal" is already showing us indie trends in action.
Underneath the skin, however, modern science has officially recognized that all pop music is essentially very similar on a musical level, even if on the surface — its "flavoring" — it's "different." This has caused others to wonder if music now is a spectacle that's all image, with musical quality ignored in favor of novelty and popularity.
This won't suprise metal fans, who tend to see society as a lost colony of narcissistic sheep rocketing toward an apocalypse, but might upset the "normals." I guess there really is something to outsider status, after all.