Part of being a metalhead is observing other metalheads. At concerts, in record stores, or in public. I was first attracted to the idea of "status," or social rank within a community, above and beyond normal status when I observed how brazenly metalheads wore their tshirts, and how much they selected as a group by what was on each shirt.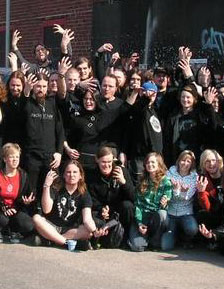 Some guy dodging through a crowd at a metal show is going to look for a tshirt that appeals to his "type" of metalhead, and he may scorn the guy wearing the Cannibal Corpse shirt as an idiot while wanting to know the dude wearing a Demilich shirt. Your shirt signifies your taste, which signifies where you're going in life.
Metalheads don't like to talk about this, but each group has its goods and evils. Power metal people fear the kvlt black metal tshirt; death metallers scorn the power metal people; in black metal, your tshirt marks your political identity as well as whether you like mainstream black metal or kvlty underground stuff.
Even in social groups, metalheads tend to prefer people who share their taste in music or at least approximate it. Social networks like last.fm capitalize on this tendency among music fans in general, but among metalheads, the competition is even fiercer. If you like power metal, you may scorn black metal for its low technique. If you like black metal, you may scorn power metal for being crowd-friendly.
The first person to really bring status into the public eye was the author Tom Wolfe, who explained in social terms what sociologists tried to explain in academic prose. These definitions resonated with me as I immediately thought of metalhead status:
I was by no means the first person to get excited over Weber's "status." The concept was well known within the field of sociology, although it was more often expressed in such terms as "social class," "social stratification," "prestige systems," and "mobility." Six years later Weber's terms "status-seeking" and "status symbols" began showing up in the press. Soon they were part of everyday language.

The great American sociologists of the 1950s, W. Lloyd Warner, the Lynns, August B. Hollingshead, E. Digby Baltzell, C. Wright Mills, David Riesman, were turning out studies of how Americans rated others and themselves, often unconsciously, according to race, ethnic group, address, occupation, vocabulary, shopping habits, bill-paying habits (personal checks in lump sums as opposed to installment payments in cash), bureaucratic status symbols (corner offices, fine wooden desks as opposed to metal ones, water carafes, sofas as well as chairs, speaker phones, etageres of brass and glass), education (the great divide existing between those who had bachelor's degrees from a respectable four-year college as opposed to those who didn't), even sexual practices. The upper orders made love with the lights on and no bed covers. The lower orders–in the 1950s–found this perverted.

Sociologists never rejected Karl Marx's brilliant breakdown of society into classes. But his idea of an upper class–the owners of "the means of production"–and their satellites, the bourgeoisie, in a struggle with the masses, the working class, was too rigid to describe competition among human beast in the 20th century. Weber's entirely novel concept of "status groups" proved to be both more flexible and more penetrating psychologically.

…

Status groups, Weber contended, are the creators of all new styles of life. In his heyday, the turn of the 19th century, the most stylish new status sphere, no more than 30 years old, was known as la vie boheme, the bohemian life. The bohemians were artists plus the intellectuals and layabouts in their orbit. They did their best to stand bourgeois propriety on its head through rakish dishabille, louder music, more wine, great gouts of it, ostentatious cohabitation, and by flaunting their poverty as a virtue. And why? Because they all came from the bourgeoisie themselves originally and wanted nothing more desperately than to distinguish themselves from it.
In many ways, metal itself was a status-driven offshoot of rock. While rock musicians worshipped simple blues songs and had a hippie ideology of hedonism and universal tolerance, metal was dark and embraced the "historical" view, in which universal tolerance was a failed idea and individuals were flotsam in a sea of larger forces, ideas and ideologies.
I've identified three general ways that metalheads use memes, or ideas conveyed through language or image, to manipulate each other through status:
(a) Convince people their lives as they are constitute the best option for them;
(b) Convince people that by picking a "higher" form, they are raising their status;
(c) Convince people that they can raise their status by construing another group as stupid or destructive.
Included in this is "anti-status," where one trades rising in social ranks for a desire to dive to the bottom of them in the idea that being more Satanic, more impoverished, more intoxicated, or more violent makes one more authentic or "real." Like Bohemians, they are trying to escape the direction everyone else is going, which is heading upward to bourgeois contentment and wealth in the suburbs, so that they can be "real."
Here's a short list of status trends in metal:
Category A:
Pantera – Want to feel like your hard-working blue collar life, and hard-partying weekend lifestyle are the best it gets? Pantera affirms this through its projected masculinity, defiance and disrespect for social order. At its heart, Pantera is a revolutionary band: screw the people in charge, we're doing fine right here, because this is our identity.
Venom – Venom makes people feel good about treating life like a joke. Its humorous Satanism and poppy songs convey a basic message that the world is a farce, and it's fun to oppose it, but nothing's really going to change so let's hang out and praise Satan ironically. It is no surprise this band is the favorite of hipsters.
Category B:
Cynic and Opeth – With a single CD purchase, you can feel like a guitarist on the rise. People love Cynic and Opeth because the purchase of a few CDs gives them an excuse to feel more musically literate than others. They believe they are raising their status by going "higher" in musical complexity. At the same time, at the core of their compositions, both of these bands are very poppy and often discontinuous. This technique is valuable because it is baffling, and that allows the Opeth or Cynic fan to tell people, "You just don't understand it" and feel smug as a result.
Kvlty black metal – Ever wonder why someone is listening to incomprehensible, chaotic, droning dreck that sounds like ten thousand other bands? They're competing for anti-status by trying to pick the most obscure, violent, primitive and dirty metal they can. They frequently one-up each other in contests for naming the most obscure band, and have created a cottage industry out of recording engine noises and selling them on eBay in 7″ format.
Category C:
Political bands – Some band like Rage Against the Machine or Arghoslent wears their political ideology on their sleeves. The point is to find an absolute political "truth," and to construe themselves as higher in status than those who oppose it or are ignorant of it. The main objective is to make others feel politically illiterate and thus inferior to these altruistic, seemingly wise bands. While we deliberately mention a rightist band, this phenomenon is far more prevalent among leftist bands because they are inherently altruistic.
Manowar – "True metal it is or no metal at all, wimps and poseurs leave the hall" says it all. Listen to Manowar, because it's the true and authentic experience, and by definition, others are poseurs and wimps who may need beating down. Either way, you raise your status by finding the true authentic experience while others flog on in ignorance. (Note: this doesn't mean that there aren't wimps and poseurs out there, just that the division may not be as simple as envisioned in Manowar lyrics).
Does this make these bands any less artistic? Possibly; it varies from case to case. What it is, however, is smart marketing. You want someone to buy your product again and again, even if it's unsatisfying? Convince them it makes them smarter than others. Most television ads work by this principle: one housewife muddles through with her broom, while another has a super-vacuum that cleans it all. Same principle.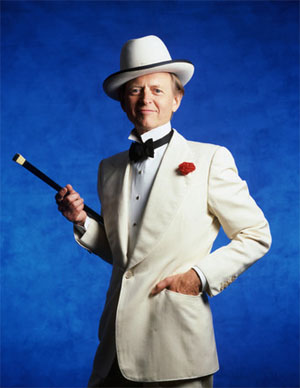 Does this negate the truth of say, a political band? Not necessarily. However, it's a great way to market your political ideology. Just vote for this guy, and you're automatically smarter than others, and therefore have raised your status. Other people think they know the truth? You've got a higher truth, or in rare cases a lower truth (libertarian Social Darwinism zealots, raise your hands!). Either way, you're smarter and have higher status as a result.
Status-raising products are popular because they're easy. There's no initiation or lengthy learning process. Instead, you find a place that has the CD, and they're never more than two steps away from the neighborhood record store, and buy it. Some erect barriers like demanding cash only, using obscure formats like CD and tape, or even screaming fascist rhetoric at you, but still: the stuff's for sale and they need to sell it. Ka-ching! Thanks, you're now elite.
Socioeconomic status is not the same as status, as Wolfe points out. If "all you do is" earn a bunch of money, many people are going to view you as another ignorant bourgeois fool, unaware of the authenticity of true kvlt black metal as well as the legitimacy of popular revolt in crustcore. You may also earn very little money, but claim you're "keeping it real" by living in violent primeval poverty with your true kvlt black metal or crustcore.
Status can also compensate for other factors. You're starting out on guitar, and the kids who know more really shake you up. Go get an Opeth CD and ram it down their throats. They may have years on you in playing, but you figured out the game ahead of them because you're a smarter monkey. They like Pink Floyd? Opeth and Cynic to the rescue: they're more syncopated, technical, harmonized, or something, and that kicks your status above theirs. Take that!
By the very nature of this compensation for both socioeconomic status and ability, status is addictive. Once you buy one status-raising product, it's not enough. Time passes; it's not new: you need to buy another. So you do, and you keep doing it, because your identity is now wrapped up in the status-raising properties of these products. Some call it cognitive dissonance, or using status to "compensate" for real-world disappointments.
When you walk into a crowd of metalheads, and see them assessing each others tshirts and knowledge, you're seeing a battle as old as nature: a quest for dominance. In the case of most teen metalheads, they're just trying to grow up and emulate the adult world. But in others, especially career metalheads, you're seeing a gambit for social power that will define their relationship to this music for life.