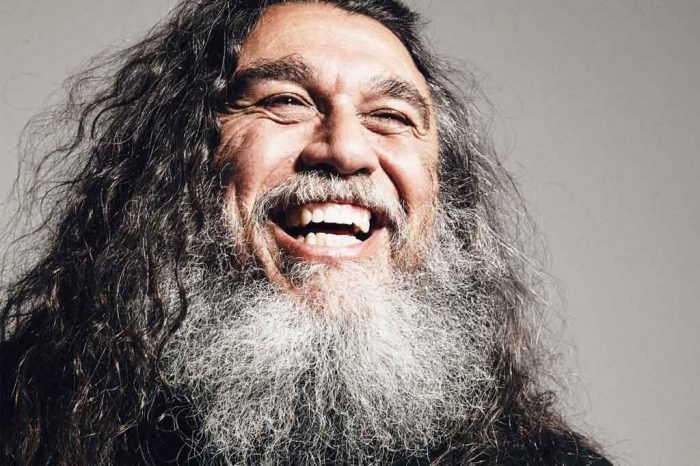 Article by Corey M.
Recently Tom Araya, frontman of seminal and legendary extreme metal band Slayer, offered some words of encouragement to Swiss concert attendees regarding their ownership of personal firearms. He makes a case for owning guns, saying that there are invaders and enemies all over the world and in your own countries and towns, who may turn weapons against you anywhere, at any time. Because of this constant threat, owning and carrying weapons of your own is advisable, says Araya, making a pertinent point. Though he made a point to use no names, Arya mentioned events "in other countries" that resulted from people thinking they were magically immune to random violence (a transparent allusion to the Orlando, Florida shootings last month, in which nearly a hundred patrons of a nightclub were gunned down over the course of a few hours and half of those ended up dead, all because of one man with a gun).
Araya presents a proper illustration of metal's opposition to mainstream values, and the fact that this opposition is still very strong in this day when metal appears to have been largely co-opted, retarded, and commodified by the commercial-consumer mainstream. Unlike hardcore/punk, which opposed mainstream social conservatism throughout the '80s by pushing for a dismantling of traditional values (which has been achieved and has served only to destabilize our social climate even further) but then had no attainable goal afterward, metal has taken a stance that is only oppositional because it is pragmatic, not moralistic.
This relates to gun ownership and violence because Arya has taken a pragmatic stance on the subject: If there is a threat to you, take precautions against it. Simple and realistic as this seems, it flies in the face of mainstream thought which argues on emotional and idealistic grounds. "If there were no guns in our country, nobody would be shot! And getting shot is bad! So there should be no guns in this country!" That sounds like solid logic, but it isn't actually an argument. I can say, "If this situation were different, then the outcome would be different," and have made a technically correct but practically useless statement, the same as the anti-gun argument. So the anti-gun crowd says that federal legislation is the key to eliminating gun ownership, operating on the assumption that legislation is both effective (which is false; see the war on drugs and alcohol prohibition in the US) and that it represents the will of the people at large (which is also false). Most readers have probably already thought this argument through to this point, though, so what comes next?
If the population cannot be convinced to surrender all of their guns (and it would have to be all, not just some) and federal legislation cannot force the population to surrender their guns, then we must accept a pragmatic stance and admit that we now live with guns, and will have to find another solution to the problem. Arya has presented a pragmatic solution: If people there are armed people who may perpetrate random acts of mass violence, then it makes sense to equalize the distribution of power among all people, so that no one has more capacity to inflict violence than any other. Consider this; if all of the hundreds of patrons at the Orlando nightclub were armed, how many would have been killed? What if only half of the hundreds were armed? What if only six or seven were armed? What if just one lucky guy had brought his gun to the club? There is still a greater-than-zero chance that the killer would have been himself killed or at least incapacitated, if not deterred outright from even attempting to shoot up the club due to the possibility that there were other armed individuals inside ready to defend themselves and other innocents. As it stood, however, the chance of the shooter being subdued was zero. He guessed correctly that the club goers were unarmed and unwilling to defend themselves. They were easy prey, and made themselves such willingly.
This is the combination of arrogance and apathy that metal rages against. Arrogance is the unwillingness to be honest about one's own capacity and ability (in this case, an inflated sense of self-worth so as to expect protection from others at any and all costs coupled with the delusion that one is such a good person that nobody would dream of hurting them for any reason), and apathy is the unwillingness to be proactive in taking steps to deter crises before they arise. Both of these traits are staples of mainstream thought, be it the conformity-supporting social conservativism of the '80s or the diversity-enforcing global permissiveness of today. The pragmatic solution is clear: Put the responsibility on each individual to do their part in protecting themselves, and random acts of violence will be deterred. Individual responsibility is an alien concept to mainstream society, which is why metal needs to continue to spread it no matter the criticism and pushback it may draw.
Tags: news, Philosophy, politics, slayer, switzerland, tom araya