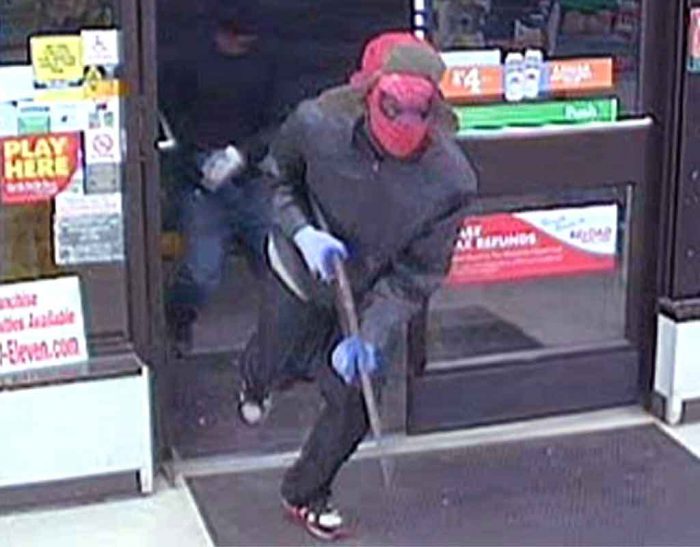 As America has settled into a new normal of COVID-19 pandemic, race riots, and new civil war levels of violence, Walmart — as America's most popular store — has reacted by first mandating masks and now, requiring shotguns as well.
Leon Hickson, Walmart Director of Public Affairs, explained the reasoning at a press conference. "We figured people would need to wear masks for public safety, and wearing masks would stimulate many of them to just go ahead and rob the place anyway, so we want people to go full dystopia with masks and weaponry."
Taking us to aisle fifteen of the capacious Walmart Supercenter in Eames, OR, Hickson showed us an entire aisle of body armor, skull facemasks, ear necklace kits, gas masks, and spiked bats. "Look, democracy has had it," he said. "We're in full on Mad Max, Blade Runner, and Demolition Man territory now, a real brave new world. You need to have the gear and be ready for constant violence, mayhem, and cannibalism at all times."
He explains that a recent scientific simulation found that 43% of Walmart customers, upon finding themselves masked up in a Walmart, would assume that they were there to rob it and "at least go through the motions," he said. "But now," he added, "Everyone has guns. You don't know where that fatal shot is going to come from. It's going to be a new exciting experience to go shopping at Walmart!"
As the interview concluded, a firefight broke out at register seven. Two masked bandits raced into the parking lot, only to be cut down by a husky man with a prolonged burst from a vintage MG42, before he in turn was cancelled by gunfire from a local gang wielding mini-14s and SPAS-12s at the edge of the parking. Finally, a group of masked BLM protesters and Antifa opened fire on the local Shriners bake sale, which returned sporadic handgun fire.
"Never a dull moment at today's Walmart!" Hickson said, hastily donning body armor and a gas mask before rushing back to his office in a hail of gunfire.