Although the "art" of music, as an intangible creation expressed best as an abstraction translated through that pattern into its creation, cannot be sold in any true sense of the word, all art must have a conveyance and if it is not live informally, that is a product whether recorded CD, MP3 or concert. For this reason, the music market affects how metal music is able to propagate(tm) its sinister meme through the stupefacted masses of modern humanity.
The record industry, which is what we call the support structure for the expensive prospect of selling music, is reeling under the dual assault of MP3s and a fragmenting culture. The former allow people to download full albums and have them free, with no obligation except legal to buy the CD. The latter, cultural fragmentation, means that instead of a single dominant genre that sells massively there are now many niches that have to sell consistently to break even. Business plans are shifting.
What this means for metal, which sells few of any one CD but many CDs over time, and has the highest rate of people buying all the albums of an artist if they like one, can be discerned from the black metal experience. The average fan seems to download a few gigabytes a week of black metal, and they listen to it while IMing and watching TV, and then they either delete most of it or keep it in elaborate collections that are magically not restored after the hard drive crashes.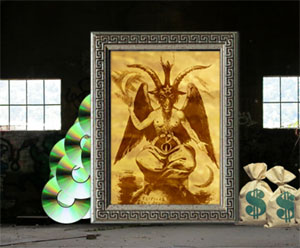 We can describe this hoarding behavior as what might happen if people were able to listen to any radio program from any time in history, and could bookmark them. There would be thousands of bookmarks on each computer. Since any music of reasonable complexity requires more than one listen to grasp its basic intention and structure, people would listen, be either perplexed or enticed, and would bookmark, then not return — except to those few incidences that seemed so perfectly complete or historically important that they could not be ignored.
For the first time in its career, black metal attracts fans who behave like pop fans. They are accustomed to music being cheap, meaning used everywhere in commercial messages and enticements to purchase it, and they saturate themselves in it for a few teenage and early 20s years before their jobs and televisions take their souls.
Black metal, which really picked up momentum in 1993 and collapsed in 1996 with the foundational bands spent and the hipster imitators coming in with inferior duplicates, has spent the last dozen years in a state of suspended animation, with people trying to like what is current but returning to the classics and a handful of bands out of thousands who are not only better than average, but are able to put together a complete package: music, lyrics, symbols, artistic vision, sane public statements and each part complementing the others and showing enough artistry to seem complete. Whole.
In this we see what will prevail in the time of MP3s and cultural fragmentation. It is not enough to have an album, and to have it be pretty good. It must be complete in the way the best albums are. Vision and voice, concept and execution come together like the interface to a warplane, or an elite computer program, or the echoing profundity of a well-constructed argument or theory. The albums that will be bought, as opposed to being downloaded and forgotten, are those that will ring true in this sense.
Through this lens we approach the most difficult question of human music, which is: if music alone communicates, why is it that one album in the same style is better than another? What motivates many of us to recognize this choice and make it simultaneously? It is the quality of the album as a whole product. Mathematically, it shows a higher degree of organization; artistically, whether we agree with it or not (or "like" it) it shows a willingness to tackle some idea which is neither dogmatic nor carelessly milktoast. It is whole.
Bands and labels wonder how to sell in a time of free music. The answer is simple: make concept albums, or maybe we should call them demi-concept albums, because they do not need overblown "conceptualization" that ends up with song titles like Ragn-Thor Attacking the Climate Control Apparatus of Zoroaster. We need albums that are whole. More work and thought must go into them. It is not a question of style. The style from 1992 will do. But an album that is whole will not sound like anything else, even though it's in the same style.
The dummy writers sit out there wondering why people go wild over Sorcier des Glaces, Averse Sefira, Avzhia or Profanatica when there are 8,000 bands that "sound like" those bands, in style. The answer is that music can be a means to only one end, and that is enjoyment of a journey which involves a change in state. It cannot be manipulated through its form alone. That form must match something it is communicating, and that communication must be highly organized.
Record labels got by for years slapping together pop music "about nothing" — songs about sex, loss, anger, and material desire — and relied on their greater production power and the mechanical task of songwriting, or keeping songs in harmony with enough melodic expectation to deliver a quenchingly satisfying chorus. Bands in black metal got by from 1994-2007 by slapping together a composite of past successful riffs, bloviating on overworn topics, and putting a pentagram, swastika or Horus on the cover.
These times have changed. In fact, if we think carefully, those times of easy fat were themselves anomaly, because in them the music itself became a product — it was a means to an end of selling musical conveyances, like CDs. But now, the music is no longer rare. What is rare is someone who can put together patterns in such a way to fit nearly perfectly, and in that fit, to express something words and images alone cannot.
It's natural selection for black metal, as for all music, and it will dovetail with the rise in cost of consumer products as cheaply drillable oil tapers off (about 2013). Suddenly, the hard years — that metaphorical frost of the elders of black metal — will return, and it will shape music to be a more precious commodity, more carefully thought out like the last missive of a dying man in prison.
Through pressures of the tangible, the focus will return to the intangible, and metal will rise in power as it leaves both hipsters and corporate behemoths — and aren't they the same mentality, which is to manipulate others for their own social power — behind.