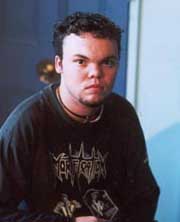 Any genre of music can be said to have an ideology, or ideological range. The musicians and fans had to pick the music because it sounded like something they wanted in their lives. With a really dumb genre, that would be distraction or posing like a slacker or a pimp. With more complex genres, the aesthetics and organization of the music suggest ideals people desire. For metal, the aesthetic — finding beauty in dischordant darkness — and organization — a "riff salad" that narrates like a poem — suggests a rejection of the human perspective for a more holistic reality.
It is this style of metal, from its first riffs derived from the modernist-classical-lite melodies of horror movie soundtracks, which, by eschewing fixed "meaning" for a sense of fitting together as a whole and having an architectonic clarity as the songs, shows us a world from the perspective of a movie, or a scientist, or history: the camera pans back and we no longer think of individuals involved as being important in their own right. We think of the story, the situation, and the outcome, but with our knowledge we cannot be limited to an anthropocentric position.
This is how, without even reading the lyrics, we can tell what metal has in the way of values and worldview, which if you believe in them enough to think they'd make a good organization for civilization, you call an "ideology." The ideology of Britney Spears is "what the hell, who cares"; the ideology of jazz is cosmopolitanism; the ideology of techno is vibrant distraction; the ideology of classical music is a respect for intensity and attention span. All forms of art have some form of ideology, although sometimes it is hard to recognize because it is subtle or, in many cases, non-challenging (see "Britney Spears" some words ago).
The Metal Ideology
With a little more analysis, we can enumerate the metal ideology as follows:
Feral naturalism – Horror, predation, violence, and battle are praised for their intensity as experience and their power. Morality is thrown away in favor of this appreciation for the mechanisms of reality.
Technofutilism – As in horror films, technology and social institutions are useless for dealing with the problems we face.
Realistic individualism – The wisdom of crowds is feared and seen as false, since they pander to each other (poseurs, sell-outs). However, the individualist is realistic and so knows that everyone in a crowd is an individualist, and that's how a crowd forms.
Nihilism – Morality is a human imposition, as are value and purpose. Nature doesn't care what happens to us, and neither do the gods. We're in the driver's seat and whether we sink or swim is 100% up to us.
Holism – There is a frustration with the tendency of modern society to break down experiences and concepts by using exclusive logical OR operations in a categorical context; it is either a truth OR an opinion, but can't be both, and so on. Metal is a genre of logical AND, in that it sees all of our judgments as attributes and reality as the only arbitrer.
Ludic, absurdist materialism – In a metal view, we are only fleshy bodies and we can have transcendent thoughts, but we will always be what we are. From that, we can clear aside pretense and enjoy life, which is inherently absurd, gross, terrifying, crass, insane and beautiful, the most rational design ever, rewarding.
Evidence for each of these assertions can be found in metal lyrics, imagery and through a thoughtful perspective on the sounds and structures used in metal songs. You could claim "the past is alive" and "only death is real" as good starting points, but even early Black Sabbath lyrics have the romanticist, naturalistic, holistic and nihilistic tendencies that create the above values system. In this, metal bands are not dissimilar to European Romantic poetry and classical music, which was also post-moral, saw the individual as a means and not an end, nationalistic, and playful.
Christianity, on the other hand, is more complex because it is open to wide interpretations. Narrowing in on what most people believe, we can see it has several basic tenets, originating in its idea of individual equality in the eyes of God. To a metalhead, this interpretation of Christianity seems anti-nature, because we are not equal in ability and any interpretation of equality is a human imposition that does not exist in nature; further, metalheads distrust the creation of alternate realities like God, heaven and hell. Not all interpretations of Christianity have these tenets, and some in fact are closer to what metal believes (the likes of Ralph Waldo Emerson, Johannes Eckhart or Arthur Schopenhauer come to mind). But for the mass religion that conquered much of Europe, these are its beliefs:
Dualism – Christianity believes in a second reality that exists outside of this one. This reality, in which there is pure moral "good," is called Heaven and we are supposed to impose it on earth; Hell exists in this same spirit realm.
Morality/peace/benevolence – In Christian lore, the best possible method of living is one that is peaceful, as that way you do not interrupt others. To a metalhead, this is ridiculous because people can be doing things that while not explicitly immoral cause bad consequences, and so of course you interrupt them.
Discrete individualism – Christian dogma supports the idea of the individual as absolute in that they are to be granted as much freedom as possible, and can be judged only by God, and should be forgiven when they screw up. This is to a metalhead imposition of the will of the Crowd on the individual and a type of slavery, as it retards those who do have a clue from acting to keep the clueless from dominating via superior numbers.
The common root of these Christian beliefs is humanism, or belief in the predominance of the human form and its incarnations, individuals. The Christian God is shaped like a human; Christian morality rewards never harming or killing humans even if they're doing insane things; Christian morality emphasizes how we're all equal. We can see how the elaborate dance of morality and theology supports a much simpler human truth, which is the desire of the ego of each one of us to be independent from forces which can humble it with reality. We want to be free from the consequences of making bad decisions and the social judgment of others, because either can show us to be incorrect or to have a weakness, and that scares us in a social setting and makes us lose social status. The root of Christianity is affirming the ego's power; the root of metal is affirming the power of nature and by unintentional consequence, decreasing the supremacy of the ego.
Romanticism
Romanticism, the parent belief of metal, originates in a more naturalistic time before beliefs like Christianity separated the self-valuation of the human individual from nature, and gave them an imaginary reality (morality) with which to compensate. Although Christianity means well, the unintended consequence is that it makes people more selfish because instead of just trying to live their lives, they are now trying to prove and justify their worth in a moral context. The resulting drama creates many social problems because it ultimately boils down to a denial of reality in favor of individual withdrawl from reality, and it creates neurosis and ego competition.
For this reason art — which tries to affirm our bonds to reality, or through unitivity remove us from false worlds and the withdrawl into our own perspective — has been at odds with society for at least a millenium, perhaps longer. Where social control, power, law and religion require external affirmation for the individual to justify themselves, art confronts the accepted vision of reality with a fantasy that is metaphorically more accurate than the "scientific" and "objective" beliefs of a dying society. Art reconnects us with cause/effect reasoning by taking us out of a false context, and through a new context, showing us where our values lie.
Both Romanticist art and metal are therefore in conflict with Christianity as 99% of its audience practices it, and they have run into additional conflict through Christian propaganda trying to emulate the original art forms. When a Christian or secular humanist (atheistic version of Christian morality) sees metal, which is a value system that not only denies their own but makes it look like an arbitrary fantasy into which people escape their fear of mortality and failure, they have a tendency to do what any good propagandist would do: make their own version of the art in question, and then point to that new creation which did not emerge from the artistic movement but was imposed upon it, and use its existence to claim that consensus does not exist in the artistic movement.
We call this imposed, false, externalized metal "Christian metal" because its defining factor is that it is Christian. It is not a genre, but can appear in any genre; it is an ideological tag with a parallel in neo-Nazi music in that what matters most is its message, and it uses metal as a conduit for that message, instead of wanting to create metal for metal's sake and therefore explore the values of metal.
A History of Christian Metal
Metal is a romanticist movement which was inspired by the classical era of European humanity, including as part of its view many Romantic philosophical ideals which are pre-Christian in their derivation and anti-Christian in their values.
Black Sabbath – Black Sabbath were originally a blues band who later shifted to metal to reflect an interest in the occult. After three albums in which massive drug use and public outcry over their beliefs battered them down, they created an album which had several pro-Christian songs. This does not necessarily reflect their beliefs, nor is likely to do so, but illustrates the confusion and doubt they encountered at the time and the religion of their youth to whose programming they returned. Further, their songs which had a "warning" about the occult were a product of their having an interest in occultist themes, but not necessarily a propagandistic outlook on it (where in contrast, every single "Christian metal" band that has ever existed has taken a preachy, condescending, demagogic tone toward their audience).
Metal – Metal, in Black Sabbath and related bands of that era including King Crimson, Led Zeppelin, and Blue Cheer, reflected a tendency toward darker worldviews which could best be described as Romanticist in the spirit of the literature, art and music of the post-Renaissance in which artists disaffected with the humanism of the time sought a greater meaning than a moralization to existence through art. Poets like Keats, Wordsworth, and Shelley were a revolution against a secular Christian movement in which, despite little talk of afterlife and spirituality, a tendency existed for the first time in European art to preach a secular morality to which one adhered or drifted into the ambiguous, obscure and "evil." The works of those poets and others from the modern Romanticist movement were invoked by the similar themes of early proto-metal bands, including a fascination with the morbid and with ancient times, a desire for transcendence within the world itself, a ruthless sense of self-discipline and heroic character, and a desire for more significance in life itself more than a concern for post-death salvation.After some years of heavy metal, the movement had solidified much of its artistic technique but had degenerated into hedonism, and fortunately was able to merge with the more dogmatic punk to form the first generation of speed metal. These bands were alarmingly preachy and leftist and as a result quickly self-destructed, prompting the extreme side of metal to go "underground" and dispense entirely with morality and, in the lead of heroes like Bathory and Slayer, who arguably invented the next generation, to preach an imaginative, Romantic "Satanic" outlook which like Black Sabbath was more fascinated with the occult than with preaching its values. The music of Slayer for example uses metaphorical Satanism to describe the errors and horrors of war, disease, violence and crime. Following these bands was a genre made more alienated by the increasing failures of society to recognize its error, and made somewhat bitter by the increasing resentment rising from a society (America at least) that in 80% of its members found an affinity for Judeo-Christian beliefs. Death metal and following it, black metal, as a result were more violent and more dogmatic toward Christ and Judea; part of this was inherited from their "hidden" ancestors in hardcore punk music, who as part of their alienated nihilism recognized religion as the social control mechanism which many of us allege it is.

From the No Right to Disagree With Us Department:

The national poll of 1,000 American adults conducted April 26 through May 6, 2002 found that 17% of Americans – or about 35 million adults – hold views about Jews that are "unquestionably anti-Semitic." source

With the state of metal now, virtually every formative band in the underground has taken a negative stance on Christianity (and many have attacked Judaism and Islam as well). This is a result of the evolutionary process within the genre detailed above. Times have changed since Black Sabbath, and to a perceptive youth of today the strengthening role of religion and secular moral symbolism derived from religion is not only clear but alarming. Consequently, the most popular metal genre ever, black metal, is unanimous in its destructive impulses toward Christianity and its parent religion, Judaism from the middle east.

Why Christian metal is destructive – The Christian — or to a philosopher, humanist, whether secular or ecclesiastical — worldview is the underlying outlook of our society. That means that anything which is not Christian or secular humanist is the rarity, not the other way around. Christians confuse a lack of symbolic agreement with Christianity — saying "I am a Christian" or similar — with a lack of agreement. Essentially, secular humanism and Christianity are the same philosophy and they're what all but a few people in our society take for granted as "correct."With this in mind, it makes almost no sense that Christians would attempt to subvert metal for their own dogma, yet they attempt it because symbolically, metal is threatening to the Christian outlook because it endorses a theory in which good and evil are necessary balance, yet does not endorse true "evil" (selfish, deconstructive, callow acts). We should be cynical toward the Christian metal perspective and question it at all times, because it is paradoxical for the following reasons:

First, if people should write about what they really believe in, why should they spread the dogma of a religion that they didn't invent?
If they really believe this religion, then metal – as a movement with overwhelming occultist, nihilistic, fascistic overtones – is something they should avoid. Why would they choose to join a genre which contradicts what they believe?
Is there no greater "trend" than the 2,000 years in which Judeo-Christian religions have been gaining prominence in the west? What is "un-trendy" about following the same religion that at least 80% of the people in your country follow?
Why should metal desire "a lot more of the youth" to be interested in it, if conformity is not our goal? Metal is like many genres self-selecting, and does not aim to be broad. By your logic, we should start making music like Britney Spears (except with a Christian message!) in order to get a wider audience.
How can one "truly feel" something which one has to be taught in order to regard it as true? A man raised alone in the forest may invent a religion, but perhaps not the whole dogma of Christ.

There is obviously more to be said along these lines of questioning, but it's not necessary here. I'd like to close by mentioning something else: that every single "Christian metal" band that has ever existed has been a poor copy of a "secular" band. Even the most popular, "Believer," were a ripoff of an Atheist album coming out a year earlier. The separate nature of "Christian metal," and that the genre itself draws a clear distinction between "secular" and religious music, demonstrates how Christians view "Christian metal": a tool for preaching acceptable lyrics into a genre that has otherwise on the whole rejected Christ.
In 1990, ninety percent of the adult population identified with one or another religion group. source
In our current time, Judeo-Christianity is not only dominant in social thinking but has become secularized and dominant there as well. Prior to Judeo-Christianity's arrival, concepts such as "morality" and "equality" and dualism were rejected by the inhabitants of Europe as insane or alien. After years of slowly working its way into that culture, Christianity became the dominant religion through its influence among the poor, the downtrodden, the pathetic, the less-capable and the spiteful. Currently, Judaism and Christianity are the dominant religions in America and most of the Western World. For example, both presidential candidates in the last election spoke extensively of their relationships to "God" and of the "morality" of their ideas, including vice-Presidential candidate Joseph Liebermann who considers himself "the moral voice of the Senate."
"From these two religions we find at least all of our last ten presidents and their ancestors, and among the believers we find the owners of every major media establishment in the country as well as most of the smaller ones. Virtually every Congressperson has prominently featured in his or her campaign propaganda the Christian or Jewish nature of his or her morality, and most television anchors will make reference to secularized Christian moral concepts or the Judaic "God" in the midst of a supposedly objective broadcast. Before Judeo-Christianity, these concepts did not exist in the Western world; their sole origin is in the religions of Christ and Moses (who were both born Jewish).
This article is not an attempt to smear the people ensnared by these sick ideas; on the contrary, I view them as "victims" also in that their consciousness has had a control mechanism implanted within it. This goes for secular people like yourself, who in good faith sit down and write me a letter like the one quoted above in which you espouse humanist ideals of "individual choice" and "belief." In the cases of believers however, those ideals do not exist; what does exist is conformity to an ideal of social control, and metal rightly rejects it.
Christians see themselves as very tolerant of people of other faiths, with 81% of Christians saying that Christians in the United States are "very" or "somewhat" tolerant of people of other faiths. People who are not Christians agree with this view for the most part, but not nearly as many of them are fully convinced of Christian tolerance. Only 54% of non-Christians see Christians as being tolerant of people of other faiths. source
Another Form of Humanism: Satanism
Satanism in black metal, death metal, "doom metal," heavy metal, evil metal, speed metal, thrash and grindcore/metal hybrids arises from the need of metal musicians to understand emptiness in the universe and find a metaphor for its acceptance, a trait in evidence in death metal, black metal, heavy metal and ambient metal to extremes. Much like Romantic poets John Milton or William Blake explored the occult, evil and Satan as metaphor, metal bands find Satan a tempting metaphor for a society against which you can rebel without escaping its psychological trap.
Many of society's abused denizens, looking at the over-the-top exultation in Satanism, Evil, deviant or degenerate behavior in metal, find themselvs turning back in disgust: "Awk! These kids are just trying to piss me off – contrarians, they only want to invert what is, and to create attention for themselves."
One could not be more wrong. Contrarians wish to behave "badly" to grab the attention that comes from swimming the wrong way up the stream, but to get that attention, they depend on a cousin of pity: the belief that those who choose a different path are lost and looking for the others to bring them back in to a hearth of comfort and goodness. In short, a contrarian affirms the belief system she is rejecting.
Satanism, as practiced by death metal and black metal bands, does not involve an inversion but a surpassing of moral norms and social custom. To understand this, one must first understand the nihilism of metal bands: they do not believe there is "good" or "evil," but see events as disconnected from any form of absolute other than their inherent function – that is to say, metal bands believe that events do not have a face value and instead view existence with a scientific eye that traces a complexity of causes, reactions, and similarities but does not attempt to ascribe any of it to absolute forces except logical tendencies.
Where Satanism exists for metal bands it functions as metaphor in following the footsteps of the Master: in each mythology where he touches, the Satan-figure is the youthful and ambiguous rebel who rejects what has come before in favor of his own path, and despite his consequent exile from society, finds truth in what he has created and found. The cry from Milton of Satan's independence – "I will not serve!" – echoes in a genre that insists on finding out its own answers, and creating its own paths, on an individual basis. Unfortunately, that leads to the ego-basis of Christianity and secular humanism, and shortly afterwards, the sickening morals that constrain begin again.
Resistance
You can strengthen the genre of metal by resisting this form of social control in form of boycotts, public awareness of its true intention, and a refusal to accept it as metal. If it is played on the radio, call in to speak the truth about its agenda. If a friend plays it on a stereo, speak out against the controlling mindset of the music. If someone tells you that it's "open-minded" to accept music that attempts to destroy the philosophies of the genre to which it theoretically belongs, tell them that art does not reprogram human souls toward giving in to a fear of death, and that true metal will liberate them from their fear of existence.