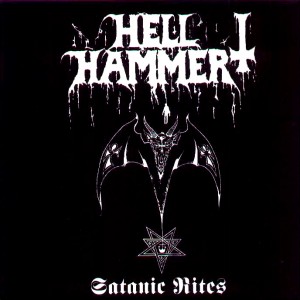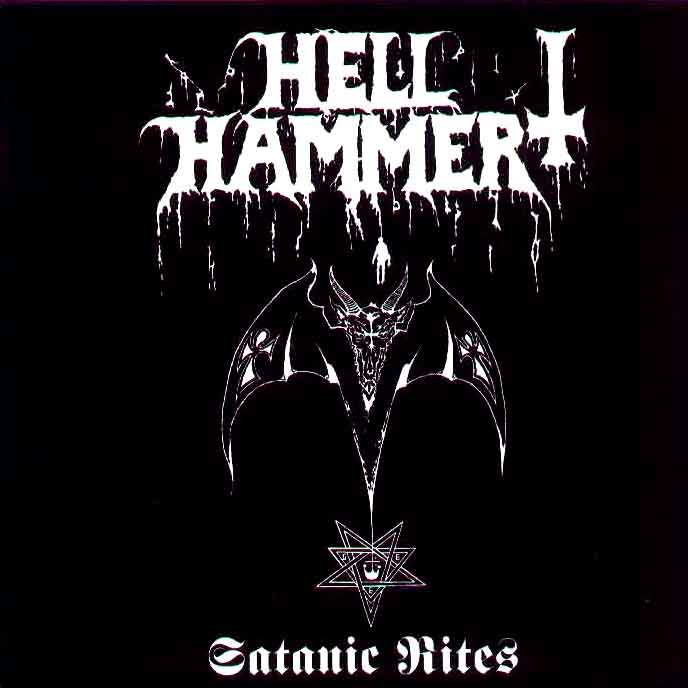 Most people place the birth of black and death metal somewhere between Venom's first album Welcome to Hell (1981) and Bathory's third full-length Under the Sign of the Black Mark (1987). The exact moment of divergence from ancestors depends on the speaker's level of metal puritanism and their favorite albums are from that era, and can sometimes seem a trivial dichotomy. Moot though it may be, my pick for the first discernible piece of death/black metal music is also, more importantly, the moment at which metal realizes it can be more than just warmed-over rock music.
Tom Warrior and co will forever be canonised in the metal pantheon for the early Hellhammer and Celtic Frost releases, which collectively shaped the sound of metal in a way that is only really matched by Slayer (who were probably influenced by Hellhammer in their change of sound between Show no Mercy and Haunting the Chapel). The first couple of Hellhammer demos however were only really third rate crust punk/Venom rip off played by three young guys who didn't really know what they were doing. With the third demo and the introduction of Martin Ain to the writing team though, Hellhammer began introducing ideas that weren't immediately noticed or appreciated by the rest of the world, prompting the band to less than twelve months later reconstitute itself as Celtic Frost and spend most of the next three decades trying to bury the Hellhammer name and the material associated with it.
Many of the tracks on Satanic Rites are in much the same vein as the first two demos, although better played and with greater surety about the morbid chromatic rock riffs. However, with "Buried and Forgotten," and to a slightly lesser extent "Triumph of Death," there is a real 'eureka' moment. Verse-chorus-verse, single groove writing gives way to longer structures that piece together like musical jigsaw puzzles, reminiscent of the best moments of Black Sabbath made more twisted and involving. The grimmer, more elemental, less blues-rocky riffs of Hellhammer also hint at emergent melodic shapes, whose detail unfurls piecemeal over the course of the track.
"Buried and Forgotten" for a little over two and half minutes builds one riff atop another towards an emotional plateau, each one referencing some element (however small) of the one that preceded it. The rest of the track then recombines and repeats all the material amassed over the course of the opening part, changing the order of and implied relationship between riffs. All except one slightly dodgy contrasting riff towards the end (which stands out by a mile), is built out of the same basic pool of ideas, and so each can be moved about and fit back together again as they are and create a neat, logical song structure.
This streamlined song-writing mentality also filters down quite brilliantly into the track "Messiah," which is probably the most well-known, heavily covered Hellhammer song, and a borderline genius exercise in metal song-writing fundamentalism. Effectively the entire song is crafted out of one interval (the space between two notes, denoting their relationship to each other): a minor 2nd (or semitone), the smallest interval in regular Western music. Everything from the ponderous two-note verse riff, to the creeping chorus motif of four descending consecutive semitones, to the brief bridge section made up of the same rumbling low E that drives the verse and a major 7th above that (which, deceptively, is just an inversion of a minor 2nd, and so basically the same note relationship as nearly everything that has come before it in the song).
All of a sudden the focus shifted from form (and the resulting dramatic arc it creates) as something that comes from solely juxtaposing contrasting elements, to something that can grow out of only a tiny number of ideas, and through clever variation and development can became something much more journey-like. This makes this music unlike rock, jazz and more recent false-metal, and more like a Beethoven symphony or a Bach fugue. Needless to say, I'm not suggesting for a moment that Hellhammer is equal to the work of Bach. What I am saying however is that both classical music and the more inspired moments of this demo proceed from a similar sort of underlying sense of elegance in developing things methodically out of smaller details into bigger, consistent ideas.
The version of "Triumph of Death" on this demo is inferior to the one on Apocalyptic Raids (which has, surely, one of the greatest metal vocal performances anywhere, ever) and as far as Celtic Frost/Hellhamer goes my favourite work is probably To Mega Therion. Still, it's hard to understate just how important this demo and the ideas it set in motion are to all of the metal that has followed it. Underground metal not only became scarier, heavier and less po-faced after Hellhammer, but from this demo (and the Celtic Frost/Hellhammer works that followed it) metal inherited a paradigm that enabled the construction of more complex, distinctive songs and would come to define underground metal.
http://www.youtube.com/watch?v=MsJ1I1cL_NY
Tags: academia, Bathory, celtic frost, classical music, hellhammer, metal, metal history