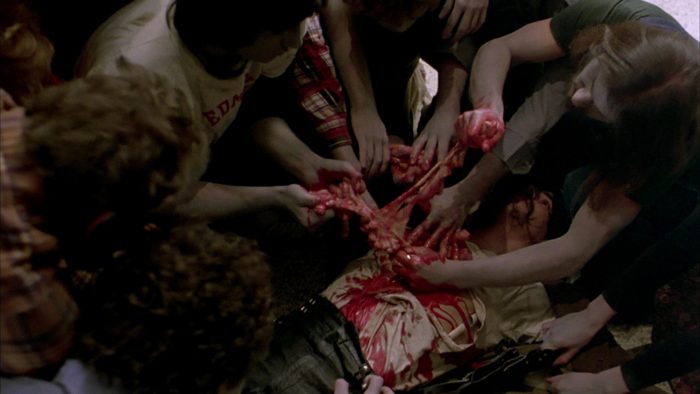 Music critics eat brains for the same reason that zombies do, but are selective in what they eat. Zombies feast indiscriminately on central nervous systems out of pure need. But music critics eat brains by promoting the mindless and tearing down the good in order to promote themselves at the expense of the music.
Modern zombies — those you are likely to see in film and books from the last thirty years — are a metaphor for modern society. They are pathological and consume everything in their path, which compares to both capitalism which is a dog-eat-dog zero sum system, and egalitarianism, which creates a social order where all are equally unimportant and must pull others down in order to rise. The latter compares most accurately with what music critics do.
Where zombies show us the blind destruction caused by egalitarianism, critics obscure that point by enforcing equality through lowest common denominator standards and a focus on novelty. They praise what will be socially popular, which is either acknowledged classics or the trivial and unique band of the week, and attack or ignore that which is of quality but not established to the point that criticizing it is a faux pas. Unlike a zombie outbreak, which feasts on those too weak to defend themselves, a music critic outbreak kills off the strong.
Music critics — by the definition of their job — must cut some down while lifting some up. Their job is to find the next new thing, or if it is a new clone of an older style, then the review depends what is currently trending. Metal critics are like recipients of welfare in this regard. They have to toe the party line to get fed, and those who are most obedient rise to the top of the heap.
This reflects the tension in the job of writing about music: they must both seek out good music, and also reflect popular opinions back at their readership, or the readers will not come to them. For this reason, all of music reviewing is essentially a lengthy, "I agree, but let me add this." This means that music critics must conform to the herd, and then inject something on top of that which makes the music critic appear distinctive and wise in ways that the audience already recognizes.
For this reason, music critics eat brains by overlooking exactly what they should seek out, which is material that does not follow the current trends but goes its own way and has something to offer in that regard. Instead, they beat the tin drum for the crowd favorites, and then propel and shower with encomium a host of novelty bands. These are the "critic's favorites" that you see in all the magazines for a few months, but then disappear because they did not catch on with fans.
Novelty bands tend to have a sophistry about them that relies on a fake esoteric nature, meaning they are vague enough to avoid having to really take a stand on anything, which allows them to appear to be different from the tried and true formula while in fact clinging to it. Like music critics, they are repeating back to the crowd what it is familiar with, but have disguised it as something "different" and "unique" so the audience can maintain its pretense of being those same things as well.
In order to get away with this, music critics establish a standard for judging music based on surface traits alone: instrumentation, member biographies, technicality and production. Music critics love expensive production because it means the band has support and so reviewing it positively is a safe bet. Similarly, they cannot be criticized for praising technically-adept bands over more instinctual musicians, or for diving deep into the biography to talk about how ironic or trail-blazing the members are.
The end result of all this is serious brain-eating. The fan enters an echo chamber where he hears the same opinions he espouses repeated back to him in an authoritative-sounding voice. Awash in a new narcissism arising from this, he then goes to look for some music which will further make him seem to stand out in a crowd (different, unique, ironic). He buys it and it does not satisfy him, so next month he buys more, until at age twenty-eight on average he chucks in the towel and just listens to the radio like other adults.
Through this process, the music critics create a path around the music itself and focus on triviality. They do this because the actual product the music critics are selling is themselves as writers, and they only need to flatter the audience in unique ways to get away with this. That attitude creates a perverse incentive toward bad music and as surely as zombies eat brains, lobotomizes fans and musicians both in an industry which is bigoted against quality.
Tags: music, music critics, music writing, reviews, writing