Black Sabbath: An Oral History
by Mike Start and Dave Marsh
128 pages. Harper Perennial. $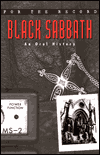 A reasonable account of the early days of metal and its slow descent out of the hippie and biker positive hedonism of the day into a new and darker persona. Extensive material on Sabbath personalities and attitudes regarding the creation and presentation of their music.