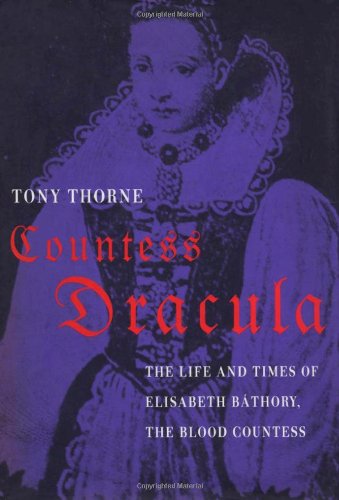 The myth of Elisabeth Bathory is known to us in its most twisted forms, filtered through years of mysoginistic prejudice and augmented further by gothic sensibility for horror that fascinated the minds of the 19th century. Little understood are the full cultural and historical context of the region and its political dynamics. Little is it taken into account that all records of what happened were taken under peculiar circumstances by those vested in Bathory's demise, and that greater political forces were at work to bring her whole family down. Nor is it a neglible detail that accounts by primary servants of Bathory were extracted by the hand of a magister tortararum especially trained in the 'art', and that these same tortured servants were summarily executed after these 'confessions' were given.

Tony Thorne Countess Dracula: Life and Times of Elisabeth Bathory, the Blood Countess provides a healthy reassessment of the actual facts and context of Elisabeth Bathory's story. The author starts by giving us a general view of the times and place: 'nationalist' Hungary and Transilvania at the beginning of the 17th century under the Hapsburg yoke, pressured by the Turks from the East. We are made to understand that here was a culture of cruelty, where revenge was carried out to ultimate consequences, serfs were worth less than cattle, punishments were exacted to cause pain in retribution for mistakes or transgressions, and war was a permanent, on-going reality. The beauty of Tony Thorne's book lies in its vivid portrayal of contemporary reality in Elisabeth Bathory's time, and specifically the reality of a noble woman in relation to the lower nobility, the serfs, and the great lords at war with the imposing military and economic might of the East.
It is equally important to understand the great folkloric imagination of the time, which has come down to us as colorful stories and legends, but which to contemporary people living in such times was an almost palpable reality. That, in the fact that, as Thorne says, imagination abhors a vacuum, have seen the tale grow out of proportion during the lifetime of Elisabeth, and in the centuries that have elapsed since then. The notion that much about what was recorded at the time by her accusers is possibly distorted by excitable imaginations, is the fact that in most cases nothing as actually seen by anybody, but everybody knew it happened. Reinforcing the stories about Bathory were parallels made with mythological folklore, which fed back into the heretical criminality of the accused.
Elisabeth Bathory was born from one of the great Hungarian families, which had a legacy of both legendary heroism and decadent madness. In a time where the European nobility could be said to have a cultural cult of heroic savagery, she was married to a contemporary war hero and tactician, Francis Nadasdy, baptised by the enemy Turks as 'The Black Bey of Hungary'. Elisabeth was highly educated and intelligent even for a woman of her position, dwarfing most high-born men in eloquence and elegance, as can be seen from her surviving correspondance and the deeply respectful accounts of others. When her husband, the leader of the wealthy and upcoming highborn family of the Nadasdys died, he left her all his possessions. With a great, centuries-old family legacy, extensive and fertile lands to her name, and a fair share of castles to her name, the woman was an archetype of pride and independence —a feminine one to boot, and so an affront to the patriarchal warrior elite and their interests.
Even greater than the problems she might have derived from the prejudices of her time and culture, Elisabeth Bathory found herself siding with the nationalist factions of Hungary and Transilvania against the internationalist power of the Hapsburgs from Austria. The Hapsburgs were themselves an ancient powerful family, who had gotten where they were by no friendly means. Once in power, they were experts at bringing down political enemies through all sorts of intrigues, leaving outright military conflict to calculated last measures. According to Thorne, they were masters at using the black propaganda of show trials that were completely set up and decided before time, but would give a legitimacy to the destruction of enemies. In short, guilt was imputed, then assumed, which, coupled with the fact that 'prisoners were legally dead' meant anything could be done or anything could happen to the target of such machinations.
Tony Thorne explains black propaganda is an art, and aside from the show trials, the ruling power must also recruit historians and other respected 'intellectuals' and spiritual leaders to masquarade the whole charade as history. This is also done to obfuscate questionable actions by the accusers, and give the partial inventions, the torture-based confessions and summary executions the air of legitimate methods towards an irrevocable and indisputable truth. Furthermore, the accounts by supposed witnesses are usually questionable by the nature of the situation in which they find themselves, the timing, or the mixture with popular folklore and propaganda: her deeds are more often than not so horrible that they are impossible to account for, and so they never are accounted for, simply assumed to have happened beyond imagination or knowledge. Nevertheless, Thorne tells us, a pattern does emerge from under the vast heap of imaginings and fabrications.
The chief accusation leveled against Bathory by those ultimately working for the Hapsburgs was, believe it or not, mass murder. Most importantly, at the time, nobles had the right to kill serfs without any explanations given, and it was relatively normal to do so if the situation merited such retribution for perceived transgression real or otherwise. The accusation was made that Bathory had systematically tortured and killed nobleborn young women serving under her (servants to the high nobility were not serfs but low nobility). Secondary and supporting accusations at the time was that of witchcraft. Thorne takes the time here to explain how, in the conditions of the time, noble women often acted as amateur healers, in cooperation with other local, humbler women who often inherited the knowledge of their art as secret family heritage.
Two things need to be mentioned in the context of the reality of Elisabeth Bathory as a great lady with supreme authority over vast expanses of land and numerous people in Hungary, and as an amateur and superstitious healer in her times. The first is that she had virtually unlimited authority, and being ruthless in the exercise of that authority was not only her right, but it what was expected of her to a certain degree. Many of the accusations of torture bear resemblance to plausible and even accounted for methods of punishment in accordance to the belief of like punishment for like transgression. The second is that most of the healing methods of the time were crude, often based on superstitions and completely erroneous conceptions, and so more often than not leading to death. The combination of these made for some real-life bloody business involving purposedly inflicted pain, strange concoctions and medicines, as well as death under circumstances mysterious or even gruesome in a time when plagues ravaged Europe.
In the final analysis, her active role in family politics and nationalist conspiracies against the international power of the Hapsburgs, supported by local rival factions, were the most plausible roots of Elisabeth Bathory's downfall. Upon her unannounced and forceful arrest (illegal to do against any noble, especially those of high rank who could not be compelled to trial), she was never given the chance to reply to accusations or defend herself, she was declared an 'unperson' by others who lived "uncontroversial, unheroic lives" [1], and was imprisoned in an isolated fortress until her 'natural' death [2].
The art of black propaganda also counts on the fact that a vast body of people, even many of those who are leading figures and intellectuals, will be involved in a conspiracy based on loose assumptions, "whether they are aware or not". The skillful black propagandist, furthermore, is aware that a perverted scandal is a far more efficient way to take down an opponent than rational accusations of political insurrection. Among the techniques typical of witch trials occuring during the era was the imputing of mass murder and torture as highlighted accusations, because these would cause more shock amongst the public, and a support of hatred against the accused would easily come. But the most crucial aspect of black propaganda is that it needs no fantasy, only distortions and exaggerations strategically fed and stirred in the imaginations of a people known to their manipulators by their superstitions and beliefs.
Finally, there are two sides to the psychology of those powerless to oppose such political and social events. Thorne explains the first as a singularly (to him, or to a 'Westerner') characteristic trait of Eastern Europe displayed in the face of show trials and their outcomes: there is no outcry, as "everyone knows decisions are taken behind closed doors". The second is that in the midst of these great psychological tensions, the role of folklore, and the actual remnants of older pagan cults played no small part as these clashed against Christian authority. These remnants could be seen in relation to the memory of Morgan le Fay, for instance, a distorted memory of the Ancient Pagan Goddess of War, an archetype in parallel to violent Artemis and her own cult. These all played into the vilification and persecution of oustanding women deemed incorrigible and uncontrollable by a Christian patriarchal society. [3]
Tony Thorne provides all these insights in his book, and many more. His style of writing and expression is pleasant, compelling and precise, and his thought is balanced and ordered. For those interested not only in the story of Elisabeth Bathory, but in a snapshot of contemporary Hungary and Transilvania, as well as in real politik, this book is highly recommended.
Notes
[1] An 'unperson' or a maniac sexual deviant have also been the rulings by those commenting on her even centuries later, especially the psychotherapists and 'safe' people.
[2] The reasons for their keeping her alive were also strategical, and Thorne goes into these considerations in his book.
[3] In general, at different levels of society, from the highest to the lowest, witch killings seem to have been unconsciously enacted as human sacrifices to appeace collective psychological tensions.
Tags: 1997, black propaganda, countess dracula, evil literature, hapsburg, show trials, tony thorne, witch trials