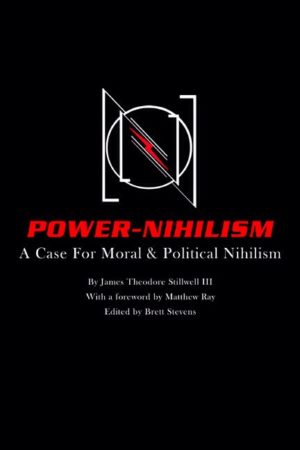 Power Nihilism is a ruthless yet entry-level application of logic to religious, moral and political superstitions of all kinds.  Central to this exposition is the clarity given by the 'is-ought gap'- something apparent to independent minds given to logical thought which is also commonly known to students of philosophy (themselves apparently often unable to come to this logical conclusion on their own) as Hume's Guillotine.  The idea is basically that one cannot derive absolute 'oughts' from 'facts', since the latter are simply 'descriptions', while the former are 'prescriptions'. "The only 'oughts' that are cogent," argues Stillwell, are those conditioned by a formula entailing the wish of an effect based upon causes (if one wants 'A' to come about, then 'B' ought to be brought about).

Nihilism is explained plainly and in a straightforward manner that makes it clear that this is no fatalism or mere skepticism.  While one could argue that, independently of the faults or notions of the author, there is an impulse to truth here, the author himself argues that all striving and all impulse happen exclusively and ultimately on the basis of a Nietzschean Will to Power.  That said, we can arrive at a compromise that distinguishes the resulting product from the intention or motivations of the author.  What we mean by this is that the logical correctness, the cogency, of the book's contents stand their ground on their own, independently of what motivated the author to write it (be that a gun to the head, a pleasurable lady, his allegorical Promethean shaking of chains, or simply a marketing move).
Emphasizing epistemology rather than ontology, Nihilism as explained in these pages treats what is apparent from facts, and what can be known, and addresses those with the pitiless scalpel of logic.  There is no attempt whatsoever to pierce into discussions of the nature of reality itself; instead expressed is the author's direct negation of an ontological nihilism in which we may surmise that such ontology is simply beyond the scope of a nihilistic position of the reason-based logical kind.  Rather than try to simply guess, the Power Nihilist is driven to attain understanding that our knowledge of the world can only take us so far as to distinguish an impulse/a struggle for influence and the attainment of goals be it conscious or unconscious.  This drive, explains Stillwell, is unavoidable as any decision taken by a creature is an effort to gain a manner of control over some condition.
A tinge of 'Might is Right' caveman rhetoric is to be found somewhere here, if merely as a self-contradictory conclusion, although it is probable that the reference was simply tongue-in-cheek.  It would be illogical to award something a 'right' when one has just argued against the validity of such a term.  So though one might possess might (fact), one cannot infer a right (desire).  What appears to be true about that statement is merely contingent- for even if one has the might over some or other individual or groups, conditions in the universe are such that human beings are always at the mercy of some other force.  This force need not be expressed in the manner of cataclysms but instead perhaps through unforeseen events that may thoroughly erase that "might" which never, in fact, afforded a "right."
What is to be highlighted here moreover as a whole is the posture that entry-level Nihilism takes as a dissolving agent that reveals factual (to our admittedly limited power of confirmation) relations and forces us to see the universe according to these.  Stillwell also makes it clear that in no sense is this an ontological nihilism as such that would necessarily derive materialism as itself derives a contradictory duality in order to deal with its fundamentally flawed position.
Slashing political and moral doctrines of all kinds, Power Nihilism makes it clear how all claims to rights and authority are vacuous. The stated reason for this slashing, and of course its logical consequence, is that all religion, political ideology and morality is of necessity derived from oughts, or based on them, and usually in an absolute way.  And since all absolute ought has been logically (and quite easily) destroyed, it follows that all such ideas are inherently flawed.  Alas, Stillwell makes it clear that- truthful/flawed or not- these are still loci of power as truthfulness is not at all a prerequisite for possessing power.
Recommended for those with the ability to dissect logically, with a penchant for simplified, academic treatises, and those for whom Brett Stevens' own, broader and more nuanced Nihilism is beyond reach. If Power Nihilism seems something you got under your belt, then go for the latter. If Brett Stevens' exposition of Nihilism appears unattainable or unsatisfactory, go for the former, so that the latter may later be better apprehended.
Tags: literature, might is right, nietzsche, Nihilism, power nihilism, Stillwell