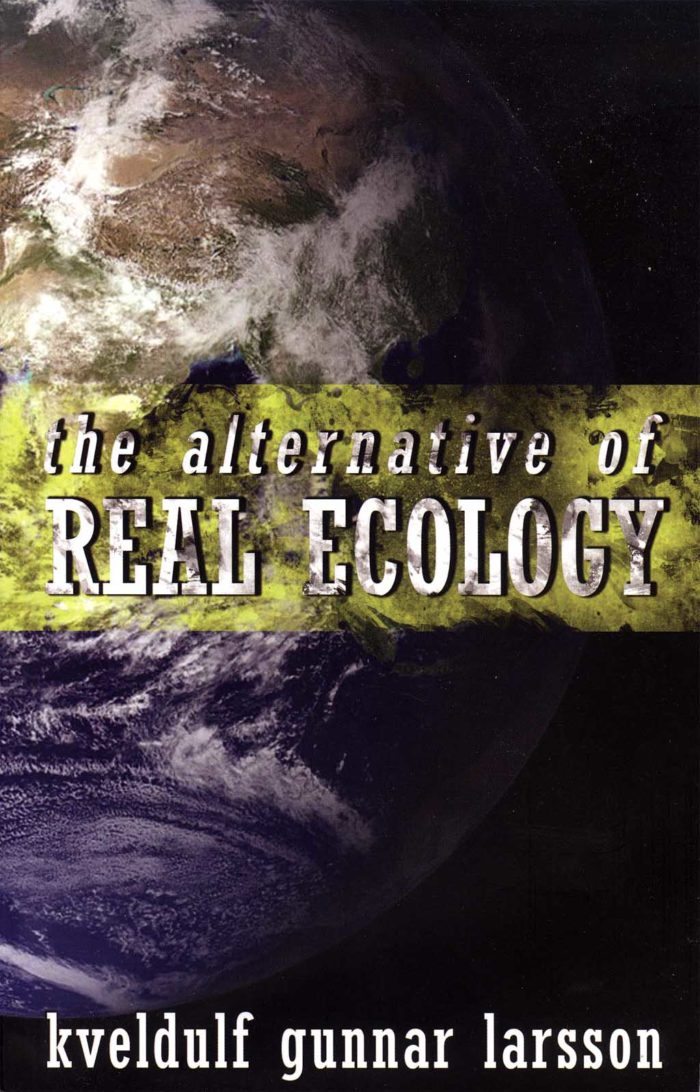 The present book claims to be a presentation, an advocacy, but nothing more. It is not a discussion, a justification or the beginning of a debate, all of which are pointless and do not constitute the carrying out of actions that actually make a difference. Discussing, debating and justifying, argues Larsson, are within the realm of popular environmentalism, which is nothing else but a flavor-of-the-week, feel-good tapping on the back of those who claim to care for the environment but do not care enough to set aside the delusion of human privilege (including the trend in 'Green' products, and the necessity to pander to what is popular, rather than necessary or real). Despite a certain radicalism inherent to Real Ecology ('radical' by virtue of being 'real'), it is clearly distinguished from so-called Eco-Terrorism, because of its completely ineffectual, short-sighted action that simply remains all-too-human: undecisive because of its avoidance of doing actual harm. Real Ecology, is rather the personal choice of non-contribution, as in the reduction of one's eco-print to the minimum.
The present book tells us that the root problem of all is human nature: stupidity, ignorance, comfort, hypocrisy and the preference of illusion to reality. Reinforcing this impulse for self-delusion and augmenting its effects during the last century is digital or virtual money, starting with the abolishment of gold as the measure of wealth. Now money is created out of thin air, out of the imaginations and machinations of egotistic manipulators and their economist lackies. People are thereby enabled, given free reign and encouraged to buy, consume and waste like there is no end of resources and there is no tomorrow. As a result and in concrete terms, the biggest population for the destruction of biodiversity and ecosystems, the ecocide, is at its peak today as the most relevant product of all this self-entitlement remains undealt with: overpopulation.
Larsson argues that modernity and its mentality are specially to be blamed for all this, rather than simply a system, such as capitalism. Still, he does not have lack of criticism for the system itself. His realist observation would be that, given human nature, capitalism is a recipe for this disaster. After all, capitalism is a modern phenomenon. At the same time, Larsson sees in Leftist entitlement of human rights over all reality and nature as the greatest obstacle for a real ecological effort. Simply put, it is the lack of Traditional relationship with nature that has removed ethics and daily consideration from the realm of human existence: today it is money, through pleasure and comfort, that rules the majority of humans. The modern economic outlook cares only for market values, and all else, including 'environmentalism' is only considered in as much as it affects said values. Hand in hand with this mass of complacency and arrogance is the worship of science and technology as the non plus ultra, as dogma and religion, and as the ultimate saviors of humanity which will allow human beings to continue living irresponsible lives even after biodiversity on the planet is obliterated.
Real Ecology is not "based on human rules and restrictions", and rather than trying to initiate a 'humane', 'viable' or 'practical' way of keeping humans in comfort while "doing something," it is rather the advocacy of nature. And to be an 'advocate of nature' is to speak on its behalf, and so to feel on its behalf. Pragmatism, as a human value and consideration and in the material sense, plays no part in this. Larsson opines that what is needed is a real relationship with Nature. However, he continues, humans do not need one, and neither does Nature. Furthermore, Nature does not 'mind' the ecocide and all that humans do to it. It is a few humans who advocate and feel pain for it that do. Real Ecology is a choice for those few who do.
The choice of Real Ecology leads to an Inhuman State of Being: "a different state of a human's life as an alternative to modern human existence". Acceptable, though not requisite, to this state of being is hate and misanthropy. Its attitude is completely non-human, as it attempts to develop a relationship with Nature that advocates Nature and not the preferences and so-called 'rights' of human beings. It is an effort to become more than human, rising above so-called biological needs such as reproduction, and lowering all actual human needs that are 'un-ecological' to a minimum, explains Larsson. In essence, it is the contradiction against modernity, the embodiment of a new type of non-modern human who develops a respect for Nature in the form of water, soil and air. This state of being embodies a complete rejection of hedonism and overconsumption, and advocates such measures as the non-pollution of the air (and thus avoiding the use of cars). For Larsson, this is an issue of 'human rights' versus responsibility
Real Ecology places itself above and beyond politics, but recognizes that it is distinctly anti-liberal and anti-democratic, as it lies in contrast to humanistic conceptions of human right and privilege which have lead to carelessness, hedonism, overpopulation, overconsumption, and so to the critical stage of the Ecocide. The Ecocide has always been with humans, humans have always been the destroyers, but it is in the irresponsible and egotistic attitudes —and especially as a result of overpopulation— that this destruction threatens to engulf all. Larson states, "Ecology is the fact of water, air and soil." Real Ecology is the voluntary return to reality, and is, furthermore, not a 'movement' with any sort of 'membership'. Finally, and with enviable clarity, the author explains that "the issue of ecology is simple", it is common sense versus political correctness, logic versus popularity.
It is impossible to stop being human, to avoid embodying the characteristics, but it is possible to choose to become better through their control and suppression. Thus is stupidity, self-complacency and preference for comfort over responsibility fought. For Larsson, the key to Real Ecology is inner change, implying, he explains, a declaration of war against the human nature in ourselves, a personal war. In this war, logic, and not emotions, must prevail. The parting point for Ecology, and the only necessary action within it, is the process that starts with this presentation of ideas, which may lead to their acknowledgement, and perhaps then to understanding. Finally, the choice for inner change may be adopted by a minority seeking a true relationship with Nature.
"Nature doesn't feel the pain inflicted upon her by humans. I do."
—Kvedulf Gunnar Larsson