Metalheads: Heavy Metal Music and Adolescent Alienation
by Jeffrey Jensen Arnett
208 pages. Westview Press. $34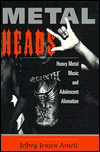 A sociological study of 100 metalheads including profiles and brief analytical pieces on various aspects of relatively mainstream metal culture. Reasonable and deliberately overindulgently just, this work attempts to find a parent's view of why children who hate society, religion, and conformity turn to metal.