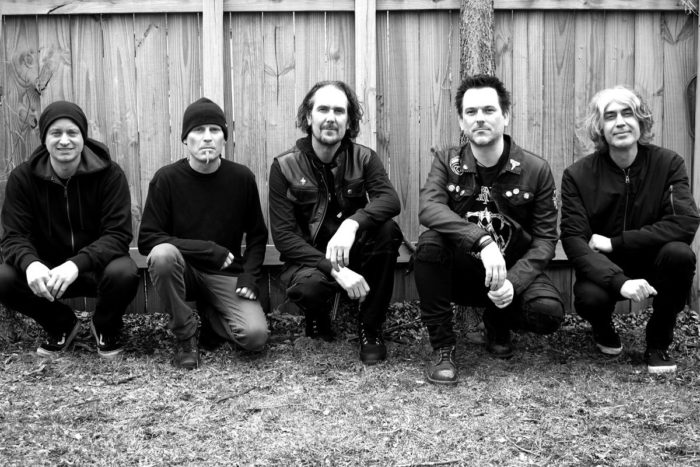 Punk webzine Antihero Magazine interviewed vocalist Rob "The Baron" Miller and guitarist Andy Lefton of Tau Cross recently.
Andy Lefton discussed his roots in crust punk and Rob Miller admitted that the material for Tau Cross's self-titled debut Tau Cross, one of the Best Metal Albums of 2015, was originally written to be the next Amebix album after the commercialized Sonic Mass before Amebix split up for good:
ANTIHERO: Tell me a little about how the band was formed?

Rob Miller: After Amebix split up I had been working on some new material with a view to another Amebix album, this became the basis of the first Tau Cross album. It was initially very difficult to find anyone who would get involved with this idea until Away, Jon, and Andy all appeared at around the same time, prepared to take a look over what I had been writing and willing to convert these ideas into songs. Initially, I tried to record some demo material with Roy Mayorga but he became incredibly busy.
Miller also discussed why he quit Amebix and the music industry to become a swordsmith on the Isle of Skye in Scotland:
ANTIHERO: At what time did you become interested in swords and sword making? Do you also sell your swords? If so, where can one view and purchase your swords?

Rob Miller: www.castlekeep.co.uk

I disappeared to this island 26 years ago and decided to close off all communication with the 'old world'. I became interested in Mythology and Psychology as well as some Occult subjects. I wanted to learn how to make a sword in the modern day, and what that would mean psychologically too. It was a continuation of my work in Amebix in a real sense, Empowerment and Will.
The duo also discussed their online collaborative musical composition process, the difficulties of mixing tracks recorded in different studios together seamlessly, and Tau Cross's future European touring plans fopr 2017.
Tags: andy lefton, antihero magazine, Crust Punk, d-beat, Heavy Metal, interview, rob miller, Speed Metal, tau cross