Over the last half-decade, metal documentaries have proliferated — there are now a handful, which is several fingers more than before. One of the more unique ones is Until the Light Takes Us, a look at the Norwegian black metal scene of the early 1990s, in that it attempts to understand not a phenomenon but the reasons it came about. We were fortunate to get a chance to chat with filmmakers Audrey Ewell and Aaron Aites, who answered these questions in a single voice through collaborative writing, as they took a break from a busy schedule of promoting the film so that it can achieve the crucial next stage of distribution.
What first attracted you to black metal as a subject? Are/were you a listener?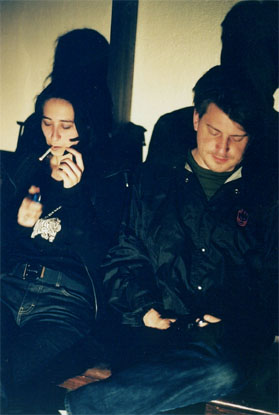 A lot of people seem interested in the fact that we don't come from a metal background, and that's certainly true. Neither of us were ever particularly into a lot of metal before (except for doom/stoner rock – things like Sleep, Sunn O))), Earth etc). But we do come from a background of obscure experimental lo-fidelity noise rock. I mean, the leap from something like Harry Pussy or The Dead C to Norwegian black metal isn't exactly a gaping chasm. (In case you don't already know this, a lot of the musicians in our film are also into stuff like this — Enslaved have even collaborated with Merzbow). It's not like we were reaching for a Sting record and accidentally grabbed a Stigma Diabolicum demo. The driving similarity in all the music we love is that it's intelligent in some way, and psychically or culturally relevant and usually extreme in nature. Whether by way of insanity, artistry, ideology, invention or what have you.
We were introduced to black metal by a friend (Andee Conners who owns Aquarius Records in San Francisco) who knew that it was something we were going to be into. We both really care about music, we had gotten into black metal, and we both just wanted to see a good film on the subject. That's really how it started. We were looking for a good documentary on the subject and couldn't find one. So it really just started as a way to find the answers to our questions, and to explore a genre that had deeply moved and surprised us, and which described an experience of being alive on this planet that had not before existed in this way.
What kind of research did you do for the film?
We researched extensively for a year. First, we bought every Norwegian black metal record we could find (as well as all of the precursor bands like Bathory Hellhammer/Celtic Frost, Venom etc.). We listened to everything, read all the lyrics, went over liner notes. Luckily, we're pretty obsessive so that part was fun. Next, we sought out every magazine, fanzine, blog, book, newspaper and anything else we could find and compiled giant bound books of interviews of every musician that we wanted to talk to. These books were massive, they were like telephone books consisting solely of interviews by Norwegian black metal musicians. We also spent a lot of time on review sites like Markus Karlsson's site, do you remember that? We loved his reviews, if you know how to reach him please put us in touch, we'd love to have him to do something for the DVD.
Did you prepare a project abstract first and shop around for funds in order to make the film?
Yes. Before we filmed, we went to Norway and wrote a fifty page proposal, a thesis essentially, of what the film would be. This took a lot of time. It was actually helpful in that it forced us to refine our ideas, to take into account what we saw around us and to plot the trajectory of the film, of which we had a very clear vision by the time we started shooting. It also forced us to do a second round of research, because in order to explore the ideas of globalization, postmodernism and dissent (ideas that we have thought from day one were relevant to black metal), we had to read up and be sure that our ideas were intellectually sound. One of the big resources for us was a book called Jihad Versus McWorld by Benjamin Barber. Another was The Lexus and the Olive Tree by Thomas L. Friedman. These guys are both cultural theorists and economists, who come at things from a markedly different perspective, but both deal with the struggles of retaining cultural identity within a globalized society, and the tension this creates.
The other big reference point was post-modernism and theories of simulation and simulacra, essentially the idea that a thing can be transformed out of existence if it is copied inaccurately enough times. That the sheer volume of incorrect copies can overwhelm the original truth, until the original truth becomes a sidenote in history, and the degraded or even just altered copy becomes the reality. People ask us all the time if we like current black metal bands. As far as I'm concerned, it's a trick question. Yes. And no.
What kind of reactions did you get from people when you explained what you intended?
From people that we were trying to raise funds from, or from the musicians? Funders did not get behind this movie until we had done a substantial amount of filming. There were some amazing people who helped and supported us, but we spent a year trying to raise funding and it just didn't work. Norway was willing to fund us but there was a catch: the movie would have to be about "American filmmakers who go to Norway to investigate black metal." It would have to be as much about us as about black metal. Um, no thanks. So we scratched and scrambled, begged and borrowed, and ran up our credit cards to get to the point where we could raise finishing funds. We turned down hundreds of thousands of dollars because we weren't interested in making the movie that they wanted us to make.
With the musicians, it differed. We clicked with Gylve instantly, and he agreed to be in it right away. He was the first person we approached, and I think that helped to establish that we hadn't just read Lords of Chaos and hopped on a plane.
It would seem to go without saying that a film about Norwegian black metal has to have Gylve, Varg, and hopefully Hellhammer. Just, period. Or it's just fatally flawed. Gylve and Varg, with Euronmyous, CREATED Norwegian black metal. It would not exist were it not for the three of them each playing a distinct and crucial part in the formation, codification, and dissemination of the genre. There are certainly other great musicians who have contributed a ton to the genre, but it was the originators that we knew we needed to talk to.
We clicked with Gylve immediately, we spent less time with Hellhammer but have great affection and respect for him, and we were prepared to stop at any time, fold up, go home if we weren't able to get Varg's participation. We knew it would be very hard. We were relieved when, after eight months of correspondence with him, he finally agreed to meet Aaron. We were pretty confident that if we were given that opportunity we would be able to get his participation, and we did. I admit though, it was a relief, because by the time that happened, we'd been in Norway for eight months and had spent an awful lot of time and money on the film. He used to write us letters that stated that even if we made exactly the movie that he himself would make, he STILL wouldn't be in our movie. Those were hard letters to get. But we kept on with it, and finally he agreed. Once he actually met Aaron and talked with him and was able to see where we were coming from, it was not at all difficult. He was very open and forthcoming, except in cases where for legal reasons he couldn't say certain things on camera. Obviously, we can't and won't repeat any of that either. But even when he couldn't state things, he would allude to them. He was very open with us. Of course you can't blame him for being initially wary. He felt that he had been burned (no pun intended) by the international media circus that erupted in the early 90's. But we were able to convey to him what our intentions were, and once he realized that we were not there to make a quickie hype piece, and that we'd actually researched the hell out of everything, and I think just based on who we are, he agreed to participate. And we think that he would agree that the film is fair, and most importantly, honest.
Is it expensive to make a film of this nature?
Of this nature — yes. Hundreds of thousands of dollars. A big part of the expense was just the day-to-day cost of living in Norway for two years. But that was necessary. We had to spend time with the people, establish trust, etc. It wasn't interesting to us to make a film that skimmed the surface. We wanted the film to be from the perspective of the musicians looking out from the inside. For that to be possible, we had to be inside.
Were metal fans and bands cooperative, for the most part?
We didn't talk to many fans for the purposes of making the film. This isn't like other movies about metal. But, literally everyone we met was extremely helpful.
The eye may be said to owe its existence to light, which calls forth, as it were, a sense that is akin to itself; the eye, in short, is formed with reference to light, to be fit for the action of light; the light it contains corresponding with the light without.

We are here reminded of a significant adage in constant use with the ancient Ionian school — "Like is only known by Like"; and again, of the words of an old mystic writer, which may be thus rendered, "If the eye were not sunny, how could we perceive light? If God's own strength lived not in us, how could we delight in Divine things?" This immediate affinity between light and the eye will be denied by none; to consider them as identical in substance is less easy to comprehend. It will be more intelligible to assert that a dormant light resides in the eye, and that it may be excited by the slightest cause from within or from without. In darkness we can, by an effort of imagination, call up the brightest images; in dreams objects appear to us as in broad daylight; awake, the slightest external action of light is perceptible, and if the organ suffers an actual shock, light and colours spring forth.

– Johannes Wolfgang von Goethe, Theory of Colors (1810)
What equipment did you use — were you shooting direct to digital, using film, etc? How did you edit?
We shot on 35mm and PAL minidv and edited on AVID (telecine to tape for the film parts), eventually outputting an HD D5 master, from which we make copies in other formats as necessary. Our original intention was to end up with a 35mm print, but expenses were too great, we couldn't do it. The film industry imploded a few weeks after our festival premiere in LA 8 months ago. The pressures of the economy, combined with some industry specific factors, drove it into the ground. Six of the top independent film distributors went out of business nearly overnight. Ripples went far and wide, those that were left became extremely conservative in what they would fund or distribute. So the money to transfer to film just wasn't there anymore.
How long did the whole project take?
Many years. I don't like to talk about how many. It disturbs me. A lot of my life has gone into this. Aaron got very sick as well and we had to take a year off while he had surgery and recovered. We also had to spend over a year raising finishing funds when we got back from Norway. Luckily, we found that in two great companies who have been very supportive of us and of the film, even in this horrible climate for independent documentaries. We would not have finished without their (continued) support. And we found an editor, Michael Dimmitt, who loved the project and agreed to work for deferred pay. He also made it possible for us to finish the film. He actually hasn't been paid yet, and that sucks and we feel crappy about that, but he knows we're good for it. It takes a lot of dedicated people to make a film like this. And we're so grateful to everyone who has helped us.
What were some barriers you ran into?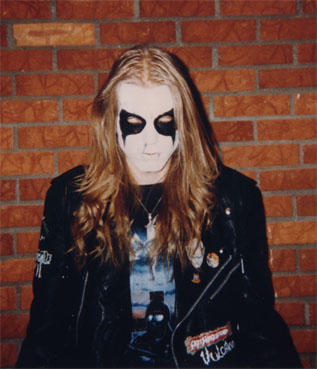 Money, health, equipment problems, time. I've had a job consistently since a few months after we got back from Norway. Aaron was ill and I was trying to support us, as well as raise money to finish the film. That was a horrible time. It lasted for over a year, and it is a very dark period in my life. I was extremely depressed, as was Aaron, and it felt like we were never going to be able to finish the film. We finally found the funding and support we needed in two companies, Artists Public Domain and The Group Entertainment, and were able to start editing. It took six months just to digitize and log our 350+ hours of footage. Finally, moving forward! Then our system crashed. We lost it all. That was so disheartening. We took a break, regrouped, got a new editing system and editor, and started over, half a year's work down the drain. It took about two years to edit the film, we had so much material and even though we knew what we wanted, it was difficult to achieve. We were both working at this point, so our free time was very limited, and it all went into the film. I'm not complaining, but there are years of my life dedicated solely to surviving and making this film.
Is it expensive to distribute a film so that the DVD is available on Amazon and in stores? Do you have other options to pursue for distribution?
Well, if you make a quickie movie with a small budget and don't invest that much into it, you can do things like release it straight away on Amazon and platforms like that. If however, you do what we did, which requires a huge investment of time, money and work, then you can't and don't want to do that unless you have no other option. We are currently hundreds of thousands of dollars in debt on the film. We have investors and co-production partners who did not give us nor loan us the money, they invested it in our film. So that's one aspect of why we are committed to doing a proper release of the film. In order to legally be able to release a DVD, we have to first pay about $50,000 in outstanding expenses. So, that's just a reality we're dealing with.
The other reason is that this is a creation that we have made, and there is a certain way that we want it to be presented. The film is about black metal, but we also deal with wider issues and it is relevant to the larger culture, not just fans of the genre. I am a filmmaker before I'm a fan, and a person before I'm a filmmaker, so there are a few masters that I serve when I make something. This is a communication between us and the world, and if there's one thing I've learned from making this film, it's that if you don't control your creation to the utmost degree that you possibly can, you lose your ability to do so very quickly. We refuse to see this released in an exploitation context. This is an art film, and if people want to cheapen it, we will make that as hard as possible for them to do. Some people do, by the way, want to cheapen it, just like they want to cheapen metal in general.
Have reactions differed between metalheads and mainstream audiences?
It's mostly metal fans who have seen it thus far. With our sneak peek screenings, what we have attempted to do is bring the film to places with interested metal scenes and give them a chance to check it out first and give us a chance to get feedback from them. And so far, the reaction from fans has been really great. 95% of them really like the film. Even the ones who thought they weren't going to like it. You don't know how many times we've heard "I was really worried that I was going to hate the movie, but I'm happy to say that I thought it was incredible." Mainstream audiences are more mixed in their reactions. Some of them get angry that we don't make the musicians look like complete assholes or lunatics. But the reactions from non-metal fans has been mostly positive as well. Especially from those who like dark underground films.
What are your hopes for this movie: what should it accomplish, who will see it, where will it fit in our pantheon of culture?
I think it is the best documentary about a music scene ever made. You can quote me on that. It isn't like anything else. It is not a balls to the walls expose of youth gone wild. It is not sensationalized, nor exploitative. It is elliptical. It is a contemplative look at the evolution of the creators of a scene that has all but morphed out of existence, at the forces in the culture that brought it into being, and the forces of culture that take it into a different place in the culture's conscious (or unconscious). It's about mechanisms in society that eradicate authorship, identity, intent. It's about black metal, a scene and genre of music that deserves to be accurately recorded, once and for all, for whatever place in history it will take.
Beyond that, as filmmakers, we want it to be a work that resonates with the audience. The filmmaker who has had perhaps the biggest influence on me is Chris Marker. While our film deals pretty solidly with a story and characters and a time and a place, it also borrows from Marker the notion that a film can be more than the sum of its parts and that you can weave together seemingly disparate elements and timelines in a traditionally clear-cut documentary mold and create something that will hopefully resonate on levels beyond a linear re-telling. That was our goal anyway, or at least part of it. Hitting the tone that we wanted and striking the balance between telling the story of real people but also getting at the truth at the center of the story, while also exploring the other themes that we see as part and parcel of the story, was always going to be a challenge.
We also know that the contemplative tone and elliptical structure is going to piss off people who think that a documentary about metal should be a certain way, or done in a certain style. Our film isn't like other works that people would superficially be tempted to lump us in with. I hope that eventually the film will be perceived as a unique work of cinema, valuable as a document of a music movement and a moment in time, but also valuable as a creative work in its own right.
Well, you can't be objective when you're dealing with passionate situations, politics and so forth. I guess you can, I never have. For instance if you were objective about Richard Nixon, you would never get him or understand him. You had to be subjective to understand Nixon. You have to be subjective to understand the Hells Angels.

– Hunter S. Thompson, interview with Freezerbox magazine (2003)
Do you think black metal is a subculture in itself, or solely a genre of music? An ideology?
All of the above. It is a subculture, sort of, but one made up of individuals if that makes any sense.
What kind of audience response is required for a distributor to be interested?
We have to reach a wider audience to make the expense of making it make sense to a distributor. And we want to reach a wider audience, because it is a smart and moving and relevant film that deserves to be seen. Due to the collapse of the indie film industry, we've had to really think about a way to make this all work. Our current plan is to show the film theatrically at these sneak peek screenings and festivals that we're currently doing. This does a couple things: 1) Lets the theater bookers know that the film does have an audience, and that they won't lose money if they book it. 2) Lets DVD distributors know that we will work like that crazy to make it worth their while, and again to prove that there is an audience. And 3) to get a break from all these people writing us all the time telling us to release the film or bring it to their town already!
We get A LOT of requests to bring it to places all over, we plan on bringing the film around the US for special engagements through September, then we're going to Europe in October, premiering in London at the Raindance Film Festival in October, then bringing it to a few more countries before we head back to the states to finish our theatrical run in the fall. A lot of people have been asking us to bring the film to various countries, and we're trying, but some are very hard. Like France, they basically won't screen the film without French subtitles, and we don't have the money to have it subtitled. But we're working on these things! We actually listen to the people who write to us and we try to set up screenings wherever we can. I'm actually slightly terrified by some of the ones we've set up, I mean is anyone going to go see the film in Atlanta? I really don't know. But a couple people wrote and asked us to do it, so we set it up. So, I hope so. It's a gamble. Failure at any screening is very damaging, this is a truly stressful process.
By the way, one thing I should point out. Probably a lot of your readers, who are immersed in the metal culture, look at our film and think "this thing will sell a lot" but believe me, distributors etc. look at it and say "what the fuck is this?" The metal market is a small one by film standards, and not large enough to justify the expense alone (for distributors). Even people who like the film tell us that the film is great, but they have no idea how to market it. So we have to show them that we do. So, that's the plan. Time will tell if it worked.
Would you want them to show this film on prime time cable?
I want people to have the option of seeing the film in a theater first. Magic and ritual and mysticism is all but gone from the world already, but there is something of that surviving in the ritual of seeing a film in a darkened room with a bunch of people there with the same purpose. Maybe you think that's dumb, but you don't become a filmmaker if you don't respect the power of the medium. And no, that doesn't apply to all films. A lot of films can be appreciated just fine on DVD only! But my hope is that people take something from the experience of seeing the film in a theater, and leave thinking about it, or talking to their friends, because the film is not as straightforward as some might think before seeing it. We tried to make it multi-layered, and I think we did. It's meant to be watchable more than once, because there are things that might not be apparent on the first viewing. And that's true of all my favorite films. But, then, I truly love film! I've seen some of my favorite movies countless times, and will see them countless more! And as I change, I see different things in them. A film can function as a statement, as a record, as a cipher, as a puzzle, as an experience, or as a mirror. Or all of them.
Did your attitudes toward metal bands and fans change?
Not really. We are fans ourselves. All fans are different. The film is very specific to Norwegian black metal. It isn't about the fans. We've found the fans, by and large, to be really engaged, smart, and generous. There are always a few people who say that they will never see this film no matter what because they can't conceive of the possibility that it just doesn't suck. And that's fine. There are about half a million movies that come out every year that you couldn't force me to watch. Then there are a few who say that we should be punished for not releasing it on DVD sooner. That's retarded. Let them go put their entire life, all of their money, all of their time, and make their own movie and then we can talk.
Anyway, this is like people who get upset because we didn't include certain bands or certain people, or that there aren't American bands in the movie, and I just can't relate to that mindset. Usually I just tell them that sounds like a really great idea for a movie, go make it. What are we supposed to say to this? Did people get angry at Spielberg when he didn't put giant squids, barracudas, piranhas and sea-snakes in Jaws? This isn't an encyclopedia. It isn't journalism. It's a movie. It's OUR movie. It's what we combined to make. There are an infinite number of possibilities, people create what they are moved to create. We were moved to make this, and we're happy with the film that we made. Most people who see it are happy with it too. And if they're not, that's fine too, I like that some people hate the movie, I think that's healthy. Love it or hate it, a strong response is a victory. Of course, I can say that because so far, most people have loved it. I might feel differently if more people hated it!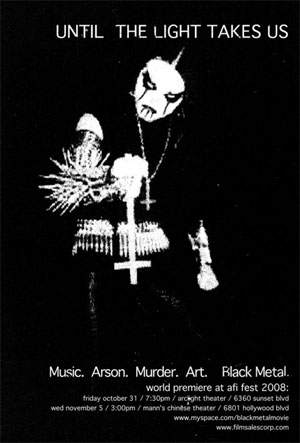 Do you see comparisons to other genres and black metal?
You can compare anything to anything else. You can compare a grape to a Ford Taurus. You can compare Einstein to the A-Team. Of course you can compare other genres to black metal. And of course, being a huge fan of black metal and other kinds of music, I see comparisons. But that's entirely subjective and totally irrelevant. We aren't doing that. We don't talk in the film. The idea of the film is that the musicians themselves are the ones who are talking about it. Not cops, not priests, not fans, not musicians of other genres, and not us. Some metal fans call us hipsters (only on blogs mind you) because we like more than metal. That's absurd.
Do you think black metal was a moment in time, or will it continue to exist like other heavy metal?
Both. Things change. There was certainly a lot of music that inspired the Norwegians and they in turn inspire others.
What other films have you done, and do you plan to do?
Our next film is a thriller that takes place on a commune. I was born on a commune. They can be a bit cultie. Some are stranger than others. Our film will have some supernatural elements as well. We want to call it Possesion, but there is already a great film from the 70's with that name. So its working title is The Living Day.
You seem remarkably gentle when handling metalheads. What do you think is the psychology of the average metalhead?
I don't really put people into different categories like that. A lot of my friends are "metalheads." To a lot of mainstream people, I'm a "metalhead." To others, I'm a hippie. I don't believe that there is a generalized psychology to any subculture. There are so many factors in making a person like one thing over another, and so many differences within subcultures. If there is a similarity amongst people we've met in the scene it's a certain interest in looking past the surface of things. Always a good idea.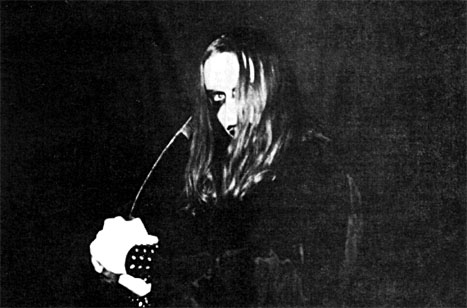 What would you advise a first-time watcher to do as they see your movie?
Let the movie's logic do its thing, don't come with expectations or an agenda.
Art is a creative act. Paul Klee said that art does not simply render nature, it renders it visible. The artist sees something that others do not see, and by seeing it and putting it on canvas, he makes it visible to others. Recognition art. A particle physicist at the University of Texas named John Wheeler has developed something that he calls "recognition physics." Wheeler says that nothing exists until it is observed. Well, the artist as observer is like that. The observer creates by observing, and the observer observes by creating. In other words, observation is a creative act. By observing something and putting it onto canvas, the artist makes something visible to others that did not exist until he observed it.

– William S. Burroughs, interview in Contemporanea (1990)