Old-school authenticity is typically a contradiction in terms in the realm of modern death metal. Cruciamentum, hailing from the UK, seeks to strike back at this notion with their own stated purpose of delivering a "spiked fist in the face of trendy 'death metal'" with a encapsulating, occult delivery and conviction in its creation.
You've gone for an old-school approach, updated with elements from the "mature" and final albums of the old school. What did you pick from each, and why did you take this approach?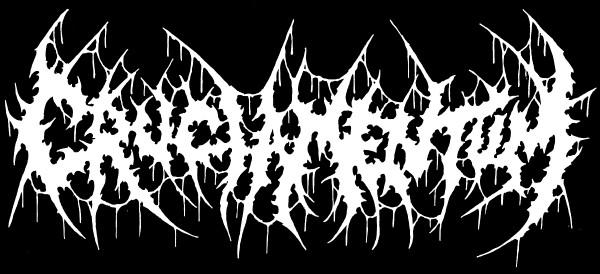 There was no conscious decision to adopt the sound we have, it just came naturally. I prefer to just call our music "death metal" rather than applying any other tags to it. To me the phrase "old school" tends to imply just another Nihilist clone rather than a band with any character of their own. However, a lot of the old bands are personal favourites amongst the band's members, so doubtlessly they are an influence on our writing.
What appeals to you about the old school sound?
Darkness, evil, power and song writing. All the things that modern death metal lacks!
If you could identify your primary influences, what would those be?
Incantation, Absu (Barathrum, and Temples of Offal era), Demigod, Shub Niggurath, Morbid Angel, and Immolation, though a lot of the time it depends on my mood.
Then suddenly the clouds thinned and the stars shone spectrally above. All below was still black, but those pallid beacons in the sky seemed alive with a meaning and directiveness they had never possessed elsewhere. It was not that the figures of the constellations were different, but that the same familiar shapes now revealed a significance they had formerly failed to make plain. Everything focussed toward the north; every curve and asterism of the glittering sky became part of a vast design whose function was to hurry first the eye and then the whole observer onward to some secret and terrible goal of convergence beyond the frozen waste that stretched endlessly ahead.

– H.P. Lovecraft, The Dream-Quest of Unknown Kadath (1927)
When you write songs, do you start with a visual concept, or a riff, or something else?
A mixture of things; I'm a slow writer and different things inspire different parts. Usually it starts with a riff and then progresses naturally from there. Sometimes it can be just a mental image and I try to write riffs to convey that feeling. The riffs are always composed before we practice and then we structure the song in the rehearsal room together as a band.
It seems obvious to me, when all factors are added up, that our society is in decline. However, this opinion is not widely shared. Why do you think this is?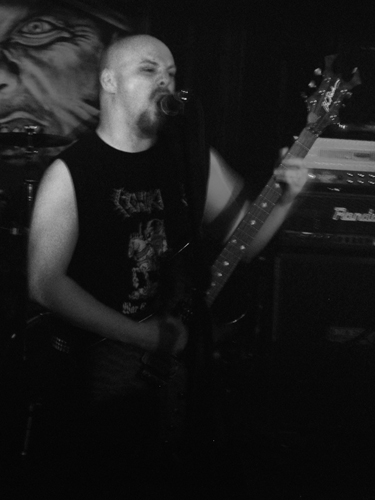 This is an interesting subject, but I don't think that it is something that can be easily summed up in a couple of paragraphs. I do agree with you that there has been a strong moral decline in the last decade; people have become lazier, apathetic and more selfish. Many I have heard attribute this to the economic decline of the last few years, and although I don't doubt that the inevitable depression caused in worse affected areas by poverty and unemployment is to blame, but I think that these problems are older than the economic problems. Bear in mind I am only 26, but I have noticed since my childhood a huge rise of an entitlement attitude in people in England. People seem to believe now that they are entitled to more, and many will grab at whatever they can lay their hands on, people have started to have children younger so that they can receive benefits and lead a more comfortable and lazy life. No doubt the obvious neglect on these "unwanted" children is having a serious effect on the younger generation's behaviour as well. Perhaps with people's needs being catered to more easily we have just simply eradicated the need for friendlier, close-knit communities? To be honest, I have no answers to these questions, just speculation of my own. I'd be more than happy to discuss this at further length in person with anyone interested though.
What would define "success" for you with your music?
In terms of Cruciamentum, I think that we have already reached it by writing and recording music that we are immensely proud of. We have no interest in making money, extensive touring, furthering our social lives, or anything else. As long as we have made something that we ourselves are happy with, that is all that matters.
Do you believe underground metal is still a viable form of music?
Of course, the current underground has produced some of my favourite bands! Bands like Necros Christos, Dead Congregation, Ignivomous, etc., I believe can stand by the classic bands such as Morbid Angel, Incantation, Deicide etc. The musical climate is just different these days, if the bands I mentioned previous came out in the early 90s they would have been much bigger, these days mainstream metal is more about image than musical content which is why the "true" bands of today remain in virtual obscurity.
What distinguishes great music from bad? Can it be distilled into technique, or is it something less easily defined?
Great music is music that connects with its listener. I don't think technique has anything to do it, just the ability to do your own thing and do it with enough conviction that it can be conveyed in the music.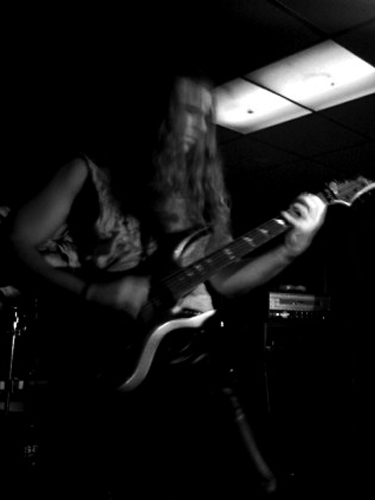 What releases have you produced so far, and where are you taking the band at this time? What's next for Cruciamentum?
So far we released a one-track demo in 2008, and the 2009 demo Convocation of Crawling Chaos. We're currently writing material for a MLP which we hope to start recording in a few months time, which will be released through Nuclear Winter Records. Expect around 25 minutes of new music. We also have started playing our first foreign gigs in Italy, Belgium, Germany, and Finland.
Did you ever study music theory or take lessons? Did this help you or slow you down in achieving your musical goals?
I'm not sure about the other members, but I took a few lessons when I started playing guitar and then gave up and taught myself. I've also studied Music and Music Production. The theory helps in understanding each other when writing new material, but we're not a complex band, and we don't compose based on music theory.
Some have said that rock music is about individualism, or escaping the rules of society and nature to do whatever the individual wants to do. However, some have also said that heavy metal breaks with that tradition with its "epic" and impersonal view of life. Where do you fit on the scale?
I believe that to be a dated concept now. I'm sure that was very much true in the early days of rock-n-roll while our parents and grandparents were young, but since then I believe rock music and metal has become just another genre that has found its niche in popular culture where it can be watered down and devalued for popular consumption. I genuinely couldn't say for sure where we fit into this, I think that is partly to be decided by how the listeners interpret us.
One of the most striking signs of the decay of art is the intermixing of different genres.

– Johann Wolfgang van Goethe, Propylaea (1798)
When Hellhammer said, "Only Death is Real," it launched legions of death metal and grindcore bands who showed us through sickness, misery and sudden doom (in their lyrics) that life is short, manipulations are false, and we need to get back to reality. Where should the genre go from there?
I think that that phrase sums it all up perfectly! Death is a key element to life, and that is something that everyone should pay some thought to. I wouldn't say that metal is there specifically to remind people of this fact though; there are plenty of different directions to take the lyrical and philosophical approach of the music in.
Is there a relationship between how an artist sees the world, and the type of music he or she will then make? Do people who see the world in similar ways make similar music?
Yes, I think there is some truth in that. Although the personalities in Cruciamentum are different, all members have a similar attitude. Personally speaking, I have quite a negative outlook on life, I don't think someone who is part of a popular social group would feel the same emotions that I do that are required to channel into making the music we do.
Do you think your music will have a "real world" effect, other than people buying and listening to CDs? Will they take your ideas and do something of them?
I doubt it. Due to the nature of the music, we will already be preaching to the converted, to reach a wider audience we would have to severely compromise our style, or even play a different style of music, and Cruciamentum exists to create dark music, not to preach.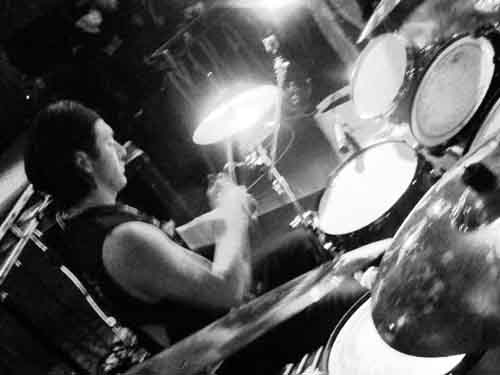 When did Cruciamentum form, and what was the goal? How long did it take to produce your first recordings, and how have you changed since then?
The band dates back to 2005, though it took me until late 2008 to finally find all the right musicians for the band. Before the Convocation… demo, there was probably around an hour of music written, but the demo was such a huge leap forwards from that material that it has all been abandoned. The Convocation… demo took roughly around a year, as I fired the entire line-up at one point, and re-wrote the songs with the current line-up. Then there were numerous set backs in the recording process, and further set backs in having the demos printed. Hopefully that is the end of the troubles now though!
As for changes, since our inception we have improved more than I could have imagined back in 2005. The band finally has all the right people, the attitude is right, and we're moving forwards.
Do you think the "underground" still exists?
Yes, it has simply changed from what it used to. With the internet making it easier to access some music, it has obviously become more widespread, and to a degree perhaps watered down, but there are plenty of die-hards with the right spirit.
Can you tell us what equipment you use, and what production techniques you use for recordings?
There's nothing special equipment wise. We use BC Rich and Jackson guitars, various FX pedals, Warwick basses, Pearl drums and whatever amplifiers we can get our hands on. For the demo we recorded the drums at The Priory Studios with Greg from Esoteric, and I recorded, mixed and mastered the rest. I think we will do the same for the next recording; I've bought a lot of new equipment since the demo, so we should get a better sound this time round.
Yet I am not more sure that my soul lives, than I am that perverseness is one of the primitive impulses of the human heart as one of the indivisible primary faculties, or sentiments, which give direction to the character of man. Who has not, a hundred times, found himself committing a vile or a stupid action, for no other reason than because he knows he should not? Have we not a perpetual inclination, in the teeth of our best judgement, to violate that which is Law, merely because we understand it to be such?

– Edgar Allan Poe, The Black Cat (1843)