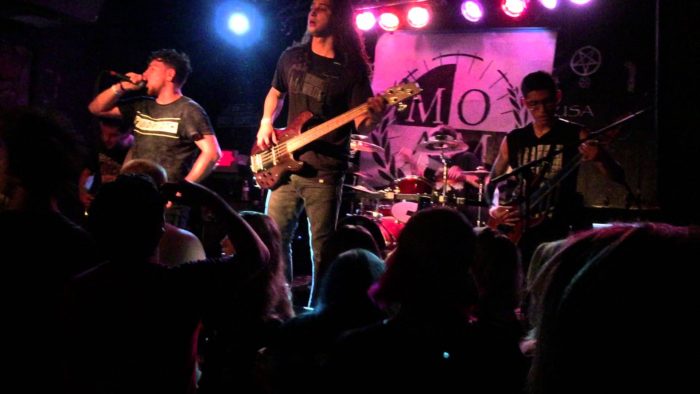 Paramus, NJ band Monument Of A Memory creates what some call "modern death metal" and others, with a nod to its origins in a late punk/death metal hybrid, deathcore. The band is about to release its second recording, Catharsis, and vocalist Tommy Gehringer and bassist Josh Correa took the time to give us some insight on music and the theory of being a metal band in the current age.
When did Monument of a Memory form and what were your influences at the time? Has this changed over time? What genre do you identify with?
Monument Of A Memory formed in 2014. At the time, we were very into "core" music like Killswitch Engage, Miss May I, Parkway Drive, As Blood Runs Black, and Job For A Cowboy. Even a lot of heavier bands like The Black Dahlia Murder. When our guitarist Eren Guney joined us, he brought the band influence from thrash, such as Lamb Of God, Pantera, and At The Gates, which really laid out our foundation. — Josh
I can identify three elements in your music: late death metal like Gorguts, emo/metalcore vocals, and a bouncy, rock 'n' roll influence like Pantera. What of your influences and ideas do you think correspond to each of these?
We take influence from many subgenres of metal. Everyone in the band has vastly different tastes that we all bring to the table. We don't like to pigeonhole ourselves into one genre. For example, one song on our upcoming album Catharsis (out July 8, 2016) is very heavy, with tons of blistering riffs, and in another track, we wanted to bring more of a groove, adding a tasty breakdown here and there. As a reflection of the band, no two songs sound the same, and therefore we can't really label ourselves. We just consider Monument Of A Memory to be metal. — Josh
If you could sum up what you hope to express with your music, what would that be? What differentiates your take on this from other bands in your genre?
Summarizing what we hope to express with our music is actually a broad topic, because each of our songs cover such different themes from different points in our lives. What we did previously with our first EP Dreamwalker was set a basic concept on what we wanted to write our songs on, which happened to be the idea of having infinite opportunities, roads, paths, obstacles, loves, and fears throughout one person's life. — Tommy
Dreamwalker symbolizes the path and journey that each of us takes in life to chase our dreams, whatever that may be, and that everything we dream for in life comes with time. I feel like this separates us from other bands in that when I write lyrics I tend to keep everything as real as I can. Lyrically, our new album Catharsis is basically our emotional release to the world. I had a lot of built up anger, anxiety and depression to the point where some days I really thought it wasn't worth getting out of bed for school in the morning. I had no care for much really, I was just in a bad place at the time of writing this album which I am somewhat thankful for because I had plenty of things on my mind to bring to the album. — Tommy
Monument of a Memory is both fairly technical and shows a familiarity with a range of techniques and secondary influences. Are you trained musicians? What got you into music in the first place, and how did this experience deepen for you over time?
For me, my father is actually a mastering engineer at a studio in New York so I always looked up to him when I was young. I started listening to the same music he did, and took day trips to his studio as a little kid. Shortly after, I picked up a guitar and fell totally in love with it. I got some lessons and then took everything from there. I started playing drums, got a bass guitar, ukulele, some midi keyboards and even played around with piano. I was very into Dave Matthews Band, John Mayer, Radiohead and Led Zeppelin at the beginning, so I started out playing songs that they all wrote. Shortly after that, I found Asking Alexandria and all those other early metalcore bands. I actually used to make fun of "screamo" music by mimicking their screams. Turns out I got really into it and started screaming when I was a freshman in high school. I got really serious about it around my sophomore year, when I started doing guest vocals for local bands around the scene and going to shows more. Then our lead guitarist Kevin Chapillequin asked me to try out for the band when he saw me doing guest vocals with my friend's band Forbidden Territory. I was actually kind of hesitant to join at first because I always thought I wanted to be in a groovy Volumes or Northlane style band. Thankfully, I made the best decision of my life and joined after they all gave me the thumbs up at tryouts. — Tommy
How does Catharsis differ from Dreamwalker? What prompted you to take this direction?
Catharsis is honestly a lot angrier. I was in I guess a healthier mindset at the time of Dreamwalker because I was a junior in high school and thought I was going to go to school for music and didn't have much stress on my shoulders. During the writing process of Catharsis, I went through a bad breakup and some other personal things, and I was just so angry at the world. I felt like I was being punished for something. I used to be really into Christianity and religion before I got into high school too, then my parents went through a divorce, and a childhood fear of mine came true. I felt betrayed by god and I actually got very into the idea of religion being a harm to the world and how it causes such conflict between us all on the track "Heaven Is A Place on Earth Without You." Dreamwalker was a record with more of a positive vibe, that gave off a "go take life by the horns" message. But it kind of feels like life came crashing down on me at the time of Catharsis so I talk about my fears, insecurities, a break-up, and just generally all of the emotions and thoughts that were running through my head at the time. While it is a darker record, I think it is the most honest piece of music we've written and I hope that our listeners feel that. — Tommy
Thanks to Daniella Kohan at Dewar PR for hooking up this interview!
The second part of this interview, which concerns politics, is over at a political site.