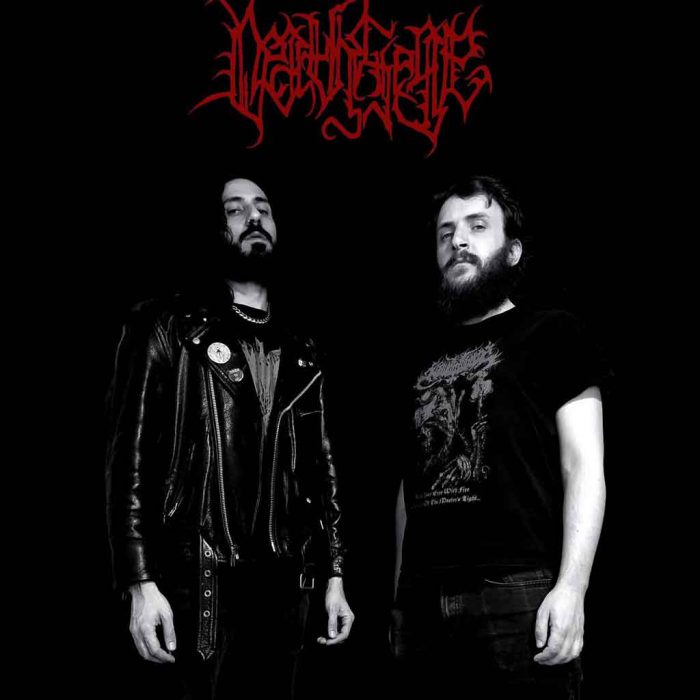 Riding on the excitement from the demo and EP released by upcoming violent metal band Deathsiege, metalheads worldwide have found themselves wondering about this promising new act. Luckily, A.M. of Deathsiege was able to take a break from necrotic pugilism and give us an update on the state of this rising band.
When did Deathsiege form and who is in the band?
Deathsiege was formed in the beginning of 2019 as a solo project, and after recording a three-song demo I asked J.S to join on vocals and guitar, and we continued as a duo for the second demo.
The current lineup is:
A.M – Drums, guitars
J.S – Vocals, guitars
What type of metal do you describe yourselves as being and why?
I would describe us as Blackened Death metal. we draw our inspiration from various extreme acts that perform their music with a relentless approach, aiming for that "dangerous" sound.
You have just released two EPs; what comes next?
We're in the process of writing new material, hopefully for a debut full length, perhaps with slightly longer songs. Also we hope to start performing this stuff live, though that might require some additional band members!
Do you think there is a future for bands making old school underground metal in the present day?
I think that true underground extreme metal bands always created music out of passion or anger without giving a fuck about what people will say or think, not like outside the underground community or just the majority of "metal" music. In that sense, as long as bands like us and our heroes exist, the underground will too.
Can you tell us more about your influences, both musical and other forms (fiction, movies, art, philosophy, etc.)?
Well, musically, major influences include a lot of Old School American Death, Thrash Metal, as well as a special place in our heart for the mighty Angelcorpse. I know J.S is really into South American Metal and he brings a lot of that spirit to his vocals as well.
Lyrically, on our latest demo at least, the emphasis has been mainly on murder and violence as acts of heresy and possibly as a type of metaphor for a feeling of alienation from this poisonous world.
How do people stay in touch with what you are doing and get future news about the band?
This is 2020, unfortunately, so any relevant information or news worth sharing will be posted through our Facebook and Bandcamp pages.
As far as people wanting to get in touch for trades, offers, shows, etc., e-mail is always best, though mailing us a box of rotting organs and stinking blood through regular mail will work too.
Tags: deathsiege, War Metal