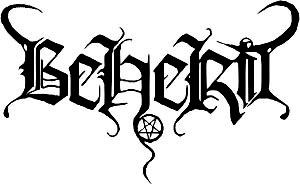 The Syriac language provided the greatest historical conduit for Christianity, and early Christians knew its words as literal symbols from the world beyond. Beherit was its name for the god of evil, sometimes called Satan. Fast forward two thousand years and occult-literate Finns made this ancient word a conduit for a new form of aural evil, a simultaneously deconstructive and reconstructive ambient aura of apocalypse and a literal, fearful reality hiding beneath the neurotic cloak of our modern society. We were fortunate to be able to speak to Nuclear Holocausto about his motivations, the nature of music, and the forthcoming 2009 Beherit album.
For a musician in this time who has understood his own experience, what are the most important aspects of art? (Or is it even possible to create a universal list?)
It's a bio harmonic resonance, but BEHERIT is back to destroy art. I had very intensive two months, by writing new songs and re-creating the spirit of the BEHERIT sound. I think it turned out to be quite okay, kind of a mixture of all previous releases. It's yet to be mastered and is missing booklet artwork… but hopefully will be released in the second quarter of 2009 by Spinefarm Records. I don't have plans to reveal any detailed information regarding the coming album, its style or maneuvers behind the concept before the release.
You've just created a new BEHERIT album. Did you design it to be like previous BEHERIT albums, a continuation of an idea, or something new entirely?
Yes, the album is called ENGRAM. It's a time warp to THE LORD DIABOLUS continuum.
How did you record the new album? Did you write all of it, and then meet collaborators to get it on tape?
I wrote and composed the album by myself. I recorded a demo version in my home studio with tablatures and a few written notes about what kind of spirit I was looking for in that song. Then we went to the rehearsal room and for the next week I made some small changes in song structure that made it easier and more natural to play live. Rehearsal period was about three months. We had 60 minutes of raw material when entering the studio. Couple of tracks we didn't have time to finish.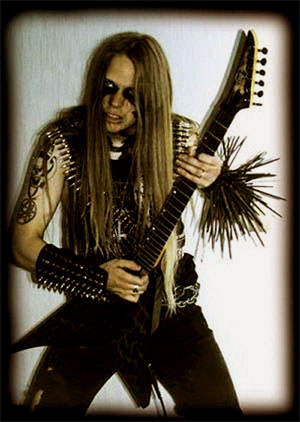 Outside of music, how are you exploring the concepts which motivated you to create BEHERIT?
I recently bought a new video camera and have found this hobby very compelling, the use of sound and visuals to create deep atmospheres/altered states.
Why do you usually work and release things in the phases of the moon, or is it something you cannot control?
I like to plan my projects in the phases of the moon. For me, there is a natural difference between the things you process on waxing or waning gibbous. Especially on nights of the full moon, it's good to pay extra attention on your karma.
With Suuri Shamaani, you are playing with raw sound, but the question becomes not your tools (raw sound, or scales) but the organization of that sound to express some difference of outlook achieved through experience. How do you organize this sound, and how does this process compare to that of writing metal?
I am very fascinated by the potential to experience some ueber-crossover between genres like black metal, dubstep, doom metal and ambient. There's some artists who have successfully melded electronic music to rock, but I think most of their audience is still very average type of people (whom see the music more like entertainment or a consumer product of show business). Perhaps the biggest challenge is in a composition. For a basic metal head, it could be pretty challenging to listen (much less to write) non-standard music, I mean something outside of popular radio song structure (verse/chorus/bridge…)
What degree of familiarity with music theory do you have, and has this changed since Drawing Down the Moon?
I know only very little of music in theory. Maybe I have learned to tune my guitar faster, but not much else. In BEHERIT, we keep things primitive.
When you write songs, do you start with a (visual, musical, lyrical) concept for the whole song, or do you save up riff ideas and fit them together?
After the initial idea, I have a riff and couple of variations. Then some words that stimulate my mind to visualize the atmosphere. Later some variation in tempo, bassline and rhythm. The last part is to rewrite some lyrical content. This may vary a lot depending on the project.
Do humans live through experience?
Living entities look for happiness, and to avoid suffering. This is true not only for humans, but animals as well. I think this is the very basic principle. Animals have a hard enough time getting their food and avoiding getting killed, but humans seek their happiness from materialism or very temporary states of happiness, like sex, drugs or love…
I teach you the overman. Man is something that shall be overcome. What have you done to overcome him?

All beings so far have created something beyond themselves; and do you want to be the ebb of this great flood and even go back to the beasts rather than overcome man? What is the ape to man? A laughingstock or a painful embarrassment. And man shall be just that for the overman: a laughingstock or a painful embarrassment. You have made your way from worm to man, and much in you is still worm. Once you were apes, and even now, too, man is more ape than any ape.

Whoever is the wisest among you is also a mere conflict and cross between plant and ghost. But do I bid you become ghosts or plants?

Behold, I teach you the overman! The overman is the meaning of the earth. Let your will say: the overman shall be the meaning of the earth! I beseech you, my brothers, remain faithful to the earth, and do not believe those who speak to you of otherworldly hopes! Poison-mixers are they, whether they know it or not. Despisers of life are they, decaying and poisoned themselves, of whom the earth is weary: so let them go!

– Friedrich W. Nietzsche, Thus Spoke Zarathustra (1885)
Do you compose on keyboard, guitar or in your head?
New BEHERIT songs emerge and are developed in my head. That material I try to save as quickly as possible by guitar or keys to a recorder. A year ago I invested to Ableton Live software. It did help a lot in my productivity. For a musician like me, there's a big difference with Ableton compared to older, a linear time scale based sequencer.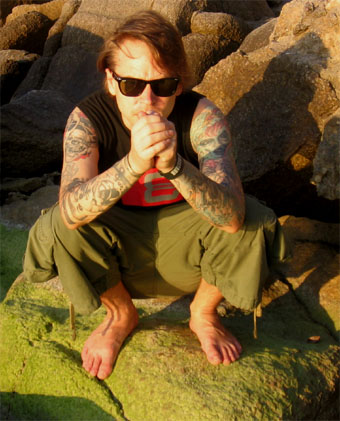 On Drawing Down the Moon, you achieved a unique dark and bassy sound which was not in favor in black metal at the time. How was this done? Did you replicate it on the new album?
Back in 1993, recording studios were still mostly analog. The guitar sound was as simple as Boss Heavy Metal guitar distortion pedal through an old Marshall bass amplifier and cabinet. I don't remember what microphones were used, but everything was done in a few days. No time to remake or mix, thus the raw sound. The studio is still up and running. Very professional people there. The home of Tarot.
We didn't want to reproduce the sound of Drawing Down the Moon, but as always try look for new soundspheres.
How was the early blackmetal scene different from how people perceive it now, and what were some challenges you faced as one of the few early blackmetal bands?
People used to describe our bands, like "some satanic stuff", but today Black Metal has become a well known symbol for the majority, mostly because of the Internet. Most of these younger fans have pretty twisted image of the scene of old days. People didn't like black metal at all, everything was so small, you kind of know all the music makers in the scene (via flyers in tape trading scene, + fanzines) Most of the people fucking hated us BEHERIT, IMPALED NAZARENE… Drawing Down The Moon was self-funded by me and I had to sell my car, became homeless, and everything I had was that master tape and no label interested to release it, before Spinefarm. I am still thankful to 'em, because of the advance royalty.
Do you think that given the same stimulus, two logical beings will have similar responses?
The response to given stimulus is much about the previous experience to similar contact in sense.
And if this is so, does it not mean that anyone who encounters a similar experience to someone else, has the same forces interacting on them? That if we have one stood out in the rain, we can all know what it is like? Maybe this shows how experience and intuition can exist on the same level. Experience is also important, because it enables us to store memories as symbols, and then trade on those symbols in law, art and conversation.
Like those others have never experienced of getting wet in the rain? They would still feel the same as the one who's in the rain? Then there should be a sense contact within this tribe that can somehow communicate lower/higher states. I know this is possible, but very rare in normal conditions… we cannot "release the self" that easily, because of our fear (of dying).
What are your influences, and are these shared among band members, and if not wholly, what other influences do they have? Other metal musicians have mentioned Kraftwerk, for example; were there metal and ambient works that influenced you more than anything else? Any classical or folk music?
We all four are big fans of BLASPHEMY, BLACK WITCHERY, IMPIETY, MANTICORE and other fast stuff. Sodomatic plays drums in punk bands and listens to industrial music. He's a vinyl collector. Abyss, the bassist is very much into Viking stuff, like BATHORY and FALKENBACH. He has also his own projects, more technical style, like he could have more riffs per song than BEHERIT on entire album. Serpent is working on Spikefarm and listens mostly to rehearsal and demo material from unsigned bands. THE LORD DIABOLUS was the biggest influence on this new album.
Is our fear of "evil" hardwired? For example, humans seem to fear snakes without having ever seen one, suggesting that fear of snakes is wired into our genetic code.
The fear of reptiles might be encoded in DNA — I don't know. But when a man walks in the dark woods, fear of the unknown makes a wooden stick or a rope to appear like an image of dangerous snake. That's why we should not trust our senses.
Is it possible then that some experiences are defined by the similarity of contact, and are inherent (in the sense of "emergent") to the design of the universe itself?
I do understand the logic in fractality of universe, like many universes in smaller scales. The most of the cultures of our civilization is based on wrong believes of gods and myths. We simply have wrong views of life. The problem is that only very few people have seen the truth, the nature of time existence. Parents put their kids to school to teach 'em reading and mathematics, but too often they think it's enough to make those kids to survive in a modern world.
We have built our cultures to praise the bold and the beautiful; the weak and ugly easily drops out from the so-called "easy life" because of the competition (evolution). I don't care much about this, because it's somehow universal, "natural evolution." But this system leads to very problematic scenarios in the world we have built, because the weaker get many and they can get temporarily very strong by modern weapons.
From that comes "terrorism" and "the police state." And all this mostly happens because society is from the very beginning based on incorrect views. Ouch, I am getting to off topic now…Yes, the nature of the world of the senses is polycausal, indeed.
Human ability, even really stupid humans, to retain music has always seemed magical to me, as if it had some inherent function in the universe. What do you think it is that humans unconsciously perceive?
Heavy metal seems to share many values with Romantic art and literature from two centuries ago, right before Nietzsche began writing: reverence for nature, belief in a transcendental but not dualistic life, independence from humanist morality, desire to create the beautiful and eternal, searching for truth with the self as the lens but not the focus. Do you feel any of these in your own creation?
I have an artistic desire, but haven't thought much of connection to Romanticism. I think most of my creations are born in some sort abstract space with no human wrong or right. I don't have a personal manifesto or any political interest in my music, but this does not necessarily mean that our songs are utter headlessness. I always try to be very mindful in a work I am doing. Even with BEHERIT.
After the initial BEHERIT surge, did you continue liking metal music?
I end up liking new fake bands that turn out to be nothing but boring. I did not stop listening to metal music entirely, but I found more interesting and deeper aspects of art in noise and electronic music.
"Behold this gateway, dwarf!" I continued. "It has two faces. Two paths meet here; no one has yet followed either to its end. This long lane stretches back for an eternity. And the long lane out there, that is another eternity. They contradict each other, these paths; they offend each other face to face; and it is here at this gateway that they come together. The name of the gateway is inscribed above: 'Moment.' But whoever would follow one of them on and on, farther and farther — do you believe, dwarf, that these paths contradict each other eternally?"

"All that is straight lies," the dwarf murmured contemptuously. "All truth is crooked; time itself is a circle."

– Friedrich W. Nietzsche, Thus Spoke Zarathustra (1885)
Have you ever considered writing a symphony (or: quartet, trio, sonata, et al)?
Yes, but I have yet to find people and a unique concept worth to start such a big project. Especially interested in video, together with musical performance on the front of live audience.
Ambient is a broad category; dubstep is more limited. How would you combine black metal's cadenced rhythm with the jauntier, syncopated-expectation structures of dubstep?
On various layers of soundscape. I think there will come such a crossover projects in this near future. It may not please the old school metal purist, but the next generation of audience who search for an aural experience rather than a general idol worship of rock band.
Electric Doom Synthesis was black metal thematics in violent EBM, with metal song structures. How do you envision a future fusion between metal and ambient music?
I didn't have much knowledge of making electronic music at the time of recording Electric Doom Synthesis. I composed it on the very simple sequencer of E-Mu Emax II sampler. Of course if I had to do it again now I would do some parts in a different way, but the album has a lock on time and atmosphere that I was living that time. After that my interest moved towards the other edge of music, experimental sounds, drone and minimalism, thus the release of Suuri Shamaani which were recorded without any real instruments, most of the sounds sampled from radio frequencies.
I used to listen to hours and hours of simple waveforms on evolving space, not so called music at all, more like mathematics and experience of altered states. Calculating planetary system and trying to put these parameters to sounds. I even did some gigs playing those test frequencies to large audiences, but quite soon I found myself playing on the front of max. twenty people. Soon I was kicked out from every chill out room because people complained my stuff was more like brain fuck than any chill out. I think they were right, I went way too far with that shit.
Nowadays I try to keep these things more in a balance. I am interested for some thing like a band playing metal music with no riffs or metal song structure, but it's not easy with people who lack experience of the dub of deep house, AND who also understand The Black Metal aesthetics. I'm not sure of this last word in English, but I mean understanding what is "cool" and what is not. The last one is where 99.9% of those demos fail that are otherwise potential to make a major success. Quite likely that it will happen in the industrial music scene, but it's still yet to come?
What distinguishes great music from bad? Can it be distilled into technique, or is it something less easily defined?
I think it's not about technique or a lack of it. For me, it's about originality and functionality.
Do you think that those who have similar values, and express them to similar degrees, will find similar voices in music?
Okay, this sounds very likely. But due the polycausal nature of life, there's always some variation in detail… I couldn't make any final conclusion. I even went through the conditional nature of sounds, acoustic waves that are frequencies like all the other objects in the universe. The sound object itself has no clear "soul," but it's fascinating to think of a scenario where the creator (composer) has a causal relation to soundwork put in a distribution, and that the listener receive the given mental sight by this kind of energy transformation, as they both (artist + listener) have same focus point… Something like used on those shamanistic journeys or people told to get a trance-like state on live concerts.
Emotion in music shares one thing with words: it is a language,and when the words have meaning, they create feeling. There is no feeling to the sound itself. It is twelve symbols in three octaves. But it has an inherent symbolism which makes our nerves twitch, like words resemble our thoughts and video, our dreams. From what comes the "meaning" in music?
Mental objects. I was hoping to put this in action on the upcoming BEHERIT album, but it turned to be a way more complex than I first thought. I decided to make an another project for this one, conveying extrasensory perception (ESP) through the sound itself. Coil had this album Time Machine in the early nineties, one of my favorites, that included a pack of cards/ESP stickers…And I had an idea to transfer these mental symbols for listener, but in the studio I found we were running out of time, and that it would work better with more minimalistic material. Well, it's good to have some ideas + concepts for future projects.
Are there symbols which do not convey experience, but things inherent to the cosmos or wired into our consciousness (intuition)?
Yes and no. Somehow it would be disappointing if humankind doesn't have a single symbol beyond this life experience, destiny. Even, this symbol of destiny that he created by himself in a past, it is yet to be experienced, in the cosmos? I know the meditators use techniques to visualize the symbol to guide the soul entity on bardo1 states.
Most people are born in ignorance, but it is said the arahant2 ones are able to recall past life experiences. The maya3 of self is generated in microseconds and is stuck in time, when the other end of the string in the cosmos, is in the dimension with no linear time scale. Therefore it's logical to have symbolism without one's own experience, but the watcher has to be on the same resonance in space where the manifestation of certain symbol is created.
The world hasn't changed, nor in the bigger picture, has human life since we were cavemen. Does this mean that our old symbols are accurate, but their meaning unknown, or that we need new symbols? Can the association of a symbol change over time?
We have been drowned into abuse of symbols in logos and trademarks of modern time. The Swastika is a good example of how differently people may feel when seeing it. In older cultures it's still a holy and very respected symbol painted in important buildings, but in Europe it's a bit different case. I think the way of life has change quite alot in the last century. You don't need skills to hunt or make fire, survive in the woods. Now it's about being a beauty and famous. Anyway, the very basic principles of life are still the same, thus humankind would need no new symbols.
With forest branches and the trodden weed;
Thou, silent form, dost tease us out of thought
As doth eternity: Cold Pastoral!
When old age shall this generation waste,
Thou shalt remain, in midst of other woe
Than ours, a friend to man, to whom thou say'st,
"Beauty is truth, truth beauty," – that is all
Ye know on earth, and all ye need to know.

– John Keats, Ode on a Grecian Urn (1819)
If sound is like paint, and we use different techniques and portray different things in our paintings, what does it say when a genre sounds similar and has similar topic matter and imagery? Can the genre be said to have a philosophy or culture of its own?
Yes, perhaps we could call the true black metal movement a subculture, because of its extremity in narrowness. If you go deeper with other genres you will find they have quite similar group policies, but black metal has developed it very strictly and merciless, elitism? Happily I am already old enough that I don't care to belong to any groups. But for new bands, I can see how it would be serious business. How true they can be, and for how long? Is evilness restricted only to their internet communication or also to other depths?
Some suggest there is a God outside of this world, and others suggest, in response, that there is no God. If music moves like nerve impulses, and music is inherent to the universe, is it possible the universe itself has a consciousness?
The universe may therefore need an other parallel universe? I think everything is possible, but not necessary.
A friend I respect greatly referred to black metal as possibly the only viable artistic movement of our generation (births 1970-1978). My question would be: what was the fundamental artistic statement of black metal? For example, the Romantics wanted to create a type of existentialism that aimed for an aesthetic and not moral goal, so that it did not fall into either individualism or collectivism, but stayed focused on the beautiful as a way of summarizing multiple aspects and avoiding falling into linear thinking. Is there such a statement for black metal?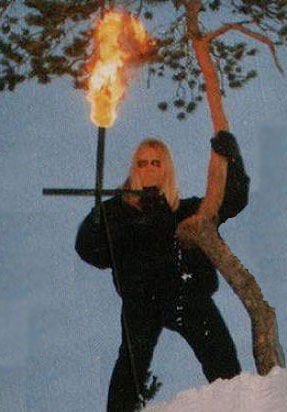 Not so long time ago, I wrote to internet forum that black metal is antichristian, but some fellows denied it totally and went to politics, racism and other weird NSBM topics that had nothing to do with black metal of old days. Nowadays everything seem to be much more complicated when kids are seeding their own beliefs and opinions to the scene, even if they are not music makers themselves. We (BEHERIT) wanted to create the most severe and bizarre sound dealing with the dark side of occultism. That's still one of my main points when writing a new song, but I don't mind if they label it black metal or not.
Do you think a genre of unpopular "popular music" like death metal and/or black metal can be a form of art? What distinguishes art from entertainment, and if they overlap, is there a difference in goals between the two?
Yes, at least in opinion of real music lovers, but artists of today live in poverty and are likely to die in poverty. Entertainers try to maximize money making in every way. It's very rare to see any art happen in entertainment business.
There seems to be a relatively stable, cyclic effect of black/death/speed metal bands breaking up and then reforming for new material approximately 10 years later. What is the cause of this?
It's the great wheel of artistry. Girls have their periods, sun has its spots, Chinese astrology is a cycle of twelve. Artists have been cursed by the desire of creation.
Is there necessarily a disconnect between how metal viewed things in 1992 and today?
BEHERIT's dooming sound reminds me of how William Gibson spoke of his post-apocalyptic Neuromancer: it is a horrible world, but you can see yourself wanting to live there, if for nothing else to finish the fight you see characters embarking on. Does this fit in your worldview?
Some argue that love is "sui generis," or an invention of itself that justifies itself and has no precursor. Others tie love to some form of God and claim he/she/it metes out love where appropriate. Some slightly cynical people see love as a biochemical reaction and nothing more. Still others (cynics) see love as something one can only have for life itself, and as being more of a thought process that unites the irrational (emotions) with rational (thoughts) to give a balanced view of the unquantifiable, and that one has love for life and in it, love for people and places and things. Since the symbol of love is worn out by years of popular music, does it have any meaning now, or must each artist define love before speaking of it, or risk becoming an elaborately removed Britney Spears?
Love is a very powerful state for beings in these sense worlds. For sure it has moments in lucid oneness, beyond time, like loving kindness (metta)4 is a good technique for entities looking for happier abodes. But "love and loving of lovers" represented in popular culture is a broad highway to misery and sadness, endless craving in the wheel of Samsara5. Loving life is not a right way. My advice is to see the conditional structure of love. Go and see the mutilated, dead bodies. Go and get a part time job in a local hospital or at coroner's office.
Mankind does not represent a development of the better of the stronger in the way that it is believed today. 'Progress' is merely a modern idea, that is to say a false idea. The European of today is of far less value than the European of the Renaissance; onward development is not by any means, by any necessity the same thing as elevation, advance, strengthening.

In another sense there are cases of individual success constantly appearing in the most various parts of the earth and fro the most various cultures in which a high type does manifest itself: something which in relation to collective mankind is a sort of superman. Such chance occurrences of great success have always been possible and perhaps always will be possible.

– Friedrich Nietzsche, The Anti-Christ (1895)
Do you separate intent/goal from method, in that a goal can be good and methods "evil," and how does that influence your view of good and evil?
Things we intentionally do (with a will), speak or think are wholesome or unwholesome in causal perspective of self. I am very trustworthy and generous man in my friendhood. I would not recommend strangers to come with me, if they are not pure in their hearts.
Environmentalists argue for preserving the earth, but many black metal musicians argue for its destruction. Yet earth permits consciousness, and enjoyment of among other things, black metal. Is the statement "blow up the world, I don't care" a symbol or a real wish?
It's a perfect time to enlighten oneself. It's crazy that still, only very few people ask real questions in meaning of their existence. There's a fucking internet where one can research the occult, but they rather go see funny movie clips? I would not hesitate a second to detonate this planet to pieces6. Things are already pretty fucked up, but it's just a beginning of the end times. There has to become more disease and virus, that force 'em to take their precious time much more seriously.
Metal music could be construed as a duality, one side being that which attracts a big audience like Def Leppard and the other side being crypto-art like early Gorgoroth which is "outsider art," or that which does not base its arguments on the idea that our society as it stands now is doing OK. Outsider art however does not tend to be "protest art," which issues a negative political statement on aspects of society. Def Leppard and others however can be seen as making negative statements through escapism. Does this duality hold metal back?
A good point. I was thinking about other rock genres, like punk, but there even the smallest underground bands usually have a political manifesto. What about electronic music? Underground techno acts hardly never have a message, but the bigger they get the lyrics become to statements of better world. Actually I don't know much about normal music they play on the radio. Hmm…
The eye with which I see God is the same with which God sees me. My eye and God's eye is one eye, and one sight, and one knowledge, and one love.

– Johannes Eckhart, Sermon IV
Richard Wagner both turned classical music toward ancient themes and, by using leitmotifs7 that resembled more the way plays and later, radio,would work, liberalized it and laid the foundation for the movie music that would later inspire Black Sabbath. Is this some type of universal balance where each thing contains its opposites, or was his intent even more cryptic than that, in that he knew what would result and wanted to hurry it up?
Usually, it's enough that the man intends to create something original.
Is art a celebration of life, a social guardian, or a celebration of the artist?
Some artists may think art is a sickness. Are they reborn entertainers?
Schizophrenia, or having a divided mind, is seen by many as being the major psychological disease of the modern time. Is there a way to benefit from the perspective of schizophrenia?
I am not sure of a benefit; it probably depends on the person and the social network around them? This is an area which should be studied: two steps beyond nibbana8, in hallucination of self existence. We are all doomed!
Have you had contact with the underground music of any parts of the world other than Finland?
I have spent a lot of time in South-East Asia. I see young people are in general pretty much same, but for example their lack of (Western) music culture, their understanding in extreme music usually fall down to those major bands shown on MTV. But then on the other hand, there's real underground vibes, especially in punk scene, f.ex. Bangkok Alcohol and those young punks are well aware of their original roots. The Black Metal scene is much smaller, but I know the guys from Surrender Of Divinity, and they are cool. There's no much need to antichristian movement here. Hahaha!
Can you describe some of the early influences on the band that might not be obvious? Specifically, where do BLASPHEMY, HOLOCAUSTO and SARCOFAGO fit in?
In the very beginning, under the name of PSEUDOCHRIST, we rehearsed with cover songs from bands like DEATH, SODOM and SLAYER. Later that summer of 1989, I started to trade vinyls from Brazil and Cogumelo Records. Those bands were so primitive and brutal in a style of music we didn't know existed. They had this unique sound of underground metal.
We changed our name to BEHERIT, started to paint our faces and radically simplify our songs and playing technique. No more pussycat rock mentality with dreams of large audience or positive feedback, and understanding from society.
I remember the day we got BLASPHEMY Blood Upon The Altar cassette in postal package. We kept listening that tape over and over again on our rehearsal room. We all three came to the conclusion that it was the most fucking severe black metal ever made, and it's still true after 20 years. We recorded our second demo to honor these Canadian godz of brutality. Three months later we went to the studio for Dawn Of Satan's Millennium, which had a bit more of our own sound. SARCOFAGO and BLASPHEMY, together with BATHORY have been the greatest influences in the history of BEHERIT. No doubt.
When did you start playing guitar, and was it your first instrument?
Electric guitar was my first instrument. I was 13 years old.
Did you listen to any of these: Kraftwerk, Tangerine Dream, Einsturezende Neubauten, Autechre, Biosphere. Did they influence you?
Sure. I did produce an ambient radio station for five years, so I have a quite nice ambient music collection. Kraftwerk and Autechre I have seen playing live and they were cool. About influences, not much on this new album.
The feel of Drawing Down the Moon is one of ritual; the atmosphere commands a hypnotic ambience, and the entire creation, down to minor details of the presentation, is meticulously interconnected. How did you achieve such a vision, one that seemingly has not been mimicked since?
That winter I listened often to the discography of BATHORY, and read books on Odinism and Asatru. We held pagan rituals. I hardly had any contact to normal society. In the door of my apartment, it read on big letters: EMBASSY OF EVIL.
Individualism: The basis of its error is to mistake the notion of the person with that of the individual and to claim for the latter, unconditionally and according to egalitarian premises, some values that should rather be attributed solely to the former, and then only conditionally. Because of this transposition, these values are transformed into errors, or into something absurd and harmful.

– Julias Evola, Men Among the Ruins (1953)
Can you please summarize the history of GOAT VULVA and the ways which it was relevant to BEHERIT?
Hahaha! Goat Vulva was only a booze project. I recorded those demos on normal C-cassette recorder by putting a piece of tape over the eraser head. I don't remember how many so-called demos were released, but they came in very limited quantities, perhaps 10 or 20 copies of each. Messe Des Morts was recorded in same studios where Erotic Worshipwas, but otherwise, it was very much a project of its own.
Is it important that metal be considered as "serious" (in any sense) by the outside world?
I don't mind outsiders. I see them in busses and walking on the city streets, but I never talk to 'em nor do they come talk to me, and even more rarely do we discuss music.
If you are in a metal band, that nobody — of the people who you think should — takes seriously, there's something wrong with your music, image or both. Make the difference, make the art happen. I don't mean to murder or burn the church, but use your imagination and live in it. The mind is the strongest weapon.
Are you in Thailand permanently?
I am on a long journey. Now in Thailand, but leaving next week down to Malaysia and then to Oceania. At first, I will meet the people from PORTAL in Brisbane. They have a new project called OLDE GUARDE. Nomad life, traveling with a notebook + ultramobile music studio.
How do the lunar and solar tendencies manifest themselves in your life and art?
I try my best to arrange all our contracts and release dates on lunar dates, not to forget numerology and other aspects of magic. I have done that for years. Life would be boring without little of superstition.
---
1Bardo states: transitional states of consciousness that correspond to stages of life or the development of awareness
2Arahant: a spiritual initiate who has realized nirvana and so no longer needs to be be reincarnated into the karmic cycle
3Maya: the illusion that people and objects exist independently from a continuum of interacting, inter-related and contiguous causes
4Metta: "love without attachment," meaning a benevolent kindness toward the world that also accepts the chaotic nature of existence and so does not seek the perpetuation of its object
5Samsara: the karmic cycle of reincarnation and death in which individuals attempt to move "up" a karmic ladder toward higher states of consciousness
6Because I don't have children, otherwise I would use a human logic and say the anger is a symbol. "Because, I just fucking hate this world."
7Leitmotif: a musical phrase symbolically associated with a character or idea that is reintroduced in a narrative piece whenever that object is referenced.
8Nibbana or nirvana: a psychological state of being free from attachment to earthly resentments, namely anger, greed, craving and television.
Tags: beherit, Black Metal, Finnish Black Metal, interview, nuclear holocauto