People who come into a genre after its foundation often spend a good deal of time trying to find its roots. Because descent is not linear, but more resembles the roots of a tree converging on something that could later branch, there's often a cloud of contributors from which this clarity emerges. In the early days of death metal, around 1982-1985, Master and Deathstrike took one approach to metal that combined Motorhead-style road metal with the insurgent political antagonist of anarchist punk music. The themes developed there reappear in both death metal and life at large. Mastermind Paul Speckmann was kind enough to answer a few questions for us on death metal, politics, art and the future.
You formed MASTER back in 1983, at a time when death metal wasn't defined in most people's minds. What led you to this style of music and when did you start calling it death metal?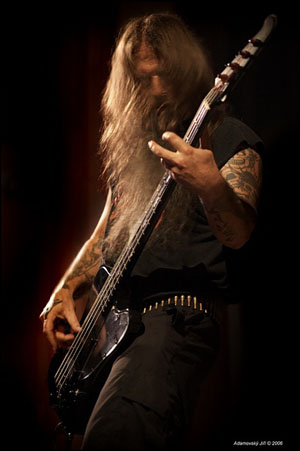 I was playing in a band called Warcry playing sort of a Doom, Sabbathy kind of Heavy Metal. It was certainly before all these categories ever were pegged. We were just trying to be heavy, and in the end guys like Lee Dorrian from Cathedral have acknowledged bands like Warcry and Trouble also from Chicago as a major influence. This is actually quite a cool thing.
The original guitarist in Warcry, Marty Fitzgerald, turned me onto a seven-inch from the band Venom. At the time I was just starting to follow Lemmy and the career of Motorhead, but Venom was even more brutal for me. At this time the original drummer Bill Schmidt and I were also listening to GBH, The Exploited, Discharge, MDC and Batallion of Saints. The aggression of this music was very important to us. We decided that it was time to create our own music along these lines.
The term Death Metal was coined by the critics. I really just thought it was aggressive Metal, I never really thought of it as Death Metal. The bands Master and Deathstrike played music really geared toward an anti-Government stance as well as anti-religion, of course. I have always thought that belief in oneself is the most important thing in life. To create your own path and strike your idols down are the main things to mention here. This is the ideology I have always pursued personally, but people will and always have been led to the slaughter sacrificing their own free will. I refuse to do this.
Although band names have changed (ABOMINATION, SPECKMANN PROJECT, DEATH STRIKE, MASTER) you have consistently anchored each band and shaped the style of music, even as personnel have changed. How do you maintain this consistency yet keep developing with each album?
This is a rather difficult question, but let's just say that I just write songs from the heart and try and capture what's happening at the time in society as a whole. I guess I preach in some songs, people might say, but really it's just my belief and maybe my beliefs are bit extreme for some at times. I really try to capture what I am feeling at a particular moment. Let's face it, every album is not a success, and I have really had many failures, but this is of course from the perspective of the critics.
I put all my effort in each and every song, it's just that at times the feelings are captured differently. Sometimes the produtions are shit or the budget is rather miniscule. But, since moving to the Czech Republic I have found professional studios, mainly Shaark Studios in Bzenec, and the engineers are more professional than most, and the rates are reasonable compared to the outrageous prices in America for mediocre studios. I mean why would anyone spend more than a few days in a studio. Either you can capture the music quickly or it's worthless.
We usually record the tracks for an album in a few days. Slaves To Society had the drums and bass tracks finished in 6 hours complete. It took a few days for the guitars, but this is normal as I really concentrate on the guitarist's playing during the process.
Reverence begins in a deep understanding of human limitations; from this grows the capacity to be in awe of whatever we believe lies outside of our control — God, truth, justice, nature, even death. The capacity for awe, as it grows, brings with it the capacity for respecting fellow human beings, flaws and all. This in turn fosters the ability to be ashamed when we show moral flaws exceeding the normal human allotment.

– Paul Woodruff, Reverence: A Forgotten Virtue
What distinguishes great music from bad? Can it be distilled into technique, or is it something less easily defined?
Feeling is certainly more important, because some of the most talented musicians in the world release shitty music for sure. Many bands today focus on how many riffs can be played per second and it's rather silly if you ask me. I would rather listen to Saxon or old Judas Priest than any of the "New School Of Metal." Back to basics I say. Sabbath, Deep Purple and Saxon are what it's about.
I mean of course Beethoven and Bach were among the greatest composers without a doubt, but this is Metal we are talking about here. I am the first to say that I am not a fantastic bassist compared to the entire genre, but I know how to write great melodies and lyrics that say something and for me this is more important than technique. Lemmy for example is also a great songwriter, but he's really a guitarist, not a bassist. Now Geezer on the otherhand is great at all he does. I of course respect both these Gods to the fullest.
Jim Morrison (THE DOORS) sang and wrote repeatedly of a "frontier," or a chaotic no man's land where danger was everywhere, but it was also possible to get away from rules and fears. How does this apply to music like death metal, which seems to accept death and disease as a normal part of life?
I suppose what you said about Morrison is true for him: it was an escape and then death was the next escape. He was a great lyricist of course, but a weakling in the end, but opinions are like assholes, everyone has one.
Death and disease are a part of everyone's life of course. This is normal to look death in the face as we all live to die. Disease ravages people and countries every day; this is great food for thought for a writer. We are living on a disease-ridden planet and people are dropping dead while scientists play gods and help over-populate this god forsaken planet. Birth control is the key I suppose.
Are there any plans to release WAR CRY material on CD?
Original singer Rich Rozek has done this already; you can find the CD at his website, even though it was remastered and the thunderous bass was basically removed from the recording. Also Rich has re-recorded several tracks for your listening pleasure. I heard a clip of the re-recordings on myspace and thought it sucked. He never spoke with the original members including myself about the project, but this is water under the bridge and I wish him the best with his endeavor.
I really wish we could all get together and do a tour of this original legendary material, but this will unfortunately never happen as everyone hates each other. But I have no hard feelings and would be more than willing to tour with these guys for a few weeks in Europe. I still speak with Marty and have heard from Steve as well, but I really have no contact with Rich except for an argument on Blabbermouth some time back. I really wish everyone the best, no hard feelings. I am as busy as ever and everyone else has pretty much given up in the professional sense.
You maintain a relentless touring schedule and put on professional shows, even when facing adversity like no money and disorganized promoters. How do you do it?
It was never about the money. I always like sharing my musical vision with the world and continually do so. We will begin a tour of Europe on Friday the 23rd of January and finish March 1st, I then will join the tour with Waco Jesus for 26 dates as their merchandiser. I like to stay busy and this also keeps me in touch with the general public. I joined a company called Kraft Evention about six years ago and this has taken me on numerous tours with bands like Vital Remains, Benediction, Jungle Rot and Dissection with Watain. So, needless to say, I am quite busy every year and this works for me and helps support my art and life in general.
MASTER's music shows the influences of not only NWOBHM and punk, but later aggressive bands like MOTORHEAD and VENOM, but there also seems to be an underlying influence from more idealistic 1960s rock, like a little bit of protest music in the mix. How do you feel this meshes with the blood 'n' gore themes of death metal?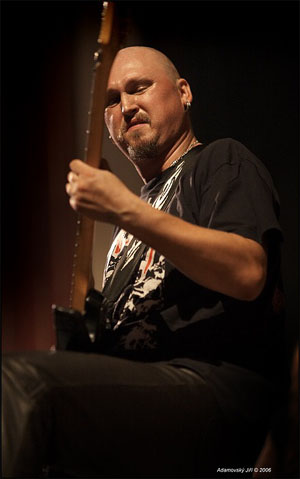 I really am not interested in the blood and gore as you described so well. I realise that the gore and blood bands are making much more money than I, but fantasy is better left for books and imagination. I prefer to bring the truth as I see it to the music. Satan is also a great money maker for brainless kids that haven't any direction in life. Religion has always been a great seller, and more power to these bands. If they can make a decent living, which many do, then good luck.
It's really apparent that we are all being controlled by governments and we are all Slaves To Society, and the sooner the youth of today take a stand against this control the better. Forget the devil and concentrate on the liberation of the people. I think this is more important than Satan or other religious shit. You have to wonder what kind of God would just overlook this.
The idiots in the Middle East continually use their false Gods to terrorize and torture innocent people in the region. They need to learn to get along and accept the different ideologies and learn to forgive each other, and get on with the peace process. All the hatred must be squashed or the world will end over the next few years. These terrorists like Putin hoarding the natural gas, as the Eastern Europeans freeze to death, just to show how powerful Russia has become from all their corruption and greed.
You have to smile as all the people are complaining about the Israeli conquest in Gaza, when anyone with half an ounce of intelligence knows that the USA supplies the weapons and cash to these fanatics. Hell, the USA supplied the weapons for Afghanistan to fight off the Russians in the past and wonder why the region is so fucked up. It's called creating your own enemies.
Nothing exists until or unless it is observed. An artist is making something exist by observing it. And his hope for other people is that they will also make it exist by observing it.

– William S. Burroughs, Cities of the Red Night
One thing that has always bowled me over about your outlook is that you never seem resentful — at all. You have spoken in the past about your contentment with day jobs, being glad to tour, and how to brush aside any things that went wrong in the past. Where do you get this inner strength and peace?
I believe in myself, and everyone knows that life is complicated for most and you just have to roll with the punches. Metal is not for everyone and I cherish the moments I have had over the years. It's interesting to say the least that the band and I have been touring successfully since I moved to Europe in 2000. This was the best opportunity that ever arose for me. Now I am busy every year and Master has played more concerts in the last five years than we ever did before. I average roughly around 90 shows per year. Of course if we could play more I would, but you can only play the same regions so often unless you're a supergroup, which is only a dream for most.
As for the day job, I work about an hour and a half per day about 8 hours per week when I'm not busy with the music, as an English conversationalist with some of the Directors of the biggest companies and their children in this region. This beats the hell out of moving furniture like in the past in the USA. It's a bit funny as I am in demand and with all the touring the students are left wanting and anxious for my return to the lessons.
If sound is like paint, and we use different techniques and portray different things in our paintings, what does it say when a genre sounds similar and has similar topic matter and imagery? Can the genre be said to have a philosophy or culture of its own?
Yes, I suppose, there is no doubt that Metal is a culture within itself, and the governments of today could learn a few things from Metal-Heads. These people come from all backrounds, races, colors, creeds and get along fine at the concerts and festivals that are played every year across the globe. Only Metal matters at these festivals for example. One big family that eats, sleeps enjoys the music and shits together with only small problems like with any situation. Music is the main focus at these places and everyone leaves their problems behind them and looks to enjoy themselves. Isn't this what life is about? Everyone needs an escape from the rigamorole of the every day grind, and what better way to escape then to go enjoy a great festival.
What do you think makes death metal separate from punk hardcore (THE EXPLOITED, DISCHARGE), heavy metal (IRON MAIDEN, MOTORHEAD) and speed metal (SLAYER, METALLICA)? Is it an entirely new genre, or an extension of previous genres?
Maybe this is true for some, but I personally try to incorporate many different aspects of these genres in my music. I like the different styles and try to be versatile in my writing. I would say this genre is just an extension of the original bands in my opinion. I rarely see anything new these days especially among the younger groups. I see nothing but rehashed riffs among the new generation, but I suppose it's cool sometimes to recognise an old Slayer or Motorhead riff at a show played by someone else.
How did you approach learning to play the bass, and did you study music theory?
While in the band White Cross which was a cover band during my high school days I began to become fascinated with the bass and bought a cheap Epiphone, and taught myself to play it with long hours of practice. I began smoking more pot and ditching school in favor of practicing my bass in my bedroom. Finally my Dad said, "No School? Then it's time to work; I want you pounding the pavement tomorrow morning!"
So after a few days of reading the paper, I began going back to bed after everyone left for school and work. Finally I found a shit job working for Chilton Research Services as a telephone interviwer, but this kept me around the house to practice more often. I had theory in school but after taking the class a second time because I was stoned the first time, I dropped out of school as I said earlier and really learned nothing about theory. Later I took a few lessons from a great bassist from the area called Jee Kapchek. After he couldn't find the time to figure out the solo break in the song Killers, I figured it out myself that same day and said, I don't need lessons, and the rest is history.
When the band HELLHAMMER said, "Only Death is Real," it launched legions of death metal and grindcore bands who showed us through sickness, misery and sudden doom (in their lyrics) that life is short, manipulations are false, and we need to get back to reality. How do these themes influence your songwriting and imagery?
They are real, so these things influence the realities of song imagery, for myself and others to a great extent. There is nothing like the realities of life and death to stimulate the writing process.
A consistent theme in your lyrics has been how ideas like religion or politics can shape how we perceive the world and as a result can control us. What started you thinking along these lines?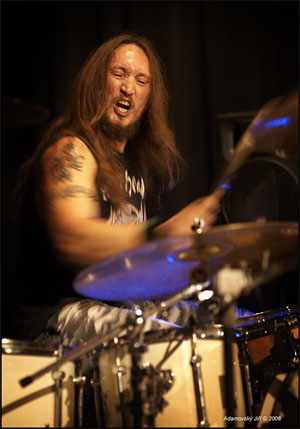 When my grandmother died of cancer at the age of 72 and then my father died next of a brain tumor at 51, my eyes were opened. I wrote "Pay To Die" and "The Truth" shortly afterward. As for the governmental themes all anyone had to do was watch the news as I still do today to see how corrupt and hypocritical the world is. I remember standing next to my mother's coffin a few years later as she died of cancer and the rest of my family was on the other side of the coffin as we didn't agree on many issues about her death. I wrote "What Kind Of God" shortly after.
We have just returned the song to the set for the tour beginning this week, and it felt great to play this again at practice over this past weekend. It brought back many memories for me. I also remember watching Pastor Bartz arrive at St. Peter's Lutheran Church in Arlington Heights, Illinois, when my father used to make my brothers and I go, and he was in a beautiful white Cadillac dressed in his cowboy hat and I thought, "wow, he must be raking in the bucks." This was from the followers of the church of course and then a few years later he also died of cancer rather quickly around his early fifties and I thought wow, this God acts in peculiar ways. This Pastor was struck down in the prime of his life due to his greed and corrupt values.
Your album Slaves to Society has just been re-released through John McEntee's (INCANTATION) label Ibex Moon Records. What are you going to write about for your next album? How have people responded to Slaves to Society?
The album was reviewed and critically acclaimed in many magazines across the globe and sells still, so I am quite pleased about this. Ibex Moon has done a superb job with promoting the album and getting it to the right people, but as always sales could be better. But, with all the illegal downloading, it is hard to sell as many units as I did in the past.
The next CD will deal with the issues facing society at the particular moment I begin writing lyrics. At this moment I am busy throughout 2009 and will focus on this in the fall I suppose. I and guitarist Nejezchleba have fifteen tracks written already, so we will have to find the time to pick and choose later. For the moment the tours are the most important thing.
You recorded the first MASTER/DEATH STRIKE albums in 1985. The world has changed a lot since then. Has your vision changed? Has it needed to, or is the same process going on that was happening then, in the world?
Everything is still the same only worse in the world. I still write and create songs as in the past. I let the world dictate my writing. The tapestry of this planet is my muse.
A man who has blown all his options can't afford the luxury of changing his ways. He has to capitalize on whatever he has left, and he can't afford to admit — no matter how often he's reminded of it — that every day of his life takes him farther and farther down a blind alley… Very few toads in this world are Prince Charmings in disguise. Most are simply toads… and they are going to stay that way… Toads don't make laws or change any basic structures, but one or two rooty insights can work powerful changes in the way they get through life. A toad who believes he got a raw deal before he even knew who was dealing will usually be sympathetic to the mean, vindictive ignorance that colors the Hell's Angels' view of humanity. There is not much mental distance between a feeling of having been screwed and the ethic of total retaliation, or at least the random revenge that comes with outraging the public decency.

– Hunter S. Thompson, Hell's Angels
You must have a ton of stories stockpiled. Any plans to write a book?
I already have: it's called "Speck Mann: Surviving the Underground", but I have yet to find a serious publisher.
You're touring the world through 2009. What's happening after that? Any plans to re-release more older MASTER and DEATH STRIKE albums?
The first two releases from Master were re-issued on Displeased Records Holland in 2008 with bonus DVDs and Collection of Souls will be re-issued in March. Deathstrike may be re-issued along with Funeral Bitch on Ibex Moon early summer. It's a chance to bring the releases to next generation of Metal-Heads.
Although your music is of the death metal generation, you are of the same age as the METALLICA/MEGADETH generation. Do you think this gives you an outlook others in death metal did not have?
Probably, I am older and more experienced and have seen many more things happen than the newer kids.
The author Kurt Vonnegut famously referred to art as a canary in a coal mine, or a warning signal for society. Other artists have claimed that art serves a necessary role in celebration of life. Still others believe it should celebrate the artist. Which among these describe your music?
The celebration of life and death are more important I believe.
Who cares about the artist?
"Insanity twisted the mind of the pigeon, reality clouded the eyes of decision." – Paul Speckmann (2000)
Most bands we've talked to recognize MASTER and DEATH STRIKE as early influences. What do you think are your most significant contributions to death metal?
I think the riffs on the albums and the lyrics speak for themselves and I am happy that I was a part of the inception of the genre even if the money never arrived. At least I can go to bed with a clear conscience at night knowing I was an originator not a follower or copycat as many of the success stories in this genre are.