Death metal spread itself around the world, zooming in and out of media focus, and probably died and was reborn several times. Stalwart pillars of the death metal community remain, guiding it past the social hype and dead ends, and one of the most persistent is New York's Immolation. These death metal craftsmen have created detailed, artful death metal since the late 1980s and have influenced every generation of the genre. We were lucky to catch Ross Dolan for a few questions.
When you started out in 1988, you were a different band than even a few years later. Dawn of Possession seems divided between the style of those early tracks, which sounds more like a collision between speed metal (Exodus, Metallica, Slayer) and Possessed than the newer material, which seems to me to be fully death metal in a "modern" sense, more like the European bands of the 1990-1991 era. Did your musical goals or influences change during this time?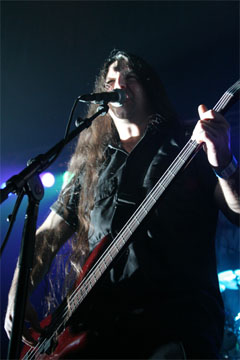 I think with our first album, our influences are more noticeable than they are in the later albums. This album in particular was written over the course of three years, a few songs here, a few there, until it was finally ready, and actually the last two songs we wrote for that record were "Those Left Behind" and "Into Everlasting Fire," two of the strongest and most memorable songs of the record in my opinion.
As a young band, we wrote songs for fun and had no intentions of recording an album, nor were we planning on making a 20 plus year career out of the band. We wrote songs as an outlet, we were all into the same music and were trying to create our own version of that, only better and different. I was only 18 when the band formed in 1988, so in a lot of ways I had a lot of growing up to do, and as we matured and focused, so did the band.
I really don't think we nailed it until possibly our fourth record (Close To a World Below). The first three were a struggle for us to try to find our place, and although we were close, and all the elements were there, it was just a matter of fine tuning. I would say Here in After and Failures For Gods were albums that showed more of Immolation and less of our influences, but at the same time they were experimental in the sense that we were trying to create something unique and different, and didn't quite know how to get there. I think we were all very happy and proud of our earlier releases, but as the band matured, so did our song writing and confidence in our material.
Our goals I don't feel ever changed, we were just in a new place with each new record. Each new record was almost like a fresh start for us, leaving everything else behind and starting anew. We obviously wanted to make things better and better, but we never tried to out do ourselves and top the last record, there were way too many other obstacles without adding this kind of pressure into the mix.
As far as influences go, the main inspirations to play music are always there, and all I need to do to remind me of them is to see a great live show or put on a killer album that hits me the same way now as it did 25 years ago, then I am inspired all over again. The bands you mentioned above were all favorites and big inspirations to us as young musicians; in fact Exodus was the first underground metal band I ever saw live in August of 1985 in Brooklyn. They played with Carnivore, Nuclear Assault, Blessed Death and Agent Steel, and it was something I will always remember as a fan.
After the first album, Immolation seems to have gone through three stages of evolution. Technical metal (Here in After), a simplified but punchier style (Close to a World Below, Failures for Gods, and Unholy Cult) and the newest (on Harnessing Ruin, Hope and Horror and Shadows in the Light), a style that reminds me of the powerful storytelling metal bands of the late 1980s and how they wrote songs that seemed like the soundtracks to their fairly epic videos on then-new MTV. What spurred these changes in style, and do these reflecting your desire to reach different people or communicate differently?
I would agree with you, except as I mentioned earlier, I would put Failures for Gods in the "experimental/technical" stage, and the rest seems to fit. After the Unholy Cult record, we made a conscious decision to strip the songs down a bit, make them less bloated with riffs, and make them more straight forward. We wanted to make things more simplified in a stronger way, to make the songs easier to grasp right away, but still maintain that dark and haunting feel that Bob seems to create so well.
Harnessing Ruin was our first attempt at this, but I think we came closer with the latest album and the E.P. Harnessing Ruin was a great album in my opinion, I think it was probably our heaviest album to date, and it saw us taking a brief departure lyrically from the religious themes and focusing more on the world and the darker sides of life, which I think gave it a more personal touch. This change of approach came not to reach new people (let's face it, if we wanted to reach more people, maybe playing extreme death metal isn't quite the way to do it), but simply to write better music that got to the point quicker and stuck in the listeners head longer.
The Shadows In The Light album along with the Hope And Horror EP were a continuation of that, only difference is that these newer records had more of the guitar layers and embellishments that make the songs more epic sounding and much more interesting to listen to. It wasn't a drastic change because all the core elements of Immolation are still in tact, but it was something that we felt helped make the songs stronger in delivery and dynamics.
Just as Life, after ages of struggle, evolved that wonderful bodily organ the eye, so that the living organism could see where it was going and what was coming to help or threaten it, and thus avoid a thousand dangers that formerly slew it, so it is evolving today a mind's eye that shall see, not the physical world, but the purpose of life, and thereby enable the individual to work for that purpose instead of thwarting and baffling it by setting up shortsighted personal aims as at present.

– George Bernard Shaw, Man and Superman (1903)
Recent Immolation albums use melody lines with more "space" in them (are less chromatic), and emphasize harmony as well as allowing the solo to fit the themes of the song, making for more easily-recognized songs. What inspired you to explore music in this way?
Changes such as these just happen naturally as we grow as musicians and song writers. There was no conscious effort to add more melody; it just felt right at the time. Some of these embellishments are worked on before we get into the studio, but on the last album, most of the extra guitar parts were written and performed on the spot while Bob was tracking his leads, and this was the first time he really went in there with no preparation. He would loop the solo sections and just play over them until we found something that we liked and then he would build on it.
The instrumental "The Struggle of Hope and Horror" took a full day to add all the extra guitar overlays and solos. There is so much going on in that song it's hard to even comprehend what went into it, and yet the finished product wouldn't lead the listener to believe there are that many guitar tracks because everything blends together and works as one piece. It's all done to give the songs more depth and personality, to create something different that's both dark and musical in an epic way.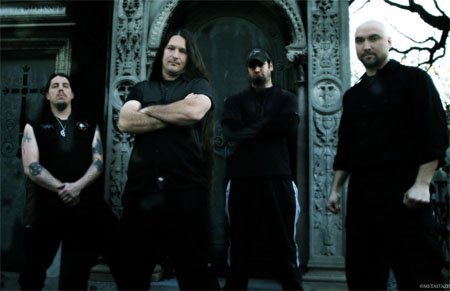 As a band of over twenty years, you have had to work substantially to maintain a level of quality that many never achieve even briefly. It seems a substantial number of death metal bands from the late 80s/early 90s burned out quickly, creating great works and then evaporating. One might guess that their creative abilities were more spontaneous and fleeting than yours. Do you think the difference between these "methods" of creation is obvious when hearing something initially, or after some study with it? How do you, as a band or as individuals, avoid becoming complacent?
I don't think this would be apparent initially in any band. As we mentioned earlier, our first record had a lot of our personal influences mixed in throughout the album, and it did take us a few albums before we really crafted the band into what it was meant to be from the beginning. So I would think it would take some time, and some bands never made it to this point, and the bands that did, it was only the beginning of the hard work.
Once we fine tuned everything to fit our vision, then it became more of a challenge to move that vision forward, develop it in a way that wouldn't compromise the "essence" of the band but enhance it and make it into what it is today. And even now as we are writing new material for the next album, we are still trying to make things better, stay true to what we are, and enjoy the process! It never ends, this creative drive never ends for us, we are still like a bunch of excited kids when the writing process kicks in, and this is why we keep doing it.
This isn't something we do to pay the bills, it's not a job and it's not a chore, its something we are truly passionate about. It is something that each one of us needs in our lives, because without it, our lives would have a huge void. It's very hard to convey this feeling to some people, but it is like a drug, a powerful driving force that we enjoy following year after year, record after record. So this is what kills complacency, our love for what we do and our passion and drive to move it forward and improve on it.
I could write a thesis on all the influences that I think I hear in Immolation. There's something that sounds like Voivod, and an acknowledged Mercyful Fate influence, as well as sometimes some Iron Maiden. On Harnessing Ruin and nearer, I hear variations on themes Black Sabbath introduced. What are your most influential influences? Have you found yourself leaning more toward some and less toward others as your songwriting style has evolved?
Well, you are spot on with everything you just mentioned. VoiVod was a definite influence, especially the first three records, and as you know, Mercyful Fate is a huge influence on us as well. Iron Maiden was both mine and Bob's favorite band back in the 80's, and a huge influence on myself as well (Steve Harris is the guy who got me playing bass). Black Sabbath has inspired everyone playing metal today, and if they deny it, they are lying!!!! These bands were the beginning of the road for us, the foundation, and they have all left their mark on us as fans and musicians.
Honestly, we are very open minded when it comes to music, and our personal musical tastes are all over the map, so most of our inspiration over the last 10 years or so has been from more non-metal acts rather than from the old classics. This is true especially with Bob, and if you ask him, he will tell you himself that it's the non-metal stuff that inspires him to try new and different things, but in a way that would work itself into our style of music.
We are very picky and try real hard to sound different and unique, so knowing what's out there helps us to stay the way we are without unintentionally writing something that sounds similar to another band. For the last few records I think we have all been on the same page musically, and we know what we want to achieve, so we really use our past records as a sort of template to guide us. We know what works for us and what does not, and although we do try different things with each record, they are very subtle and do not distract form the core of the band.
You write almost exclusively on religious themes that are unnervingly well-versed in Christian theology. Many metal bands seem to use fantasy or metaphor to express ideas that would become too mundane if made political, psychological, etc., preferring the more poetic symbolism as poets like John Milton and William Wordsworth did. How did you discover this way of expressing yourself, and what effect do you hope it will have?
We have always shared the same feelings when it came to religion, and although religion played a small part in our earlier lives, to some degree this inspired us to move lyrically in this direction. We have always tried to be as honest with our lyrics as possible. We are writing about our personal feelings and giving our perspective on different aspects of the world around us, whether it be religion, war or personal demons.
I think our bluntness and honesty shines through and it gives the listener the ability to relate to what we are saying on a more personal level, which makes it more powerful. Again, I think we have always taken our lyrics as seriously as the music itself, and have always believed the two worked together hand in hand to drive home the point of our music. Over the years, as with the music and song writing, I believe we have also come along way in the lyrical department.
Since the Unholy Cult album, Bob has had a much more active role in the lyric writing process, and I think the result has been much stronger and much more personal lyrics that go beyond just the religious themes we had written about earlier on. Prior to that, it was really just myself writing the lyrics, a lot of times building the song around just a title or a basic idea that our first guitarist Tom would throw my way. After four albums, it became more difficult to deliver fresh ideas without sounding redundant or without rehashing something that we had already done, so to have a fresh point of view be introduced into the mix was something that I was extremely happy about.
Music does not express this or that particular and definite joy, this or that sorrow, or pain, or horror, or delight, or merriment, or peace of mind; but joy, sorrow, pain, horror, delight, merriment, peace of mind themselves, to a certain extent in the abstract, their essential nature, without accessories, and therefore without their motives. Yet we completely understand them in this extracted quintescence. Hence it arises that our imagination is so easily excited by music, and now seeks to give form to that invisible yet actively moved spirit world which speaks to us directly, and to clothe it with flesh and blood, i. e. to embody it in an analogous example.
This is the origin of the song with words, and finally of the opera, the text of which should therefore never forsake that subordinate position in order to make itself the chief thing and the music the mere means of expressing it, which is a great misconception and a piece of utter perversity; for music always expresses only the quintescence of life and its events, and never these themselves, and therefore their differences do not always affect it. It is precisely this universality, which belongs exclusively to it, together with the greatest determinateness, that gives music the high worth which it has as the panacea for all our woes. Thus if music is too closely united to words, and tries to form itself according to the events, it is striving to speak a language which is not its own.

– Arthur Schopenhauer, The World as Will and Representation (1819)
Your exhaustive touring (and longevity) brings you into contact with many of the newer acts (and fans) and every perceivable trend within metal. Could you comment on anything notable you've seen develop recently (or ever), how you tolerate the worst of it and to what degree you've subsumed some of the best?
We have certainly seen a lot of bands and trends come and go over the last 21 years, and we have also seen extreme metal go back underground at times, and come back out into the forefront at other times. Through it all we try mainly to stay focused on what we need to do and not what is going on around us. We knew we would still continue to push forward regardless of the trends and popularity of the music. What everyone else did never really concerned us.
Of course we were always aware of what was going on around us, but it never influenced us either way. We were always about introducing our music to as many different people as we could, and felt that the only way to do this was to tour a lot and get out there and do as much as humanly possible to get the music out there. We feel that this has helped us tremendously where the label support has not. Our willingness to get out there despite the odds and promote on our own is what has carried the band this far.
I would say as a whole, we are happy with the exposure the extreme metal scene has received in the last few years; it has achieved a sort of acceptance within the mainstream to a degree. I don't mean to say it will ever be mainstream, because I don't ever see that happening, and this is a good thing, but it is visible now where it was only visible back in the late 80's in black and white fanzines and on college radio. Now we see coverage in full color metal and music magazines all over the world, on MTV and all the other major video networks, on lager scale tours that can attract more mainstream headliners to expose the music to a larger fan base.
So these are all positive things that have come to light in the last few years. Its just less of an uphill battle these days. Of course there will always be the trends and terrible bands that come out of nowhere and get a lot of hype and exposure thrown their way, which is a bit frustrating at times, but they eventually disappear into the unknown where they belong, and we live to fight another day…..hahahaha.
Here in After is your most complex album and a favorite of many a metal head. What made you elect to take the technical metal high road, and why did you opt for more straightforward songwriting after that? Did a technical riff-fest not express what you hoped it had, and if so, how do newer methods do this?
Here in After is our most complex album along with Failures for Gods, which I feel is even more complex in a lot of ways. Here in After was our second album, and this came after a long period of not writing any new material because we were in between labels, so it was about a five year period between the first and second albums, which in most cases would have been career suicide for most new bands, or a quick ride to superstar status to most bands today who come back after a long hiatus.
For us it was just business as usual. We were at that critical sophomore album phase, and knew there would be a little pressure to write something as good if not better than the first album which did really good for us for the time and amount of promotion. I can say that we never really made any conscious decision to take any technical metal high road; in fact, we never really felt this material was really that technical compared to some of the more tech bands out there. Sure, it had tons of tempo changes and many different parts coming and going, but I never considered it technical because we weren't technical players, and I felt that if we were able to pull it off, it could not have been that technical.
Let's just say the songs were a little too busy and involved for their own good at times. Sometimes it worked, sometimes it didn't, and after the Failures For Gods album, we knew where we needed to improve the songs and how to do it. The problem with these albums, especially Failures For Gods was that there were so many great riffs that were never allowed to make their mark, they came in for a quick measure and were gone again and we were on to a new part.
Looking back, we could have probably written an entirely separate album just with all the extra riffs that were not needed in these first two records. I know to some of our die hard old school fans this talk is blasphemy, but its how we feel, and we have made conscious attempts from Close To a World Below to the present to change this, which I hope had made things better. It has for us, so that's what really matters to us in the end. We have to be happy in order to continue.
It seems to me that Harnessing Ruin got a mixed reception in some underground circles because of the use of more "mainstream" techniques, like the whispered introduction to one song, and some of the "bouncier" drumming. However, this album also showcases some of the finest fusion of professional songwriting — using melody, harmony, rhythm and structure together — with savage death metal technique. Are you trying to compete with, or be better than, the newer styles of death metal-hybridized popular metal? What have the successes and challenges of this approach been?
I think this was an important album for us because it showcased our efforts to make the songs stronger and more direct by cutting out all the excess stuff not necessary and getting to the point much quicker.
As far as the whispering parts go, we did use the whisper vocals as a complete second vocal track under the main vocal on the song "After My Prayers" on the first album. I got the inspiration to do this from The Doors "Riders on the Storm", which has that whisper track under the main vocal throughout the song, and I loved that creepy effect it had and wanted to try it behind a Death Metal vocal. Although it was very subtle, it had a similar effect. So the whisper thing was done not as a ticket to mainstream acceptance, not in the least, but as a way to create a different vocal dynamic since I was opposed to the clear vocal approach, and the whispered parts were suggestive of an inner voice, and they gave the heavier Death Metal vocal parts much more power and authority when they came roaring in (especially in "Son of Iniquity", which is probably one of our darkest and heaviest songs both musically and lyrically).
Since the songs were more stripped down and to the point, it really allowed all the dark melodies to come right to the surface, and I think it gave some of our former critics a new appreciation of the band, which was a positive thing and helped to attract new fans to our shows. Are we trying to compete with other bands out there? No, we have never done this to be better than anyone else, we try just to better ourselves and make Immolation the best it can be.
We do what we do, and I feel we are unique and different enough to stand out among all the many great and not so great bands out there today. We are competitive only when it comes to working harder with each new release to make it hopefully as good and as strong as its predecessor. I think with what we achieved on the Harnessing Ruin record, it allowed us to make an even stronger follow up album with Shadows in the Light, and hopefully we will carry this forward to the new album.
Are there any skills you have learned from being a death metal band that can be applied to other areas of life?
It's all about hard work, conviction, following what you believe in and are passionate about and realizing that not everything in life has to be what the rest of society expects of you. Its ok to be an individual, a free thinker, and someone who is willing to disagree with popular opinion at the expense of being outcast from some circles, but that's fine as long as you are true to yourself.
I have a great family who always supported me, so I was always fortunate to have that support group behind me, but it still was a question of juggling your passions with your priorities. I learned how to work and be responsible at an early age to allow myself to be a touring musician with a full time job waiting for me when I came home. I learned early on that this would probably never pay the bills and it was something I think we all accepted early on, which made us very practical and realistic with our decisions. I learned that nothing comes easy in life, and with out dedication and hard work it was impossible to move forward with any endeavor.
These were all things I have learned from being in the band. We learned always to expect the worst, and if something good came out of the situation it was never taken for granted. And if you consider living out of a suitcase in a van with six other guys for a few months every year for the last 21 years, eating shitty road food, sleeping in rest stop parking lots and taking sink showers while living the dream is a skill, then we can add that to the list…..hahaha. I wouldn't have it any other way!
Did learning music theory, and becoming better musicians, help you in expressing your ideas? How did it do so?
Strangely enough, we never learned music theory, actually other than a couple of lessons when we were much younger, our musical training was more hands on. I learned how to play bass from a buddy of mine when I was like 13, and a few years later I took a few lessons locally, but I never learned how to read music or any of that stuff. I just always had a good ear for music, and had a knack for figuring things out for myself, and the same went for Bob, although he does know how to read music, but never had any music theory either.
I think this may have helped us instead of hurt us because we never see any limitations when writing or arranging songs, we do what feels right, so it was never an issue. I think the same goes for Bill as well, but Steve I believe had more training as a drummer and this definitely shows in his performance, execution and ability to figure out things very quickly and accurately. Becoming better musicians, which was a very gradual process, definitely helped us not only write better songs, but it allowed us to play better and more confidently live.
I am still learning and getting better with each album, its always an ongoing process for me as well as the other guys. I am pushed to improve my playing as our songs get more evolved and playing shows night after night is the best way in my opinion to get better as a musician.
But it was Schopenhauer who first defined the position of Music among the fine arts with philosophic clearness, ascribing to it a totally different nature from that of either plastic or poetic art. He starts from wonder at Music's speaking a language immediately intelligible by everyone, since it needs no whit of intermediation through abstract concepts (Begriffe); which completely distinguishes it from Poetry, in the first place, whose sole material consists of concepts, employed by it to visualise the Idea.

For according to this philosopher's so luminous definition it is the Ideas of the world and of its essential phenomena, in the sense of Plato, that constitute the 'object' of the fine arts; whereas, however, the Poet interprets these Ideas to the visual consciousness (dem anschauenden Bewusstsein) through an employment of strictly rationalistic concepts in a manner quite peculiar to his art, Schopenhauer believes he must recognise in Music itself an Idea of the world, since he who could entirely translate it into abstract concepts would have found withal a philosophy to explain the world itself.

– Richard Wagner, Beethoven (1870)
Jim Morrison (THE DOORS) sang and wrote repeatedly of a "frontier," or a no man's land where chaos and conflict ruled, but also open spaces were present. Was he speaking existentially, politically, or both, and how does this apply to music that loves nature (red in tooth and claw), destruction, emptiness and melancholy loneliness?
I kind of think he was talking about the capacity of humans to have this chaos and conflict struggling together with our feelings and the other beliefs we have learned throughout our lives as we grow and experience the world, and how to determine which is real and which is not, and which means something and which does not.
I think this frontier is within us, in our own minds, along with the inner struggles and conflicts we experience on a daily basis. The world is what it is, we are what ultimately decides our course and place in it to some extent, and I think this frontier to some degree is the unknown, the future, what lies around every turn in life, each new moment. Now, how does this apply to music?
It's these inner conflicts and feelings that force us to look at the big picture, figure things out and to make choices. As an example, I am an atheist, and although I never really bought in to the whole religion thing, it wasn't until I was in high school that I finally decided I was done with all religion, and music gave me an outlet to express all these feelings I had all along. There were many years of this "going through the motions" phase when I had my doubts about the whole thing, but kept it inside until it all came to the surface and I faced the reality of the situation on my own terms.
Morrison had a lot of chaos going on in his head, and between his lyrics and poetry this was apparent, but how it's interpreted is an individual thing of course.
Do you think a genre of unpopular "popular music" like death metal and/or black metal can be a form of art? What distinguishes art from entertainment, and if they overlap, is there a difference in goals between the two?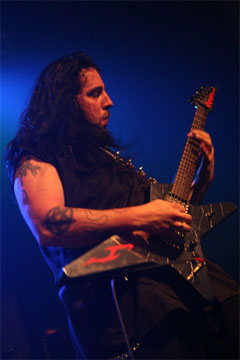 I think it is art. When it is done for no other reason other than the pure passion of it, it is definitely art.
Entertainment is made with the purpose of entertaining others, so it is designed in a way to appeal to others, whereas art I feel is more personal, and done for yourself with no compromises and no care whether others will approve. We have always written music for ourselves, and the fact that others like what we do makes it a form of entertainment I guess, but that is not the sole intention or motivation for us to write music.
The two often overlap, when art becomes trendy or cool and all of a sudden is in demand, it becomes entertainment in this way, but it still doesn't change the motivations when it was created. Music it seems rides along right in the middle, existing as art initially but becoming entertainment. When we perform, sure, it is entertainment for our fans, but when we are writing, it is definitely art, so there is a fine line between the two when it comes to music.
Do musicians end up writing death metal because it expresses their thoughts or worldview, and if so, does this produce any compatibility between views? In other words, do people who see the world in similar ways make similar music with similar topic matter and imagery? Does this mean the genre can be said to have a culture or philosophy of its own?
Well, I really can't speak for anyone else, but I would imagine and would like to think musicians use their music to express their thoughts and feelings, whether it be on religion, or just their take on the world. For us, Death Metal was the perfect vehicle for conveying our feelings, sometimes angry, bitter and sad, but ultimately to express ourselves through the music.
I don't think musicians sharing similar views will necessarily create the same types of music, because music is an individual thing and it is personal. Our music is very aggressive and powerful with a lot of heaviness, dark melodies, and very haunting at times, and this certainly reflects what the lyrics are saying. Some bands do have something to say in their music that is real and will make people think, other bands like to go in a different direction and create lyrics that are fantasy, pure entertainment for the listener, which is also fine, and we have also incorporated some of this to drive home our point on some occasions, but I think for the most part we fall into the first category.
We usually have something to say, and we don't like to be preachy about it, but we like to present it in such a way that it does paint a bleak picture, and I think this certainly drives home the point quicker once you understand what the point of the song is. This genre definitely has a culture AND a philosophy all of its own.
Most of the bands we have toured with are on the same page with regards to politics, world views and views on religion, so it is a common thread that I have found. Of course we sometimes have differences of opinion, which is normal, but overall I would say there is a like minded mentality with bands playing extreme music.
Some have said that death metal and black metal use "narrative" composition, where a series of riffs are motifs that evolve toward a passage between states of mind for the listener. Is this true, and is this type of composition reflected in your songwriting?
I would agree with this. Most lyrics tell a story, whether it be fact or fiction, and this would certainly apply to us. We try to get our point across in an interesting way, and to create a story that is dark, powerful and unique to drive this point home is the ultimate goal. Creating the lyrics is always one of the coolest parts of the song writing process.
I have always found it easier to write lyrics when the music is already completed, because then I get a feel for the song, and this is very inspiring when trying to pen the lyrics. Sometimes the mood of the song dictates the tone of the lyrics and the topic as well. A lot of times we will have a lot of lyrical ideas that need a home, so we will go through the music to get a feel for the songs and see what topics will fit with these songs. It's not really something that requires a lot of thought usually, it either feels right or it doesn't.
When you write songs, do you start with a (visual, musical, lyrical) concept for the whole song, or do you save up riff ideas and fit them together?
In the past, Bob would compose one song at a time, which would take much too long because he would either get caught up trying to figure out where to take the song, or he would just get writers block and the whole song would be on hold until the riff reservoir was full again. This was a very frustrating process at times, and we could literally spend over a month on one song before moving on to something new.
For the last few albums, Bob will record riffs onto a multi track or now into his computer, program some basic drum beats to them, and then move on to the next riff. This way we are all listening to the riffs as he is creating them, and when the time comes, when we have plenty of good solid parts, we get together and start piecing them together. This way we never get stuck on one song, we can always move on and come back to it any time, and we can try many different things to make the songs work well, flow well and sound their absolute best.
Now that he is doing everything on his computer, he can e-mail all the parts to our drummer Steve in Ohio, and he basically knows the material before we even practice together as a band. Once we have a song arrangement, we build on it from there, changing the drum parts, altering tempos, determining where we want the leads to go, where the vocals would work best, and what parts need something to make them really stand out. So this is basically the process for us.
Music is thus by no means like the other arts, the copy of the Ideas, but the copy of the will itself, whose objectivity these Ideas are. This is why the effect of music is much more powerful and penetrating than that of the other arts, for they speak only of shadows, but it speaks of the thing itself.

– Arthur Schopenhauer, The World as Will and Representation (1819)
Have the sonic values of metal music changed from the early 90s? How and why?
I think you may be referring to production values. If you are, then this has definitely changed. I remember recording on to 2 inch tape, and this was very time consuming, especially when tracking drums, because you couldn't punch in for drums as easily as you could for guitars, vocals or bass. This really wasted a lot of time and was also very frustrating after being in the studio for 12 hours and accomplishing nothing. Digital recording made analog recording totally obsolete for extreme metal bands, because now you could save time on the tracking, and use that time to get the mix right.
We aren't talking about huge recording budgets here, so the reality is that you had to get everything done in a few weeks time or you would have to start spending some of your own money. What kids look for in production these days is totally different than when I was 14 or 15 years old. When I heard early Venom, early Possessed, early Sodom, Destruction etc., I never complained if the drums weren't crystal clear, or if each instrument was distinct in the mix; I listened to it as a whole, and enjoyed it as a whole and never dissected it too much.
Now, these early productions would be laughed at by kids today if they were released now. That is the difference, it was about the feeling of the music, the music as a whole, not the perfect production that made me a fan. Honestly, if those bands back then had these super productions of today, they would lose something and they probably wouldn't have had an impact like they did, to me at least.
Although your music is technical, you have taken pains to distance yourselves from technicality for technicality's sake. What is the difference between technicality, progression and good (death metal) art?
As I have always said, it's all about the feeling. It's never about the speed, the heaviness, the technicality, the production, the solos or how deep or not the vocals are, it's about the feeling. Nothing else matters, and none of these elements define Death Metal to me. If these elements are used in the right way to create a mood or feeling, then that's when they matter, otherwise you can be as technical and fast and heavy as you want, if you can't write a song with feeling then who cares. Death metal to me has a certain dark, haunting and ominous feel, and when I hear it, it is truly music to my ears, but if I don't, then its just another band out of thousands, with nothing new to bring to the table.
The author Kurt Vonnegut famously referred to art as a canary in a coal mine, or a warning signal for society. Other artists, notably romantics, have claimed that art serves a necessary role in celebration of life. Still others believe it should celebrate the artist. Where, if anywhere, do these views intersect, and is it possible for art to exist as a discrete one of them and not as an intersection?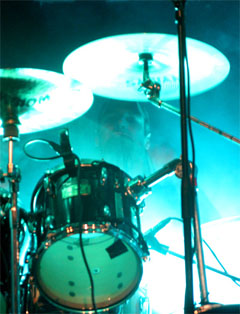 Again, this is a personal thing, and art means different things to different people. Art can be all of these things, or none depending on who you ask. I seem to think all of these apply to some degree. For some, music is a canary in a coal mine, it is that escape from the dark and mundane repetitions of life. For others, it has a strong message that people read into and get, and it moves them to see things in a different light, thus becoming a sort of warning signal for society.
It is a celebration of life, because music generally brings out all sorts of emotions and moods, memories and events, certain periods in our life, and sometimes it even helped us to get through these periods. It is the artist that is remembered and celebrated in a sense when we go to see a performance or an exhibit, so I think all of these apply. Art takes us to a different place we don't go to that often because we sometimes get so easily swept away in the currents of day to day life, but when we do get to that place, it does make us think and celebrate life in our own personal ways.
You've now put out a successful album (Shadows in the Light), an EP with an accompanying live performance that is in my view one of the best representations of metal on video record, and gone on a successful tour. What's next? Do you have long-term plans beyond the next couple years, or are you just taking life as it comes?
At the moment, we are working on new material, which will be our 8th full length, and after 21 years, I still feel we have more to say and do. We still feel as passionate about our music as we did when we first started in 1988, and fortunately for us, that fire still burns strong within us. We try not to look too far ahead, one album at a time, one touring cycle at a time, and once we move past that, we take a break, take a breath and start planning for the next one. We love doing this and will continue until its not fun anymore or until we just physically can't do it anymore.
Thanks for the truly great interview. I really enjoyed it and now have to give my hands a rest from typing!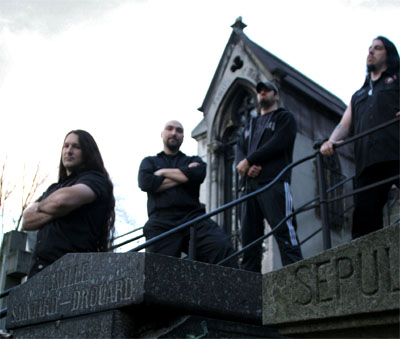 But, whether true or false, my opinion is that in the world of knowledge the idea of good appears last of all, and is seen only with an effort; and, when seen, is also inferred to be the universal author of all things beautiful and right, parent of light and of the lord of light in this visible world, and the immediate source of reason and truth in the intellectual; and that this is the power upon which he who would act rationally, either in public or private life must have his eye fixed.

– Plato, The Republic (360 BC)