The air rings with bloviation about "green" plans and, since black metal has always endorsed a naturalistic outlook, it's natural to look here for some ideas on this topic. Like all ideas who are coming, it remains extremely controversial when it goes beyond the somewhat prosaic task of buying LED light bulb replacements. We were able to encounter Wolves in the Throne Room 150 feet above the ground, where they were conducting a tree-sit to stop loggers from cutting down the remaining Kirk Johnson pine in North America to make it into anal splints. They kindly answered some questions and gave their thoughts on black metal, art, environmentalism and the problem with metal fans.
In your mind, is there a difference between morality and pragmatism?
That being said, I'll do my best to engage with your question.Let me first say that I have little knowledge of philosophy and don't really have interest in such matters. Much like the occult mumbo-jumbo that serves to obscure simple and self-evident metaphysical realities, philosophy is often a distraction from that which is right in front of one's face. The mission of WITTR is to work within the realm of a primal spirit. It is through the accessing of our intuition and deeper selves that our paths are chosen.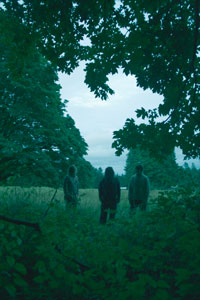 I associate pragmatism with the bland drivel spouted by Dewy and Rorty. This has nothing to do with anything I'm interested in. Maybe you use the word in another fashion?
I would define morality as a culture's system of vices and virtues. I tend to think that the "right" way to be is, indeed, a transcendent constant. We see manifestations of this transcendent morality in every culture that has ever existed, the obvious exception being our own materialistic and short sighted mess.
On the other hand, part of my thought process and part of the mission of WITTR is to explore the idea of evolution. Within the antagonism between the "establishment" and the avant garde lays a powerful spirit of creativity and dynamism. The life I have created for myself is an odd mix of the radically evolutionary and the ancient and time-worn. I would posit that the spirit of ANUS and of Metal culture is no different. Our ventures are absolutely of the now and are our own creations.
Orthodox Black Metal says to us that things have always been a certain way – tribal, place based, caste based, etc – and we must smash modernity and return to this ancient and established way of living. But is this necessarily so? The great contradiction of Black Metal is that it urges acceptance of fear and suffering but is afraid of an utterly new possibility. The spirit of Black Metal is represented in the artwork on Burzum's albums: apparitions of a time long gone, ghosts pulling the living into the ancient and the desiccated world of the ancestors.
Evolution and growth are biological and metaphysical constants. Rarely in nature do we see lifeforms benefit from stepping backwards. ANUS seems to assert that the lens of nihilism strips away modernist humanistic morality in order to reveal that which is timeless and transcendent. It is not that easy. I think it is possible to make a choice to accept some things from the premodern, heroic worldview and to reject others. As modern people we are in a unique and precarious position. It is the role of artists to define the possibilities.
Skimming the writings on the ANUS site, which I found interesting and thought provoking, revealed a classically conservative worldview which, if manifested in a political reality, would have little room for transgression or evolution. This is no utopia I would care to live in, or help bring about.
This is why WITTR refuse to align ourselves with "right wing" (or left wing) ideologies. The actual reality of the totalitarian, right wing state is not one of peaceful country farms carrying on in time-honored fashion and vibrant urban centers bustling with art and philosophy. It an utterly modern situation of chauvinistic nationalist frenzy, thuggish bullying and simple mindedness. Liberal democracy and fascism are both outmoded political systems that need to be left behind. The idea of returning to the premodern heroic world through modern political means is not an option.
What distinguishes art from entertainment, and if they overlap, is there a difference in goals between the two?
Art expresses the transcendent and, I think, has a spiritual dimension – intentional or not. It has a reality that echoes through time. I am a believer in the otherworld, a reality that lies beyond the veil. Art affects change on this other reality.
I think that art can exist independent of the culture that created it, whereas entertainment is more closely bound to the ephemeral and transitory moment.
Do you think a genre of unpopular "popular music" like death metal and/or black metal can be a form of art?
Sure. I think we are having this discussion because we agree that black metal -sometimes- expresses truths that lie beyond fashion and the politics of the local scene. WITTR come at black metal as outsiders who are interested in "art", not scene politics. It so happens that the art one finds in BM resonates with the other things that I do.
Nothing is permanent: certainly not the frozen images of barbarous power with which fascism now confronts us. Those images may easily be smashed by an external shock, cracked as ignominiously as the fallen Dagon, the massive idol of the heathen; or they may be melted, eventually, by the internal warmth of normal men and women. Nothing endures except life: the capacity for birth, growth, and renewal. As life becomes insurgent once more in our civilization, conquering the reckless thrust of barbarism, the culture of cities will be both instrument and goal.

– Lewis Mumford, The Culture of Cities (1938)
Does art have an obligation to morality? To pragmatism?
No. Black Metal, in its Satanic incarnation, must advocate for anti-morality. Going well beyond the romantic yearning for a dark, wild and feral world conjured by Burzum or Ildjarn, Satanic BM demands that we pour chemicals into the oceans, smear ourselves with feces, murder our neighbors and rape the pope. This Satanic, insane music is still "Art". Even in a utopia, there would be a place for Art that represents the insane and the evil because these things are a part of the universe.
As someone who is interested in survival for myself and my friends, and who is interested in ecological things, I think that it is virtuous – moral – to keep a well ordered farm, rotate the crops, kill the animals with kindness and respect, help out my neighbors, etc… For this reason WITTR are often disparaged as "traitors" who do not work for the destruction of all life. I have heard that we receive quite a buffeting in the internet chat-rooms from 14 year old chronic masturbators and has-been methamphetamine addicts.
Do you think heavy metal has a distinctive worldview different from that of "normal" people? is worldview a grounding to an ideology, and can art have either? Do you think the worldviews and or ideologies of artists shape the kind of music they produce?
Worldview is everything, for it provides the metaphysical architecture upon which the art is hung. I think that we would agree that banal pop music created by the accountants at major record labels is just as much a manifestation of a worldview and an ideology as music, such as Black Metal, that is a more (self?) conscious expression.
I cannot say whether heavy metal people have a distinctive worldview. From reading material on your website I gather that ANUS posits the idea that Metal is somehow a manifestation of the long-lost heroic spirit. I don't think there is a higher percentage of intelligence among metalheads than among any other population.
ANUS does a good job of placing metal, music that is often created by boneheads, into a coherent philosophical system that venerates traditional heroic values. However, metal could be interpreted in many other, less positive, ways. I see most metal as the pathetic mental ejaculation of marijuana addled morons.
On the whole, I am quite dismissive of the idea that metal – as a worldview and ideology – should be something to base ones life on. For me, the proof is in the pudding. Most hessians are deeply engaged with bands and fanzines (or chatrooms) and leather jackets. Often the philosophy and music is very engaging and powerful, but the focus of the hessian life usually becomes myopic and limited.
Like punk, metal is a way to introduce radical ideas that call into question the assumptions that society is governed by. I think that the ideology of Watain or G.G. Alin is not useful as roadmap for future action.
I would rather seek the heroic spirit everywhere – old hippies, bikers, rednecks… It is really more about the individual. To say that metal culture – which, indeed, has this certain romantic spirit – is the best or only way to confront our modern reality makes no sense to me. The underlying worldview which must become common to all people, if our race is to survive, is that humans must see themselves as a part of the greater biosphere. The indo-European warrior culture that ANUS sees represented in Metal is only one possible manifestation of a worldview that creates wholeness.

In the past, members of Wolves In The Throne Room have spoken pejoratively of black metal, and especially the exoteric, buy-a-CD-and-join mentality that has characterized the genre since it became popular in the late 1990s. This seems to parallel past cycles in metal's history, where a few inventors created and then a decadent mass took over. Does this parallel any developments in human history as well? Is this a repeated pattern, an entropy, or is it something that can be changed from within? If there is a metallic rebirth, how will the genre once again escape the horde? Must things die to be reborn?
I am not convinced that those who have created innovation in the metal genre are superior human beings – they are certainly not in the neighborhood of a philosopher-king! Looking at Black Metal, I think we see a rather spoiled group of rich kids hailing from the richest and most spoiled nations on earth fucked up on methamphetamines and alcohol. Their creative nihilism is the contemporary of all of the angry, bitter and alienated music created – rightly – by youths in modern societies. The validity of the art in BM has little to do with "genius", in that genius, by definition, is something that one is born with. I see the founding Black Metal groups as unknowing conduits for dark, wild otherworldly energies.
Do you think death metal musicians converge on the genre because it sounds like thoughts or worldviews, and if so, does this produce any compatibility between views?
Yes. I think that the intent of the artist is encoded in the music. We are moved by metal because it expresses an ancient, feral, wild, noble spirit. My problem is that what draws many people to metal is the fantasy aspect. Though one might be moved by Burzum on an emotional level, it is quite something else to make drastic changes in ones life because of that experience with the music. What would it mean to be forced to live by the system of virtue and vice that is suggested by Metal music? The hessian worldview is extreme and homogenous, but it exists in a vacuum where there is no risk of having to actually DO anything.
If one believes, as I do, that our current order is crumbling then one ought find companions who will be ready for the times ahead. I have met very few metalheads who are focused on anything beyond the fantasy- world of bands and dark imagery.
Many people have accused black and death metal musicians of being extremist, or of having a disproportionate response to the conditions of life that comes through in their excessive violent, romantic, alienated music. Do you believe these genres are extremist, or is society in extreme denial, or is there another explanation?
I think we would agree that the extreme nature of metal is a natural and warranted response to western, materialistic culture.
My problem with Metal culture is that it is usually a reaction to something, not a image of what might be. There are certainly elements in metal – veneration of a noble, heroic spirit for instance – that transcend the alienation and despair that creates the morbid and violent imagery that metal is known for.
It is a mistake to define ones self wholly as someone reacting angrily to an insane world.
Although the internet is loaded with tards, one appeal of it is that people can use computers and electrons instead of paper and physical objects. If we were to use the internet to maximum efficiency, would it change metal? Would it offset the environmental damage caused by the sheer fact of human growth?
I am not opposed to technology, but I am opposed to the use of computers and the internet in regard to black metal. Obviously I fail in upholding this principle, but I believe it to be an important notion. I think that BM is a place where we should let a more ancient spirit reign.
Stupid people then say "why do you use electric guitars"? Clearly this music is one of contradiction, struggle and striving.
Past Wolves In The Throne Room interviews have drawn a distinction between "city black metal" and a more vital, fundamental form of the genre. Is this a property of black metal, or cities? What is it about cities that makes them have a similar outlook, one that we might say is entirely human, and removed from nature, and is this why many great artists have preferred the country and unoccupied areas?
Firstly, I would say that artists tend to enjoy the company of other artists, and those artists who claim to prefer nature often spend the majority of their time in a more cosmopolitan setting. This is especially true of Black Metal. Taken as a whole, Black Metal is prone to ludicrously extreme contradiction between the radically primitivist vision of the art and the actual lifestyles of the artists. It is this chasm between art and reality in BM that I find so preposterous.
Cities are an interesting thing. I think that cities are a true expression of the luciferian, that aspect of satan which draws humans away from their source – the spiritual center which is the earth – towards a world entirely of our own creation. The laws of nature are suspended in the city and humans become weak and decadent. But it is this weakness and decadence that often spawns great art and culture. In time, these cities are destroyed and natural order is restored. This does not mean that the arrogant thrust of organized human endeavor is not valuable in its way.
Our culture has taken the idea of the city to an extreme and the crash will be all the more spectacular.
Jim Morrison sang and wrote repeatedly of a "frontier," or a no man's land where chaos and conflict ruled, but also open spaces were present. Was he speaking existentially, politically, or both, and how does this apply to black metal's love of nature?
I think that he refers to the otherworld, which is the frontier of human experience that will never be colonized. In this place we are confronted with the fundamentally mysterious nature of life.
One might believe in the metaphysical "reality" of the otherworld, or see it as a metaphor for the human being's unconscious mind. Physical frontiers – the wild west, the frozen north, deep space – are representation of this "other" plane of existence. I think it is crucial for humans to be able to have experience with these physical frontiers, with wild places. In these places we access that other(inner) world.
Black Metal is about journeying to the frontier. This is not a place where we can live and create our human world. We go there and return. Some people, often with the help of drugs, lose ones humanity by staring into that void for too long. Enveloped in a dark otherworld, the Black Metaler forgets that the human's role in the universe to live and create.
My meditations with Black Metal are a powerful communion with forces of darkness and mystery, but I always need to turn back because I haven't lost all hope. But I understand why one might well choose to completely loose ones self in the void.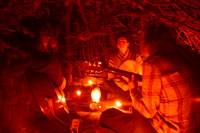 Black metal (and heavy metal in general) seem to share many values with Romantic art and literature from two centuries ago, right before Nietzsche began writing: reverence for nature, belief in a transcendental but not dualistic life, independence from humanist morality, desire to create the beautiful and eternal, searching for truth with the self as the lens but not the focus. Do you find these prevalent in yourself and your influences, or is something else your driving force?
The melancholy yearning that characterizes the romantic outlook is, on an aesthetic level, a strong part of the WITTR vision and aesthetic, but this influence does not mean that we are driven by the same things that inspired those artists two hundred years ago.
We think that our civilization, thus the world, is on the verge of great transformation. None of us know what it will be, or even what it should be. Our greatest influence is the spirit of this age, and the struggle to find a meaningful path.
Burzum's Filosofem, which seems the largest discernible influence on Wolves In The Throne Room, has been described by many as black metal fusing with the aesthetic of shoegaze bands like My Bloody Valentine. What do these genres have in common, and now that the fusion has occurred, how has metal's feral atavistic idealism fused with the more personal, more "city"-like "progressive" attitudes of shoegaze bands?
Black metal can be a guide for dreaming or journeying into the unconscious. The droning, delicately nuanced soundscape created on an album like filosofem is a portal to altered states. I suppose shoegaze has this same quality, though the spiritual or philosophical dimension is quite different. Perhaps what these dissimilar genres share is a striving to touch some transcendent place by using sound and pulsing rhythm. Maybe this facet of the music is the most important thing anyway, trumping the conscious political beliefs of the musicians.
If Black Metal is trance music that opens the door to mystery, Death metal is concerned with creating a highly masculine, crystalline order that says "this is the way it is." To use an ANAL metaphor, death metal is the orderly, beautiful, sometimes cruel vision of the philosopher-king. Black Metal expresses the dream-time vision of the shaman: mysterious, ever changing, moon-like.
For this reason, I don't think that the warlike, tribal spirit in BM must be taken as a war cry to forge that world through the masculine process of ordered creation. BM evokes the archetype of the wild, violent war-god but it also hints at the humor of the trickster and, at its deepest level, the oceanic wholeness of the goddess.
WITTR have absolutely tempered the uncompromising feral spirit of "true" black metal. Our band attempts to express a spirit of unity and wholeness rather than the insane violence of orthodox BM. Sometimes, as individuals, we play music that channels total blackness, but not in the context of WITTR. This band has a specific vision and purpose.
Either the non-symbolizing health that once obtained, in all its dimensions, or, madness and death. Culture has led us to betray our own aboriginal spirit and wholeness, into an everworsening realm of synthetic, isolating, impoverished estrangement. Which is not to say that there are no more everyday pleasures, without which we would lose our humanness. But as our plight deepens, we glimpse how much must be erased for our redemption.

– John Zerzan, Running on Emptiness: The Failure of Symbolic Thought
If humankind emerged from nature, and natural selection, are the processes of our minds "natural"? What is the difference between human thinking and the way nature is organized?
As I age, I become less convinced that humanity is the product of a strictly mechanistic evolutionary process. I wonder more and more if humankind does not have some "special" component that has brought us to this precarious place in history. Every mythic system draws a distinction between man and animal. I am not willing to so quickly discount this intuitive truth.
In other Wolves In The Throne Room interviews, mention has been made of the notion that black metal hates civilization. Is it possible that black metal hates not civilization, but an attitude of certain stages in civilization (as described by Plato in The Republic) or possibly, a parasitic design or organization to certain civilizations? If so, how does this correlate to black metal's hatred of Christianity and humanism/liberalism/egalitarianism?
To answer this question one must decide whether Black Metal is best seen as a political doctrine or an expression of the intrinsically mysterious and unknowable. I go with the latter.
I contend that Black Metal, at its moments of greatest insight, hates -or, at least, rejects, all civilization including those civilizations who we might consider to be noble and heroic. I don't care for Pagan metal or Viking metal or whatever. I listen to black metal because of the dark otherworldly energy it accesses. It should be the music of the outcast, the shaman who has journeyed too deep; not the aristocrat, farmer or tradesman, who has compromised his wild spirit in order to exist in the good society.
It is true that Black Metal (along with martial-industrial and neo-folk) often expresses the spirit of a certain vision of civilization. We might call it pagan nationalism or heroic socialism or whatever. For me, though, these political visions have little to do with any reality I am interested in helping to manifest. I loath racist and chauvinistic right wing movements.
Much of the Wolves In the Throne Room philosophy, like that of Rudolf Steiner, focuses on a primal integralism between thought, nature and a design of civilization that permits human "freedom," but this definition seems different from our modern political one, and applies more to spiritual-existential lack of beholdenness. This seems very similar to Schopenhauerian concepts of idealism, which state that thought and matter/energy share an organizing principle or, as Christopher Alexander calls it, a "pattern language."
It is interesting that you mention Alexander. I am quite interested in the art of building and Alexander is one of my greatest inspirations. Alexander's notion of the pattern language is what I mean by a transcendent morality – the successful building or city represents the unity of the universe and man, everything in its place reflecting truth and wholeness.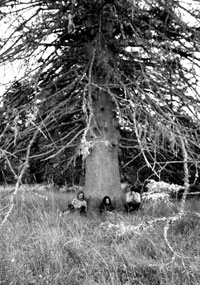 If intelligence determines what thoughts we can perceive, and those thoughts determine what values we can discover, is there some form of cutoff point before which people cannot perceive the necessity of, say, deep ecology?
There is no clear link between smart people and good ways of living. The worst things in our world have been created by geniuses. The idiots are just along for the ride.
In his book Reverence, Paul Woodruff describes a new way of looking at life that takes into account the multiple forces present at any stage to create the causal present, and posits a contemplative worldview that is religious in outlook but not necessarily tied to a religion; how compatible is this with what you hope to achieve in your music?
I think this sounds right, although I would use a different vocabulary. We are interested in reviving an ancient, shamanic reality that acknowledges the hidden energies and forces in nature, among people and within cultures. We could also say that we desire contact with a spirituality reality that is unmediated by religious/political intermediaries. Maybe this is the same thing as the nihilism ANUS espouses, though the language you use doesn't really resonate with me.
As modern civilization winds down, many people are like yourselves involved in homesteading, or setting up traditional family and town units in the countryside. Are there any aspects of civilization so far we would want to keep, such as technology or learning, and how would these be integrated into a homesteading viewpoint? will we end up like the end of ray bradbury's "fahrenheit 451" (which he claims is about television) where each person has memorized a book and passes along that knowledge?
I am no luddite. I have no problem with what some call appropriate technology. I can get behind the bicycle. Computers, and the vast infrastructure they require, I could do without.
If I had my druthers we would organize ourselves around bioregions. Towns and cities would be largely self governing. Ecological laws would replace our current pitiful and corrupt system of governance. We need to stop population growth. I would rather that people stay in the regions they were born in rather than be forced by economic pressures to migrate en mass into squalid slums in the worlds megalopolises. The "Freedom" that we have come to expect in this age of late capitalism would be radically curtailed.
What differentiates this vision from a "right-wing" green utopia is a rejection of brutal authoritarianism and racism. The unifying force in any new society must be a shared reverence for natural systems, not a hastily conceived race-based pagan religion pieced together from dusty relics and half-remembered stories. The intense locality that we see in Ancient culture will develop naturally. Anything else would ring hollow and quickly fall apart.
As has been discussed in previous Wolves In The Throne Room interviews, spirituality — holism, reverence, transcendentalism — and deep ecology go hand-in-hand because to look at the central organization of the world is to see the necessity of nurturing nature. These things are (as Wolves In The Throne Room members have mentioned) also central to black metal; is there an attitude in black metal, or at least in the older bands, of this contemplative looking at the world as whole that transcends human fixations, and speaks a language of nature?
For sure. Black Metal should try to operate on a nonhuman, mythic level. Myth expresses the reality of the non human world and defines man's relationship to that world thus our relationship to the cosmos and to the divine. This stands in sharp contrast to the "city" music we have discussed earlier which is purely concerned with the petty and the transient affairs of fashion and trend.
If sound is like paint, and we use different techniques and portray different things in our paintings, what does it say when a genre sounds similar and has similar topic matter and imagery? Can the genre be said to have a philosophy or culture of its own?
I think we have already covered this. I think that we both agree that BM works within a certain spectrum of ideology that is expressed, to one degree or another, by all worthwhile BM groups.
Some have said that death metal and black metal use "narrative" composition, where a series of riffs are motifs that evolve toward a passage between states of mind for the listener. Is this true, and if so, how is it reflected in your songwriting?
Your analysis is quite accurate. We put quite a lot of work into the arrangement of our songs and records. The individual songs are quite long and the songs are conceived as part of the whole album. Drone and repetition are crucial elements in the narrative structure that we make use of. It is good to dwell in passages for a while in order to absorb the feelings conveyed in the music and atmosphere. (sidenote: I checked on the ANUS chat rooms about WITTR and was amused by the discussion. Not only are we communist faggots who should be killed, but our songs are long and boring)
The man of archaic societies tends to live as much as possible in the sacred or in close proximity to consecrated objects. The tendency is perfectly understandable, because, for primitives as for the man of all premodern societies, the sacred is equivalent to a power, and, in the last analysis, to reality. The sacred is saturated with being…Religious man deeply desires to be, to participate in reality, to be saturated with power…The completely profane world, the wholly desacralized cosmos, is a recent discovery in the history of the human spirit…Desacralization pervades the entire experience of the nonreligious man of modern societies and that, in consequence, he finds it increasingly difficult to rediscover the existential dimensions of religious man in the archaic societies.

– Mircea Eliade, The Sacred and the Profane: The Nature of Religion (1957)