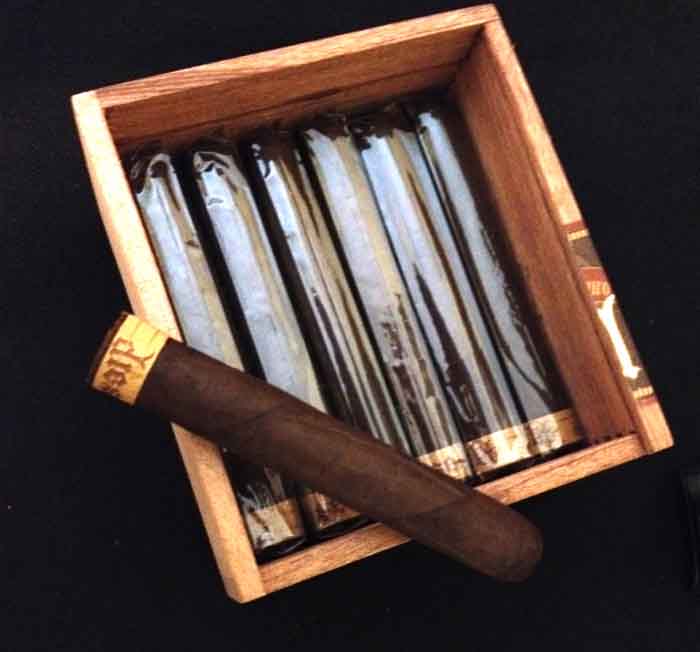 The Diesel Unlimited Maduro is an extension of the very popular Diesel cigar line by master blender AJ Fernandez. Mr. Fernandez has quite a dedicated following with full-bodied cigar lovers, as he is known for using potent tobaccos in his blends. Popular cigars such as the Man O' War Ruination and the Diesel Unholy Cocktail are extremely strong, meaty and flavorful. The Diesel Unlimited Maduro follows in this tradition and is a welcome addition to his ever-growing portfolio.
The Blend:
Wrapper: Connecticut seed broadleaf maduro1
Binder: Mexican San Andreas
Filler: Nicaraguan and Honduran ligero2
Appearance and Construction:
A mottled, chocolate brown wrapper covers the cigar. It has a rustic appearance, with a slight tooth and a dull sheen of natural oils. It is firmly rolled and feels well constructed, with no lumps, hard spots or other imperfections. I've had many boxes of these cigars and they always seem to be a bit on the dry side. That doesn't mean they are "dried out", I just think that they aren't as oily or moist as many other cigars. With that said, care must be taken when handling as the wrapper can flake or crack if you're not too careful or apply too much heat all at once when lighting.
Pre-light Impressions:
The cigar has a fairly strong tobacco aroma along with an undertone of what can best be described as barnyard — a mixture of straw, grass, dirt and manure. This is in no way a negative — as a matter of fact the barnyard aroma harmonizes quite well with the tobacco.
Smoking Experience:
Because the cigar contains a good dose of ligero tobacco, The Diesel Unlimited Maduro benefits from a long toasting of the foot to warm up the head of the cigar. Once lit, the cigar burns even and true, with a grey flaky ash that can, at times, create a mess in your lap or on your clothes. The draw is quite good, producing a nice mouthful of smoke with each draw.
The smoke has a pleasant mouth feel to it — light and very flavorful with no off-putting qualities. What's impressive is that although the smoke is very light in your mouth, it has a strong character to it that really makes you take notice.
Initial mouth flavors are wood, leather and straight tobacco and through the nose it's mostly spice with a touch of bitter cocoa and black coffee. The finish is clean and very dry with lingering sweet chocolate and burnt wood notes.
This is by no means a complex cigar, as the flavors remain the same throughout — from initial light to the last inch. It never smokes too hot or too cool and provides a good hour and a half of smoking enjoyment. Its bold flavor profile and ramped-up nicotine content is not for the beginner, but veteran smokers will certainly appreciate the consistent blast of flavor and kick in the pants this smoke provides.
The Diesel Unlimited Maduro fits well into the Diesel cigar line, rounding out an already impressive grouping of smokes.
Terms:
Maduro: This is a fermentation process that uses intense pressure and heat to extract more sugar from the tobacco leaf than standard tobacco aging.
Ligero: The top-most part of a tobacco plant. This is the strongest type of tobacco, because it receives the most sunlight and has a higher nicotine content than other parts of the plant.