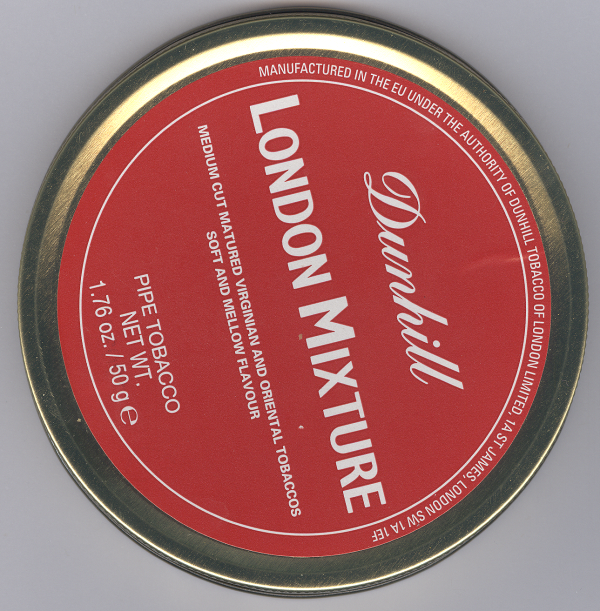 Pipe tobaccos navigate a narrow path between twin evils: too sweet and too raw. On one hand, there are cute boutique flavors that would be more appropriate for church potpurri, and on the other bland or unbalanced smokes that taste like tobacco clearcut fires. Dunhill has for years provided a number of a varieties of tinned tobacco which have drawn their defenders and critics. For the casual smoker, London Mixture offers a mixture for comfortable consumption in about any situation. With a reasonable wallop of nicotine, but not an excessive one, and a classic room note — the scent it leaves in the air after being smoked — it goes straight down the middle of the road but does so with a careful nose for what smokers need for an everyday, casual smoke with quality and elegance.
Formed of mixed Virginia, oriental and Latakia tobaccos, London Mixture balances the light earthiness of the Virginia against the sweetness of the oriental and the darkness of the latakia. In the mix, individual shreds of each can be distinguished, but when burned together the result is a gentle mellowness with undertones of more exotic flavors. This Virginia tobacco is not as sweet as others, and this completes the harmony within the blend, allowing each flavor to blend with the others into a single tone from which undertones emerge as the burn continues. Of moderate nicotine, the mix provides a solid smoke but avoids the jumpiness of more ramped up recipes. With a slightly bitter taste forming just as the first smoke twists above the pipe, this aggregate provides enough depth of texture to the smoke to avoid falling into the boredom trap of most medium mixes.
Dunhill built its reputation on providing tobacco for daily use, but generally splinters its blends into specific purposes. The London Mixture bridges the gap for someone who wants to keep a pipe around and fill it with something that avoids extremes but also eschews boredom, and the cantilevered flavors provide that richness and leave a lingering smell that might remind you of Grandad but also draws ladies with daddy issues as well as gardeners who love its earthy undertone. A dry tobacco that burns thoroughly, it provides a good kicking around smoke like an Ibanez is the perfect guitar for ripping out a few riffs or idling away an afternoon with aimless leads and homemade root beer. While this might be pricier than most bulk blends, it provides quality and moderation for the everyday smoker, which is why many people grab this tin rather than mucking about in the world of overly-sweet or -harsh "adventurous" blends.
Tags: 2015, Dunhill, london mixture, nicotine, pipe tobacco, tobacco