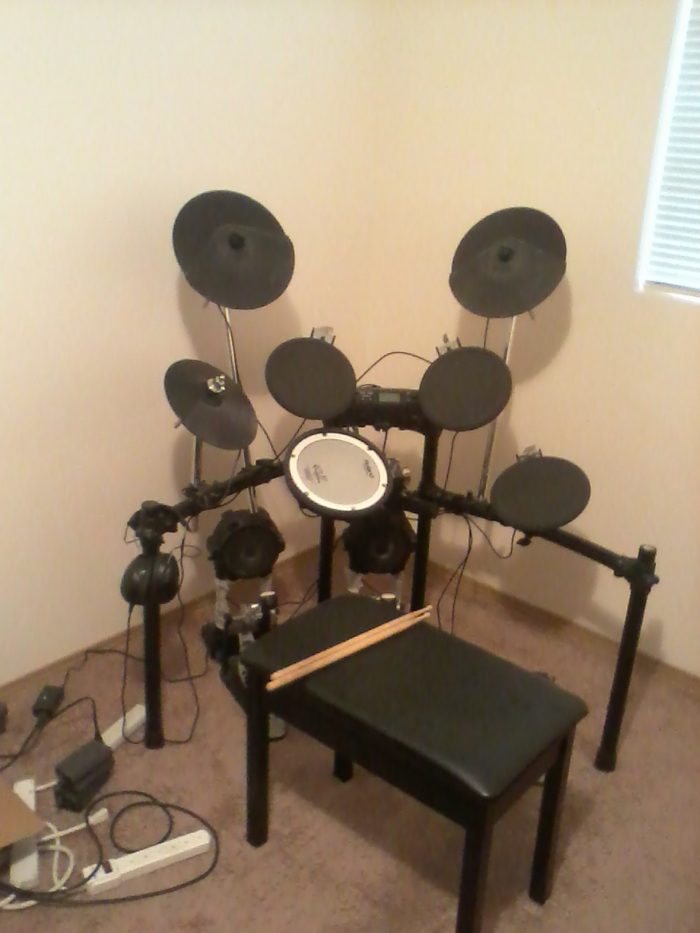 One does not go to war without weapons and one does not make music without instruments. Just as the quality of the warrior is more important than the quality of the weapon, so too, the quality of the musician is more important than the quality of the instrument. Nonetheless, limited equipment can impeach the user's ability for effective action. With that in mind, let us take a look at Roland's V-Drums.

For the underground musician V-Drums make a lot of sense. When I purchased mine about 8 years ago the price was comparable to an acoustic set. Because of the smaller scale, they play faster than an acoustic drum set. The smaller size of the pads and the built-in metronome encourage accuracy and precision in your drumming. Since you can line-in directly to a recording device, you don't need any complicated microphone set ups for recording drums. If you are careful not to strike the pads over-forcefully, they will last for quite a long time; in 8 years the only pad I have had to replace is the hi-hat pad. On an acoustic set new drum heads and new cymbals are a constant drain on money – so while the initial cost of the V-Drums might be higher, the overhead cost over time is much lower. They are great for apartment dwellers as you can play with headphones and not disturb the whole neighborhood. Just like acoustic drums they are something of a pain in the ass to set up, but being much smaller are much easier to transport from location to location. They are versatile – each head can be programmed to a specific sound so if you are clinically insane and perhaps interested in producing some unique post-metal, every pad can be a china cymbal. My current programming is snare, small tom, medium tom, floor tom, hi-hat, china, ride. Each pad is also tune-able. For the sake of channeling a mighty evil, my set is tuned to the notes of a c-diminished 7th chord.
Goebbels lied – there is no such thing as a wonder weapon. Every weapon and every instrument has some flaws and shortcomings and the V-Drums are no exception. They don't sound very good through any amp I have tried with them, although I was very pleasantly surprised by how good they sound on recordings. I learned drums initially on an acoustic set, and I hammered those things with unmitigated violence, a habit I had to quickly unlearn with the V-Drums as they are considerably more delicate than an acoustic set. The snare drum is overly sensitive: very minor differences in striking force or accuracy leads to major differences in the sound produced. When my snare eventually breaks, I will just replace it with one of the rubber 'tom tom' pads and program it to snare sound. The (old, maybe they've gotten better) bass pads do not really work so well with a double bass pedal so I purchased two bass pads and two bass pedals.
A bit of a disclaimer for a post-script: all the above pertains to my older TD-4 model V-Drum set. I have zero experience with the newer sets. That being said, the balance seems to be in the advantage as far as V-Drums go. They will give the metal musician years of good, quality service as long as he is mindful of the strengths and weaknesses of the setup. So, if you are in need of a battery for battle with the hipster forces at the gates of the metal kingdom, consider the V-Drums.
Tags: artillery, battery, drums, electric drum set, electric kit, gear, instrumentation, Roland, V-drums, war